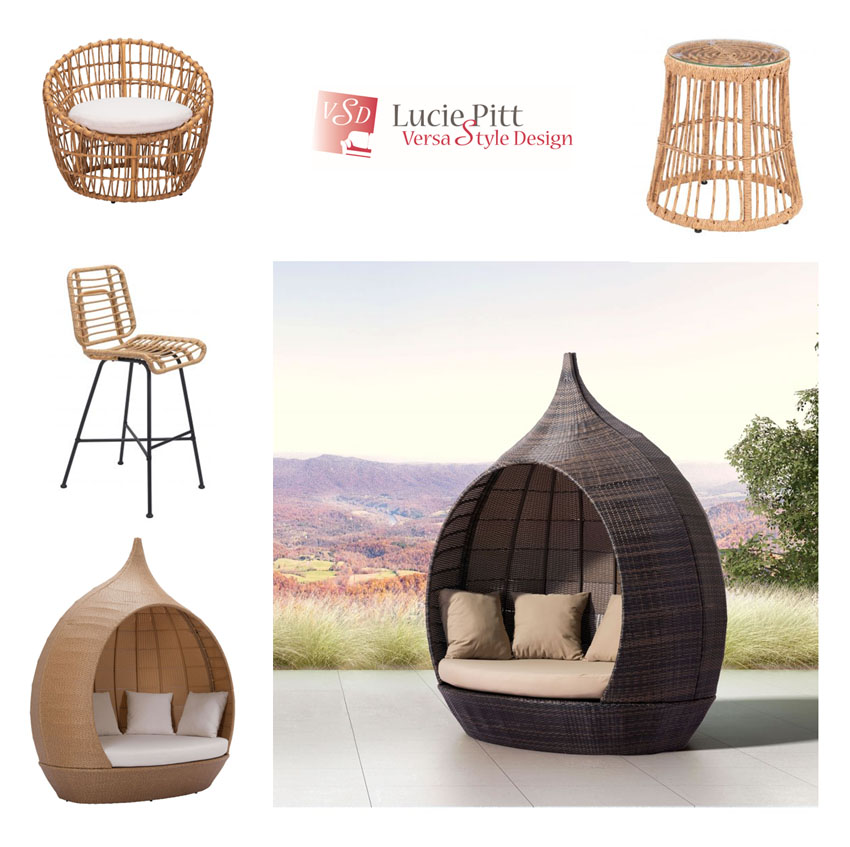 The proper planning of an outdoor living area is a simple and potentially economical solution to instantly increasing your living space without purchasing more property. Whether your outdoor paradise is a living room, eating nook or private sanctuary, imagine it as a quick extension to your home.
Here are the 5 essential elements sure to give your outdoor space greater functionality as well as the calm and serenity you need and worked for.
1. Establish the space with a structure of some sort
If our interior requires walls and a ceiling, well so does the exterior, even if only partial. Without any structure at all you will feel very exposed, as well as lacking in references for the placement of the furniture. The structure should offer shade and protection from the sun in addition to defining activity zones for each member of the family.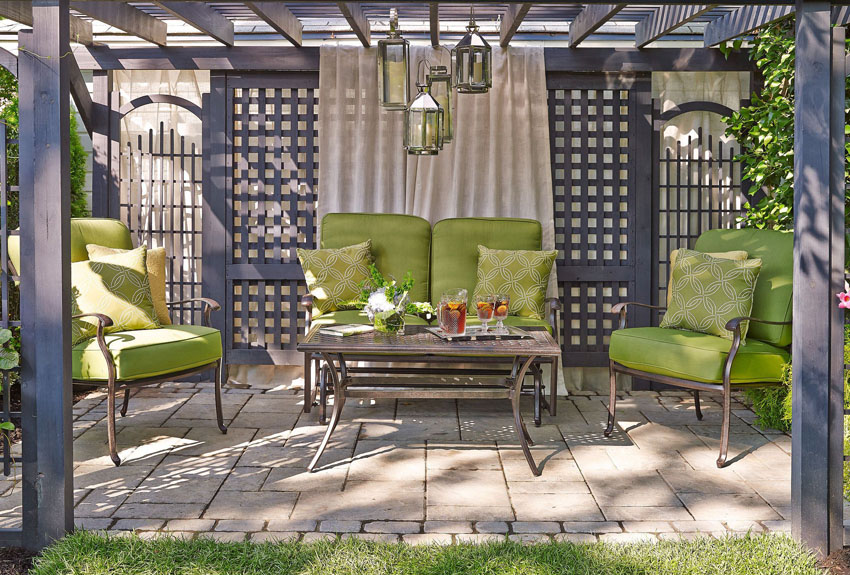 Perhaps you are in dire need of some privacy from the neighbours or would like to cleverly hide an electrical pole or an unpleasant view by planting a hedge or placing a trellis of climbing vines.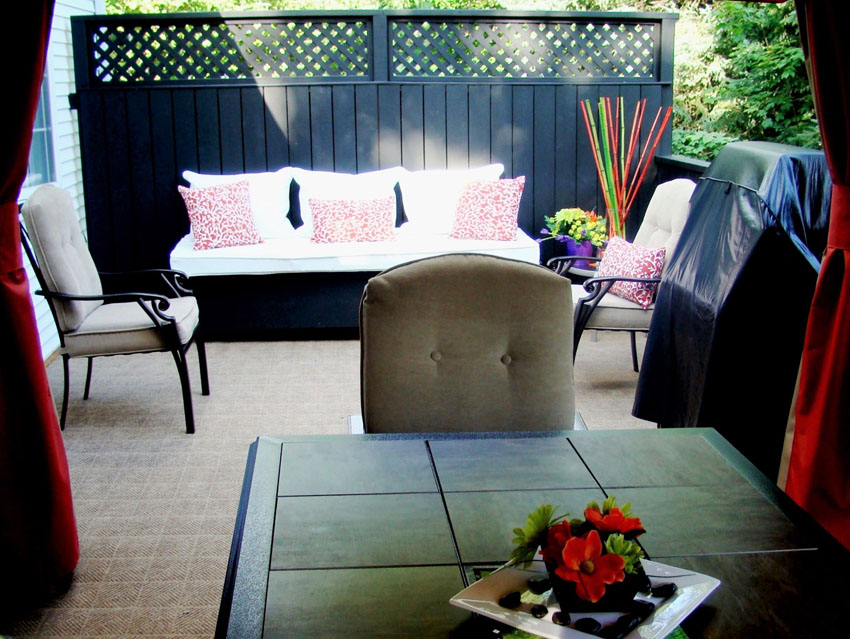 Also, you may appreciate a shade-creating pergola or simply draped fabric. Perhaps your need is for a simple wind-breaking wall like this. This black wall as well as the integrated storage bench was designed by Versa Style Design to solve the problem of excessively high winds blowing in from the Saint Lawrence Seaway.
Today the clients spend many hours on their deck, lounging and entertaining. A wall and storage bench such as this are relatively simple to build for a qualified handyman.
2. Add flames for warmth and great ambience!
Outdoor fireplaces are amazing, whether they be custom made in stone like this Techo Bloc or the handy and mobile ones available off the shelf. Just make sure to position it for safety first, considering security and norms, above all else! Oil or ethanol fire torches and lanterns are all available off the shelf so elaborate excavation projects are unnecessary!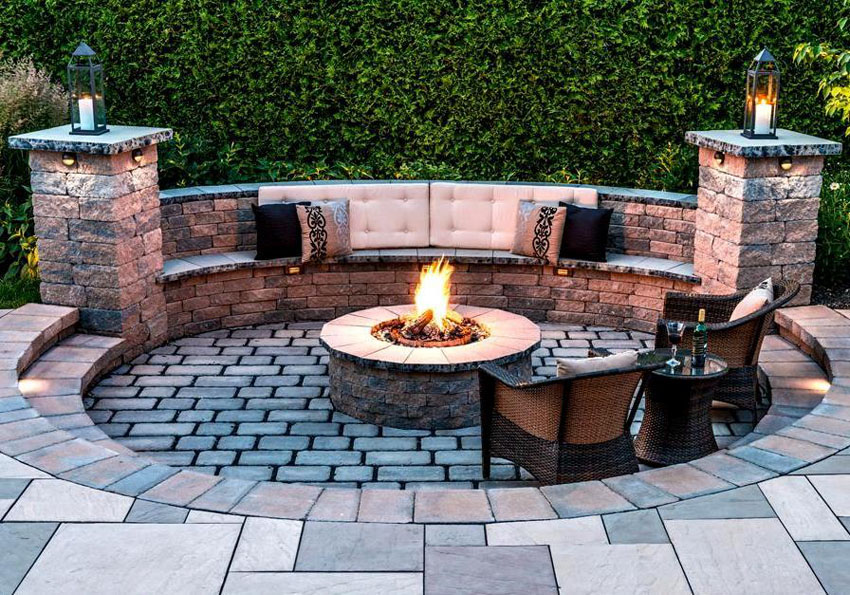 For those desiring custom fireplaces that are more elaborate, you will find that the possibilities are as irresistible as they are endless.
3. Traffic control and the creation of zones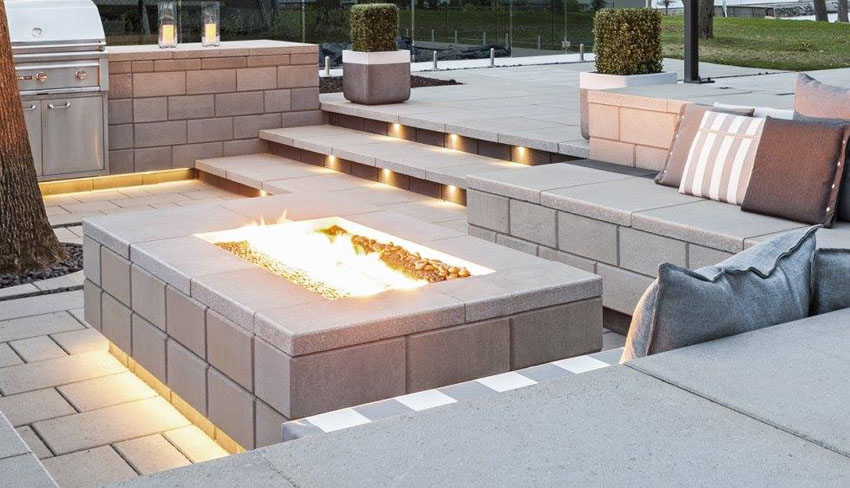 Add multiple levels connected by steps that are well lit, leading people through inviting and strategic zones. Make sure any high traffic areas are spacious; the steps should be large and central rather than narrow and squeezed into awkward corners. This will encourage visitors to discover different areas as they flow through the zones. It also contributes to the functionality of the space as well as increasing the perception of even more space.
4. Optimize the space with storage
Clients are investing more and more in smart storage. Deck drawers are a must-have for every deck owner. You can finally effectively use the storage space available under your deck without comprising the look. Recover this unused space to store a large variety of articles such as garden tools, seat cushions, pool accessories, tires, toys, or any items that you use in your backyard.
5. Create atmosphere with lighting
When making the most of a small space make sure you light up the dark corners and that all the traffic areas and steps are properly lit.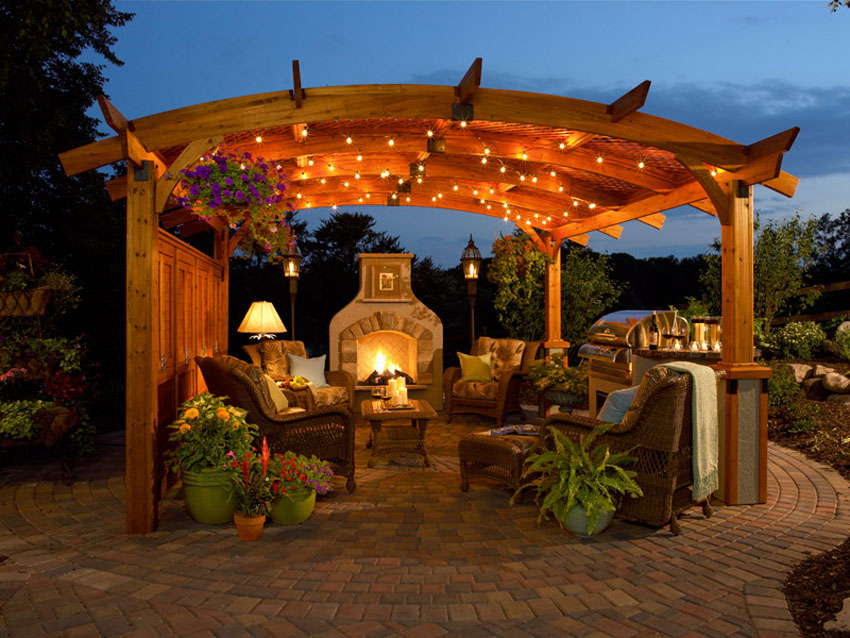 New products out on the market give us ecological options that also happen to look great. The objective is to adequately light the area without being too harsh, as well as focusing the attention on certain features such as plants and interesting surface textures or accessories. Proper accent lighting doesn't need to be expensive to create an inviting and cozy atmosphere.
The proper planning of a garden or outdoor living room has practically become non-negotiable for the simple reason that any available space in the suburbs or urban areas is a luxury high in demand!
In addition to this, Canadian homeowners endure harsh winters with half of the year spent hibernating indoors.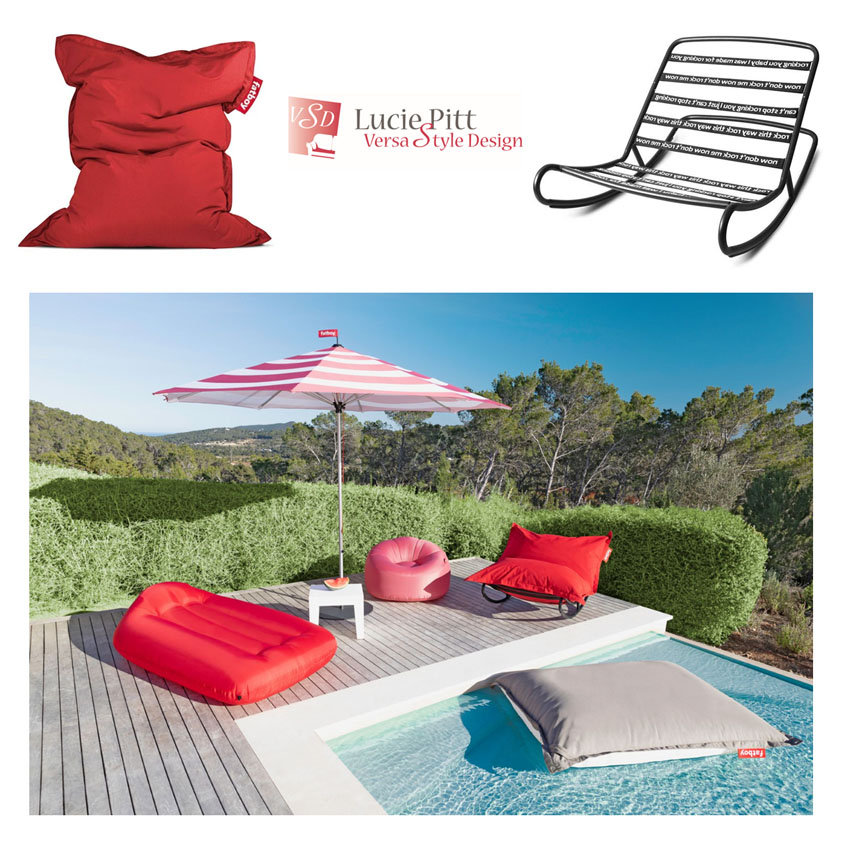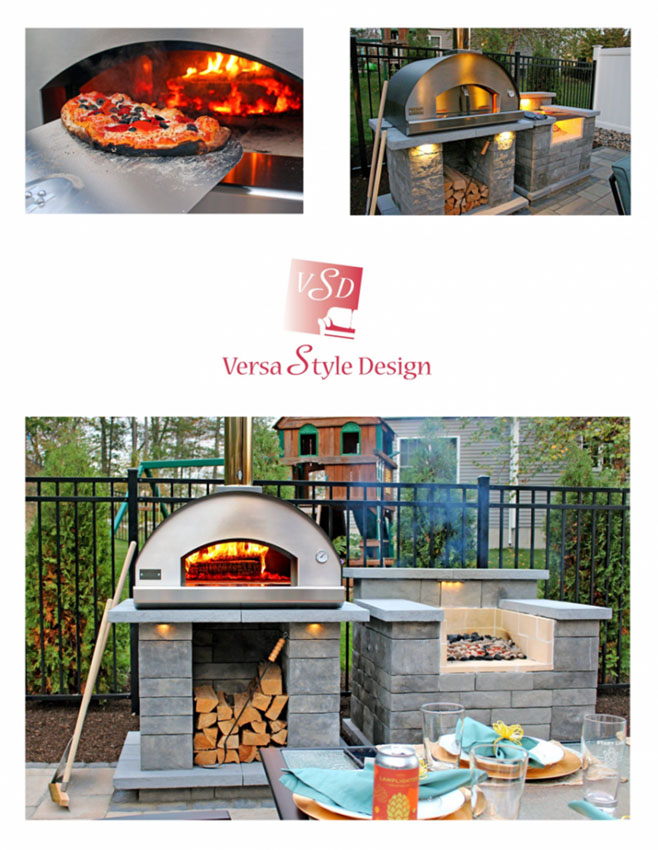 At Versa Style Design we believe everyone deserves an outstanding outdoor space for relaxing alone or enjoying good times with friends and family. We hope these outdoor design ideas gave you some inspiration.
If you need a helping hand, contact us; outdoor space planning, structures, lighting, candle globes, furniture, kitchen elements and trades-people are available with Versa Style Design.
You would like to adopt some of these ideas in your own space but you don't know where to start?
Contact us to transform your home or office according to your style, your budget and your specific needs. By discussing your project we can provide you with relevant information concerning our services, the process and our design fee.
Click here to contact us.