Location: Old Port, Montreal
Design service: Open plan design concept, furniture and accessories recommendations, lighting, colour and finishes recommendations, trades recruitment and negotiations, full project management.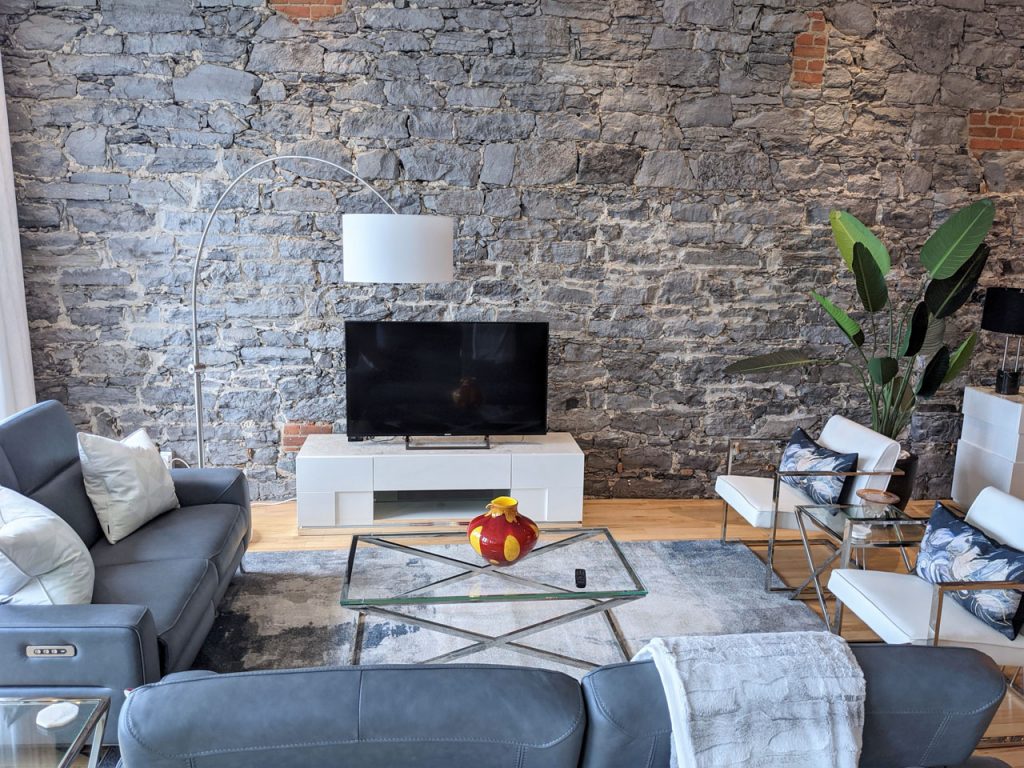 Materials used: Original artwork, grey and blue area rug, stone and brick wall, chrome and glass coffee and end tables, Blue leather electric reclining couches, chrome and white leather accent chairs, grey leather adjustable stools, white lacquer TV Unit, 60-inch tv, Glass and chrome dining table, grey and chrome leather dining chairs, industrial ceiling fixtures, colourful accessories, white lacquer dining buffet with bar, white and chrome Arc lamp, white and chrome floor lamp, assorted accent cushions.
Our mandate: The client wanted a sleek and modern open space that worked with the exceptional stone wall. The area is quite large, so he was having a challenge with the layout. We assisted the client in all material selections, finishes, furniture, cushions, colours and the open plan floor plan and design. The entire living space is uncluttered, cohesive, and works with the natural stone wall…exactly what the client asked for.
Living Room and Dining Room Design Portfolio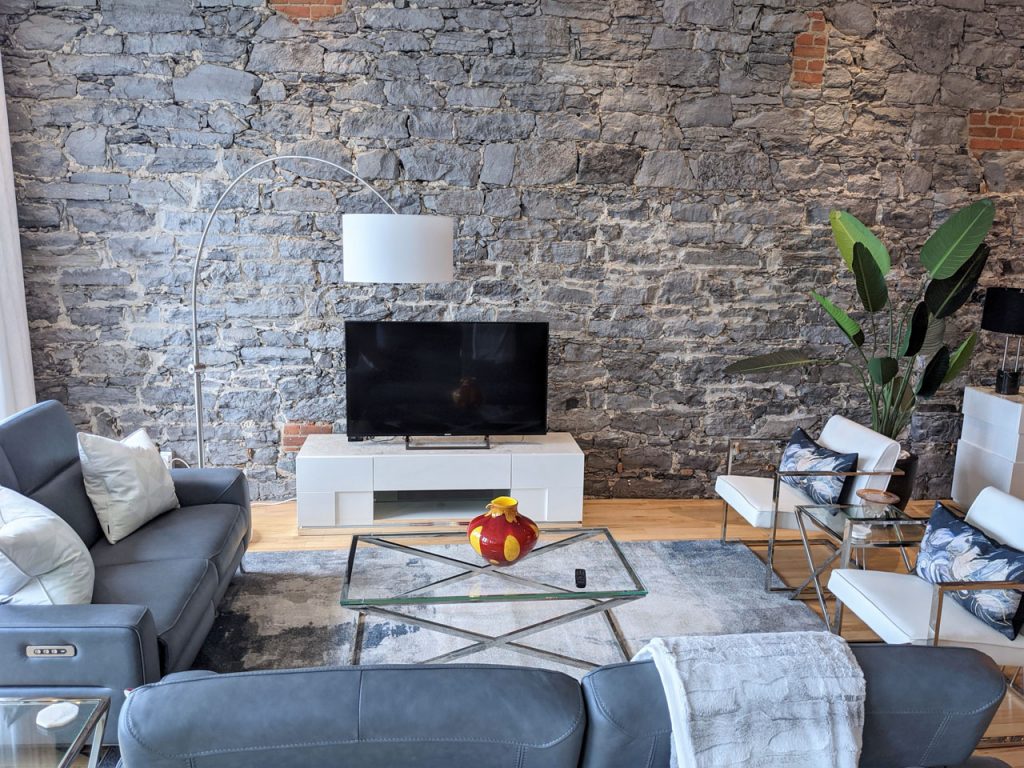 Before and After Design Portfolio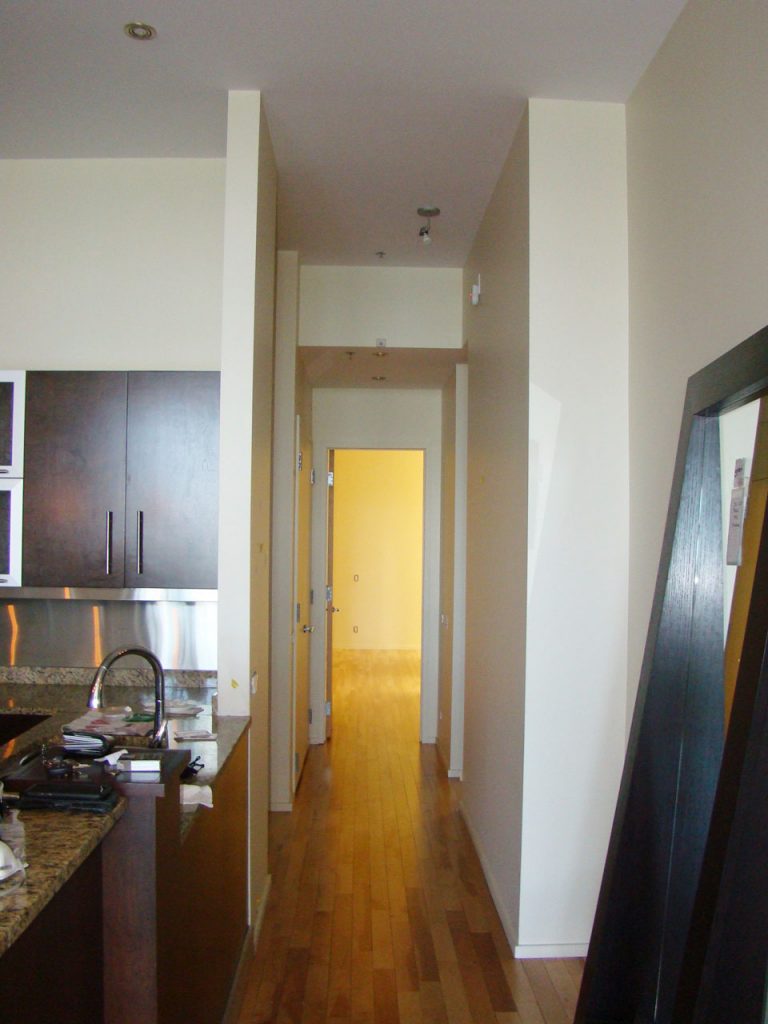 I had the opportunity and pleasure of working with Lucie. I found her to be professional, honest and extremely knowledgeable. She transformed my condo in the old port from an empty space to a beautifully designed home. She took the time to understand my vision and taste. From furniture to accessories, her taste and choice is exceptional. She is also extremely honest. I was surprised to receive a refund from her as one of the vendors we used overcharged and Lucie promptly refunded me. I have worked with quite a few designers in the past and find Lucie to really care about her profession and clients. I strongly recommend her.

Steve Clark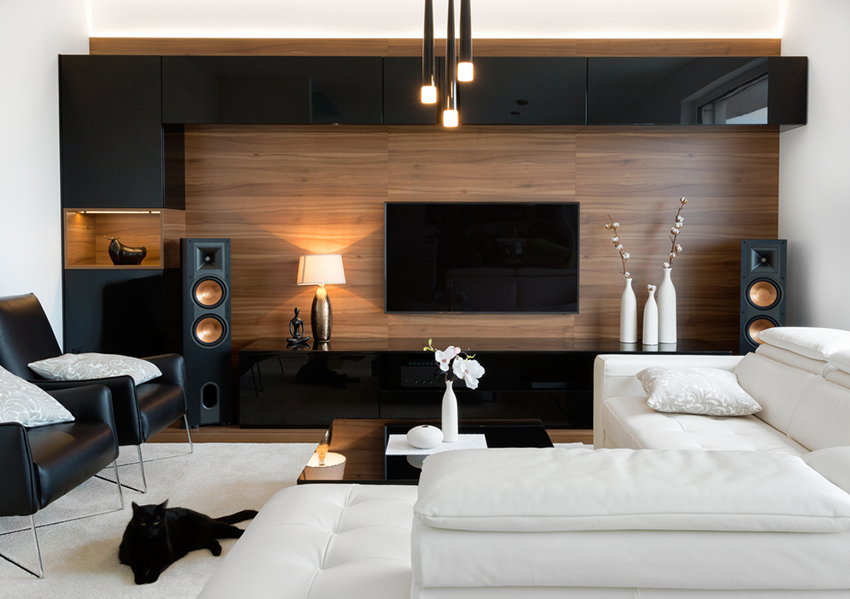 Montreal Living Room and Dining Room Design Services
To learn more about our living room and dining room design services offered to the Greater Montreal Region.