Montreal East Open-Plan Concept Kitchen Review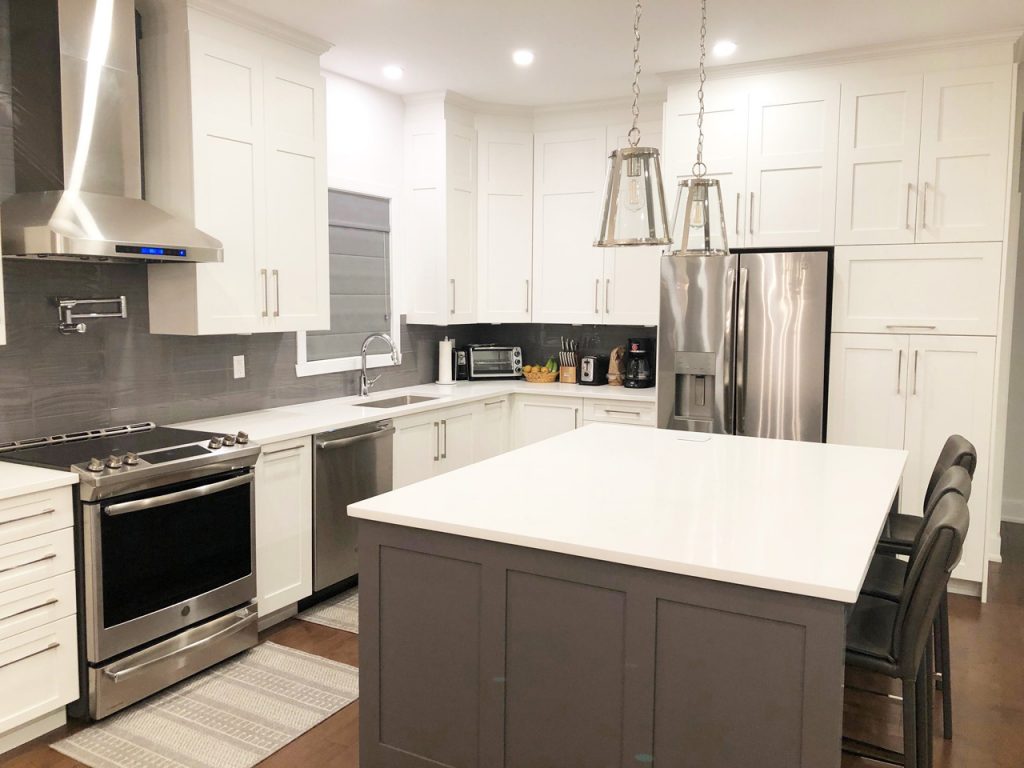 Decided to undertake a full house remodel and reached out to Lucie Pitt to help with the planning and design. From the very beginning, Lucie was very quick to reply to my request and to set up an initial meeting. This was the first indication of her attention to her client's needs. She offers services at three different levels to make it easier to meet your needs and budget. From our first meeting she was full of ideas and displayed an enthusiasm for the project. All through the process, she provided advice and style ideas and worked hard at understanding my tastes and desires. Even on those few occasions where we disagreed on ideas, Lucie was always willing to listen and come up with a solution that that would meet my needs. Her commitment to responding to your phone calls or e-mails can only be described as outstanding. The plans and drawings she produced became my map to navigate the multiple details of such a large renovation. In summary, if you are looking for a designer who will help guide you through the planning and design of your project with enthusiasm and knowledge, Lucie Pitt is the designer for you.

Roberto Tiranardi
Design Review for a Bedroom, Two Different Open-Concept Living Rooms and Dining Rooms, a Home Office, and a Gym in Old Montreal
I had the opportunity and pleasure of working with Lucie. I found her to be professional, honest and extremely knowledgeable. She transformed my condo in the old port from an empty space to a beautifully designed home. She took the time to understand my vision and taste. From furniture to accessories, her taste and choice is exceptional. She is also extremely honest. I was surprised to receive a refund from her as one of the vendors we used overcharged and Lucie promptly refunded me. I have worked with quite a few designers in the past and find Lucie to really care about her profession and clients. I strongly recommend her.

Steve Clark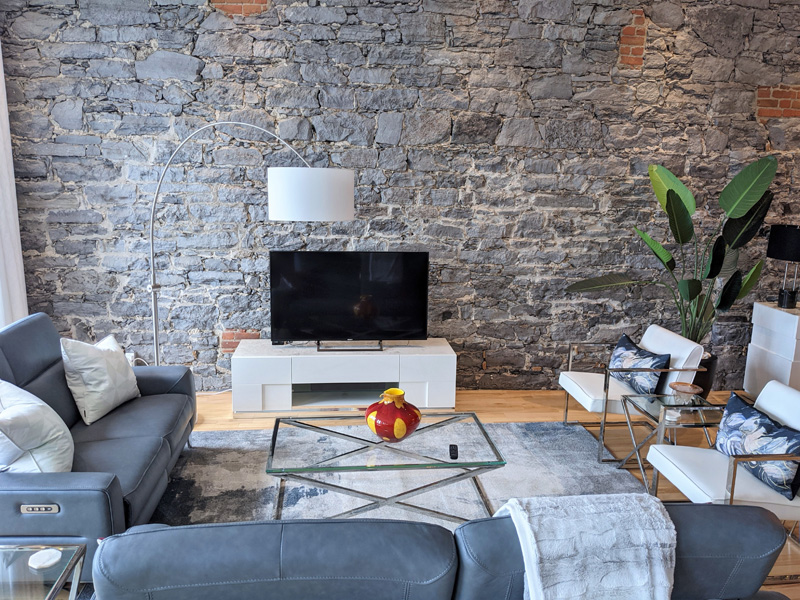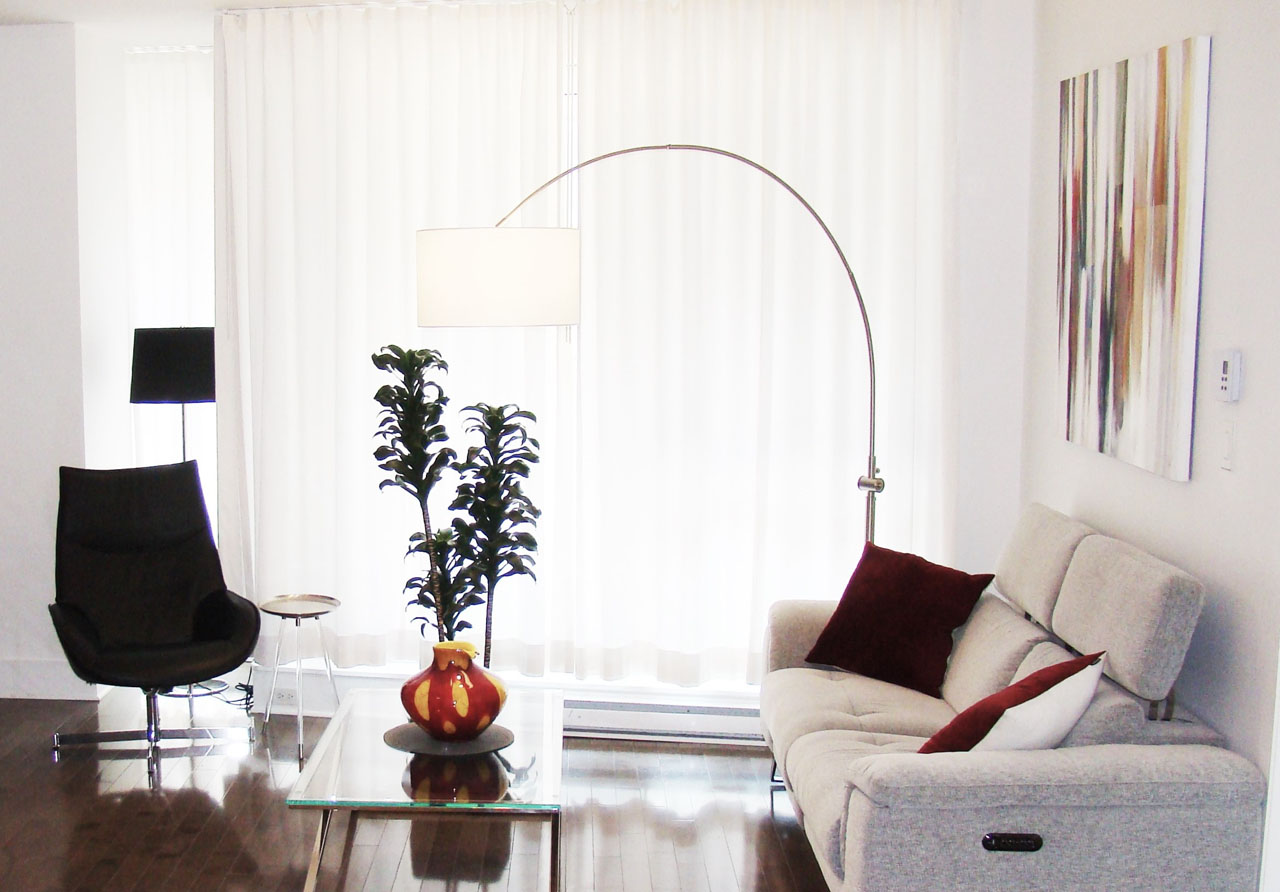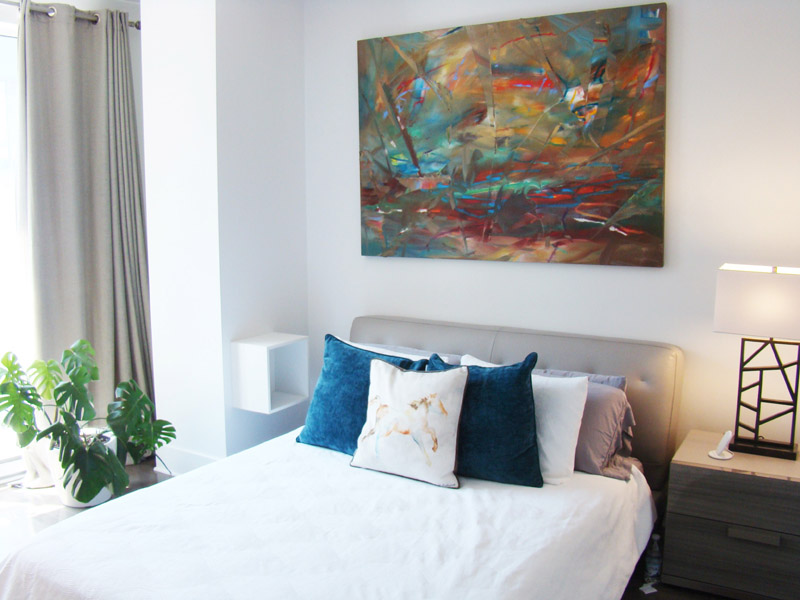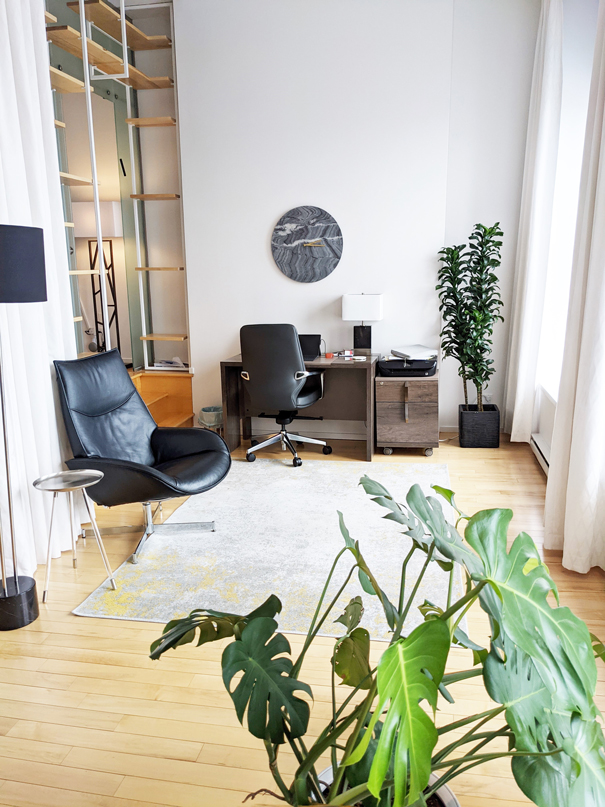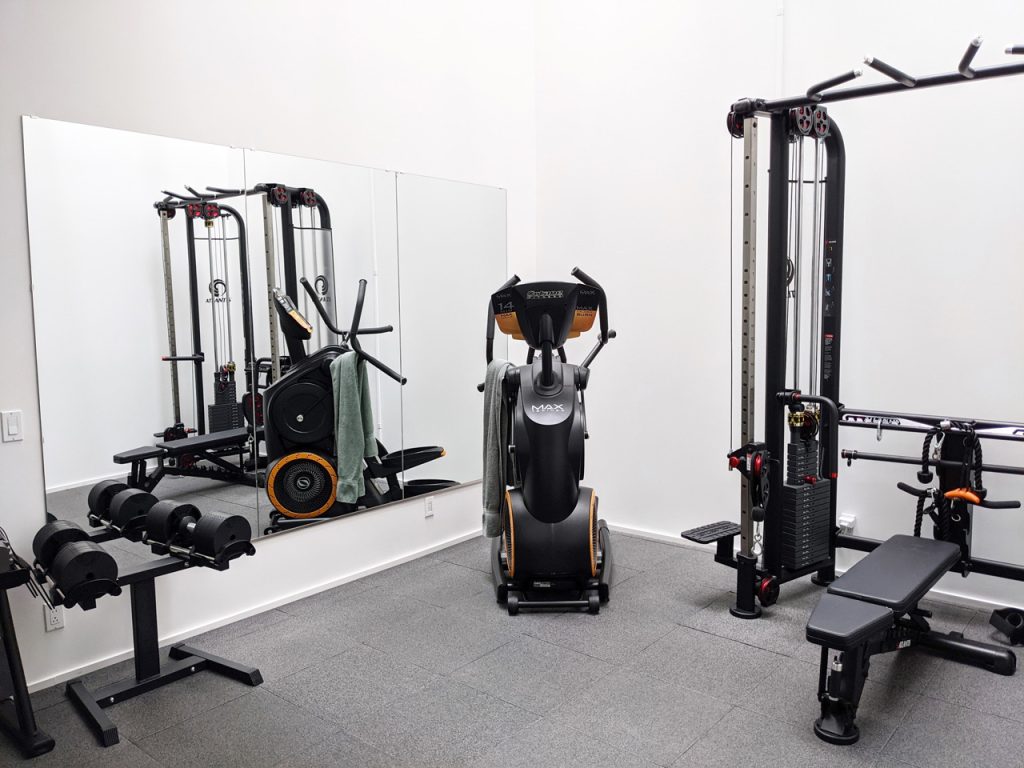 Vestibule-entryway and bathroom renovation in Dollard-des-Ormeaux, Montreal
It was great working with Lucie! She came up with a design for our vestibule-entryway and bathroom-laundry renovations that met our needs and then worked with us to bring it to life!

Dovrat Sonenberg-Silversmith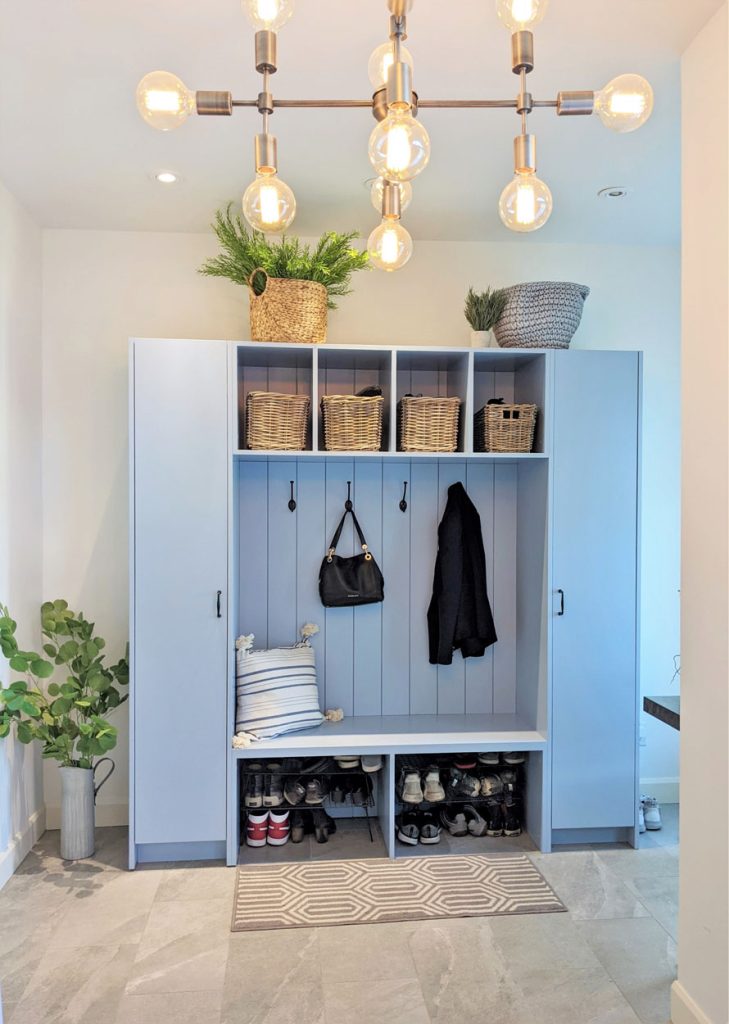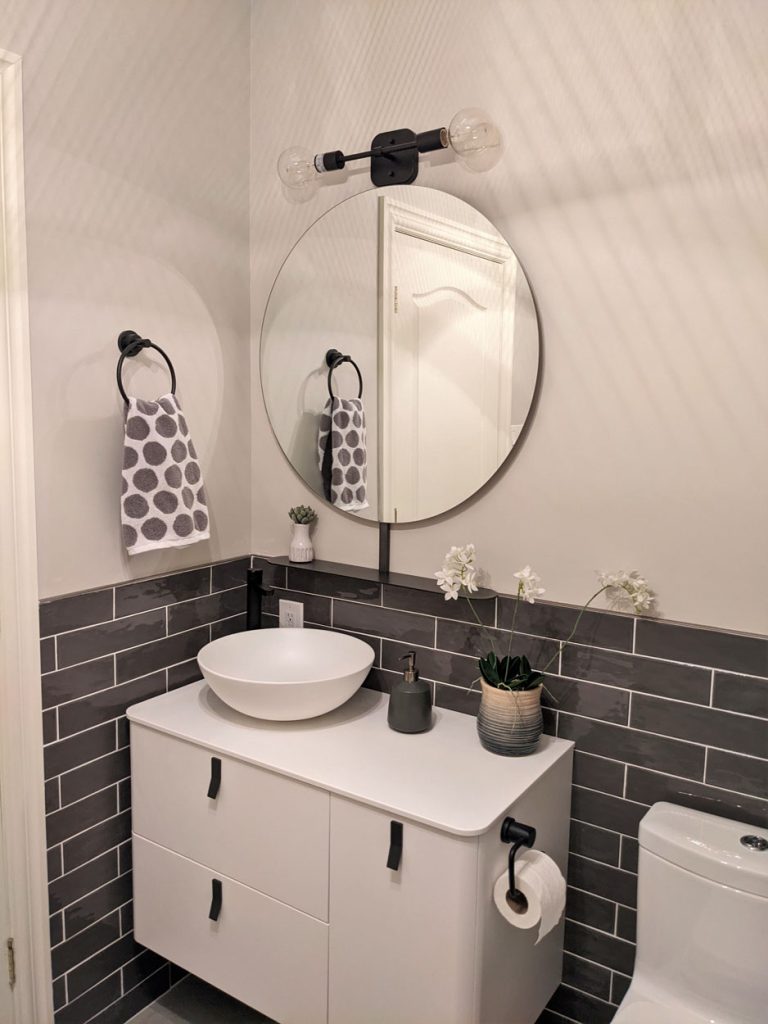 Office Design Review in Pointe-Saint-Charles, Montreal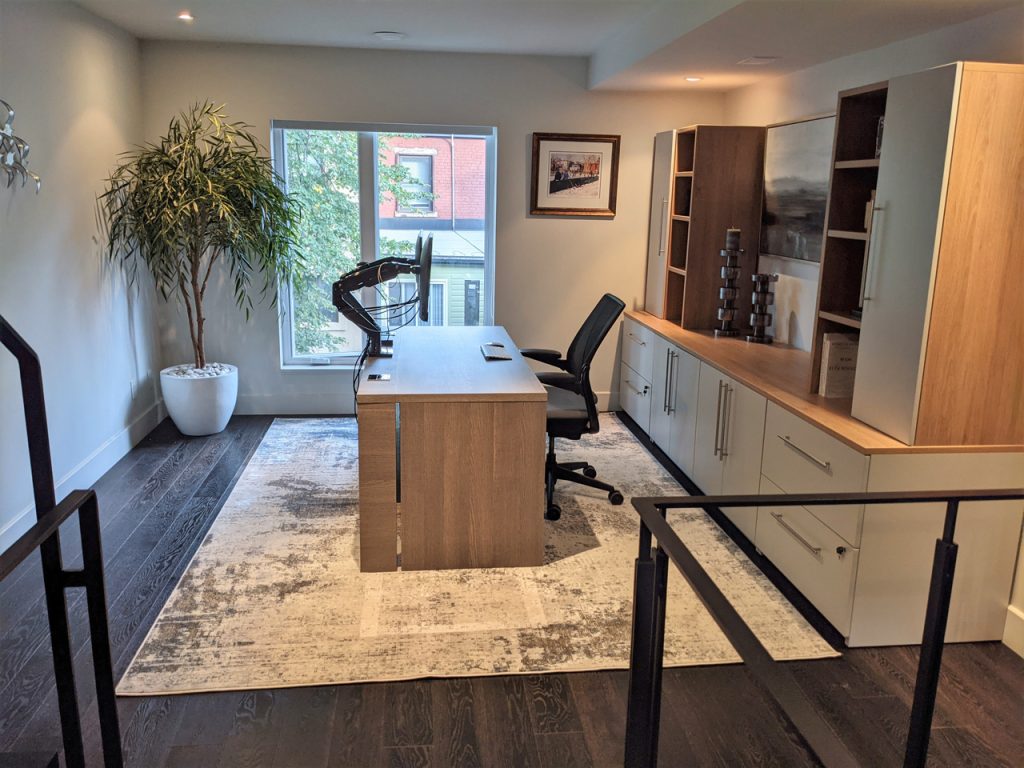 I hired Versa Style Design to help me create a home office that is beautiful, professional and functional – Lucie nailed it! She took the time to understand my needs and design preferences to create a space that works for me, but also reflects my style. She also designed custom furniture to optimize my space. She saved me a lot of time and money by proposing ideas, vetting products and vendors for quality. I get so many compliments on my zoom backdrop now! I would hire Lucie again without hesitation.

Kathleen Ffrench
Review for the Design of a Basement, Bathroom, Laundry Room, Wine Cellar, Living Room, and Gym in Saint-Lambert, Qc
We had very good service. Lucie helped us a lot in our project. She is professional and efficient. She also found us some very good entrepreneurs.

Judith Lavoie and Frédéric Martel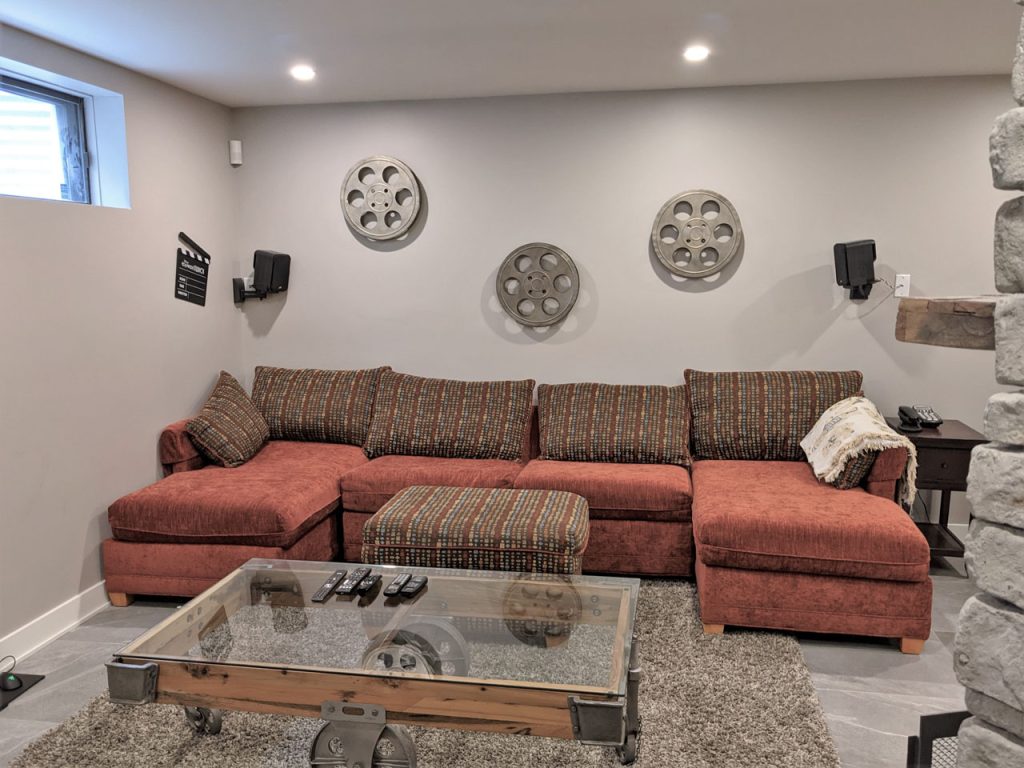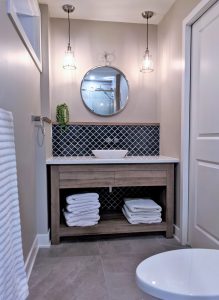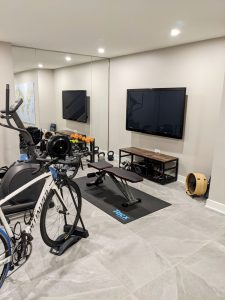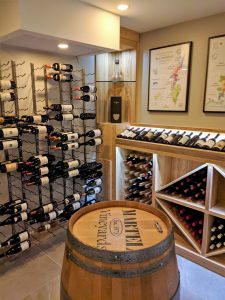 Home Office, Living and Dining Room in Hochelaga-Maisonneuve
Project management with impeccable service! I highly recommend the services of Versa Style Design for any design or renovation project! We hired Lucie to upgrade our first home (the entire condo) and we are 100% satisfied with the results. Lucie truly took the time to listen to us and what we dreamed of as well as all our needs. She provided us with creative solutions to meet our ideals and needs and she was very open and available for adjustments during the entire project.

Her management style is very humane and highly efficient. We felt confident right from the first discussions. We are definitely hiring Versa Style Design for our next project.

Laurence Gingras-Perron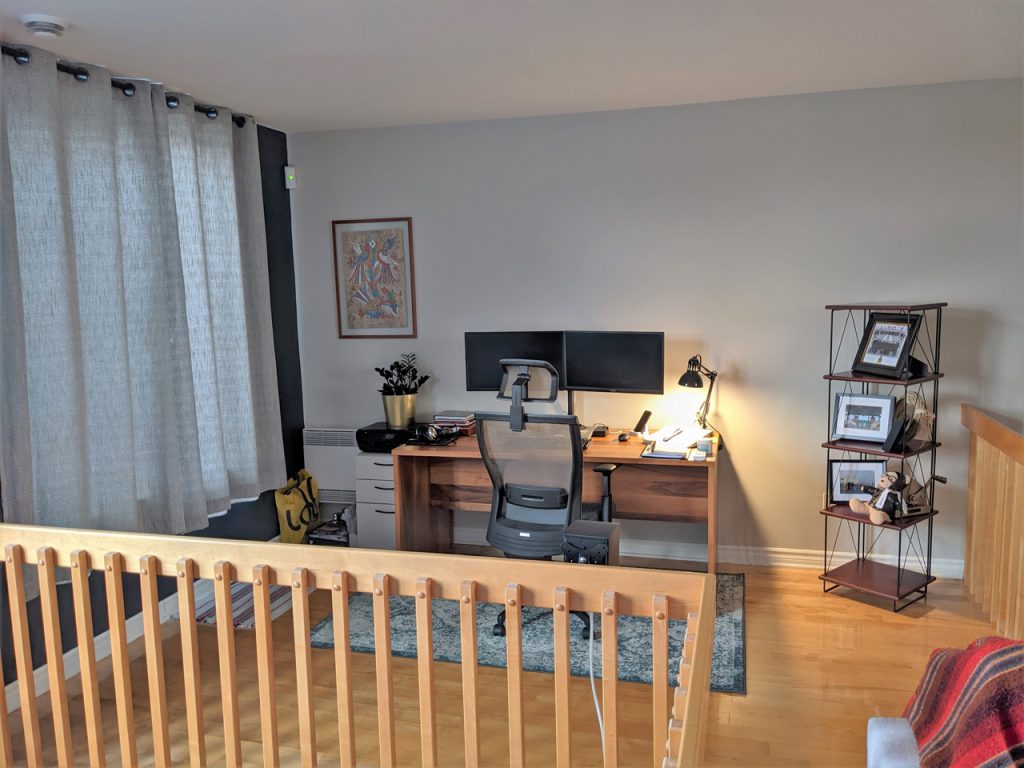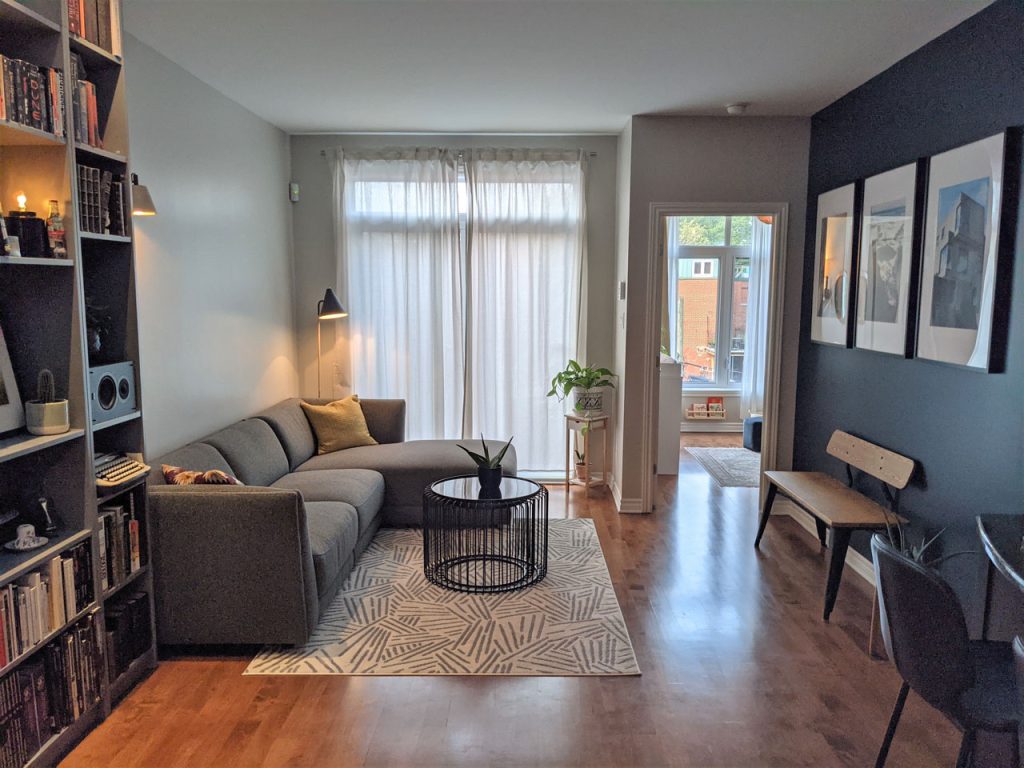 Kitchen Renovation Review in Montreal East
It has been a great pleasure to work with Lucie. Her professionalism and attention to detail is unparalleled. I have been working with her since 2017 and her patience, and energy are exemplary. I am so pleased with the way my living room and kitchen have turned out. Very knowledgeable and helpful.

Kaoutar Dehbi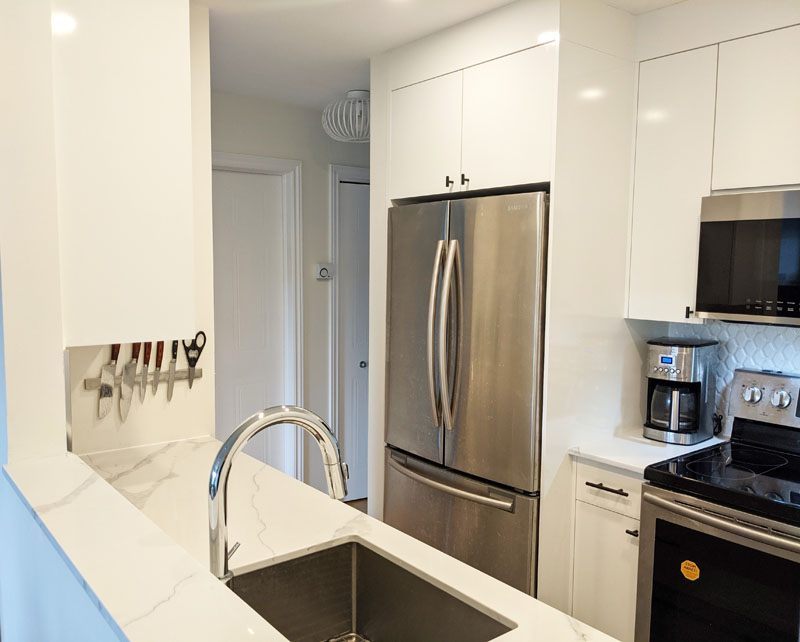 Living Room, Powder Room, Office Design, Kitchen Design and Bedroom Design Review in Saint-Henri
Working with Lucie from Versa Style Design had been for me an extraordinary experience. Right at the beginning, I was confident that this designer was qualified and dedicated. Her offer (in three different levels of service) was clear and very orienting. The tools that she used to assess my taste and my needs were very helpful and helped gaining in effectiveness. She works with reliable partners who, for sure, will never let you down, always meet their commitments and never come with billing surprises. I strongly recommend Lucie and her team, she will help you progress faster and easily.

Eric Boutet
Living Room, Dining Room, Home Office and Entryway Vestibule Design Review in Montreal-West, Qc
Knowing how to listen, having the tools to help us decide, with intent, clarity, tact, and competence … Bravo!

Lionel and Agnes Cailhol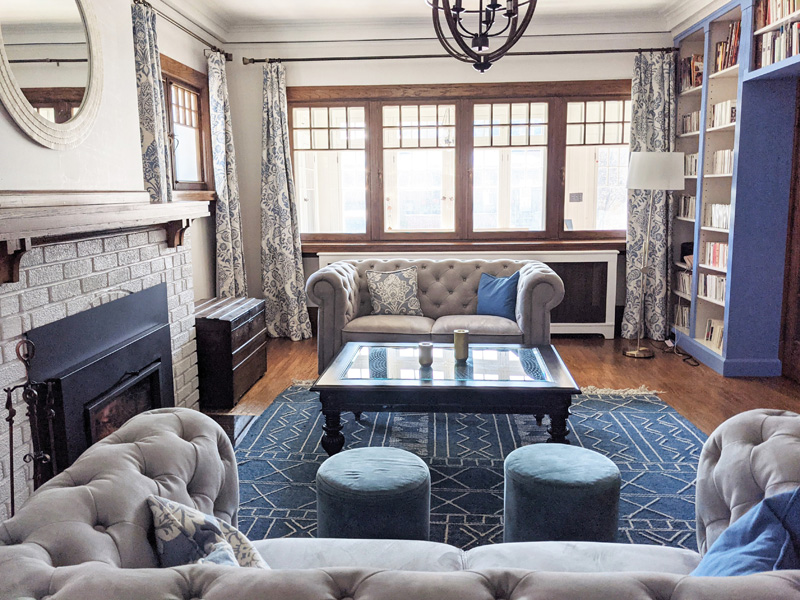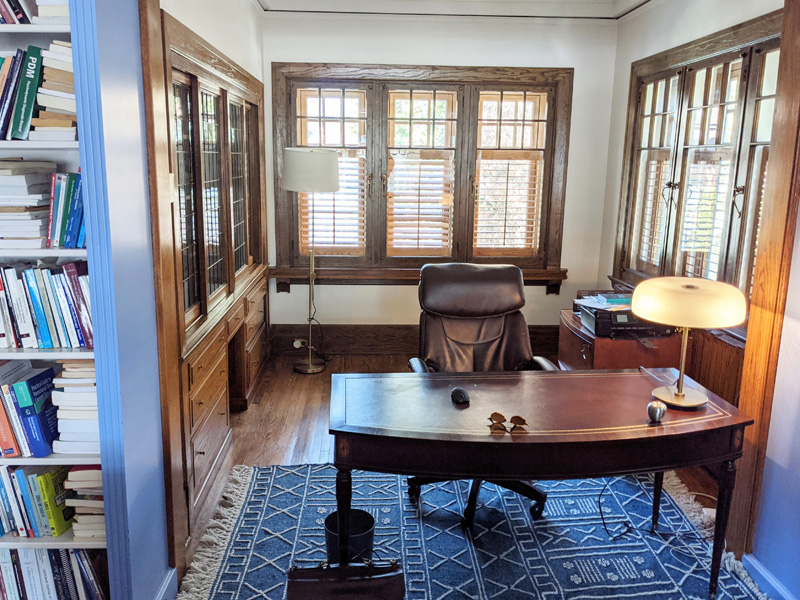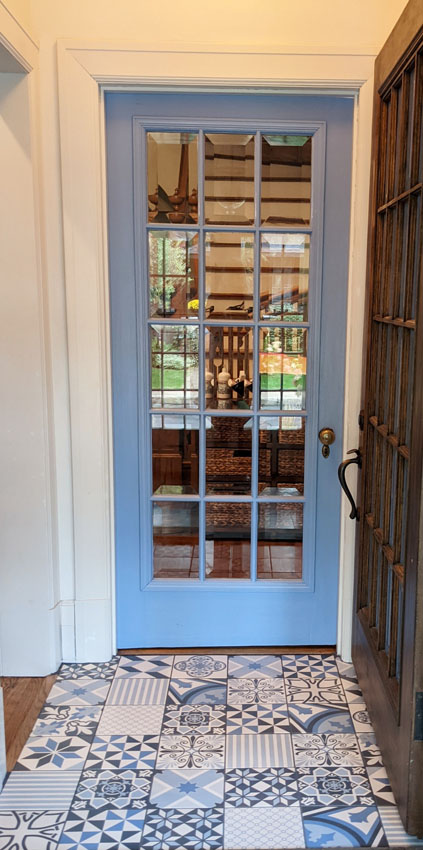 Living Room, Dining Room and Kitchen Design, Open Concept Review in Boucherville
I recently moved to the Montreal area from Ontario and Lucie was a great help in setting up my new house so that it felt like home (but better)! She made great paint choices and helped us purchase new rugs and furniture pieces to complete the rooms. We will definitely use Lucie in the future.

Christine Rodriguez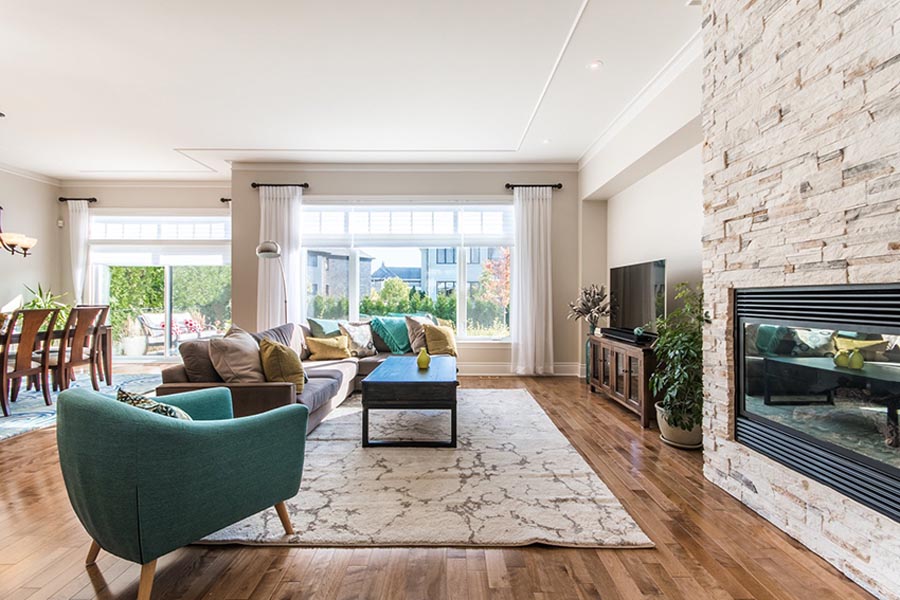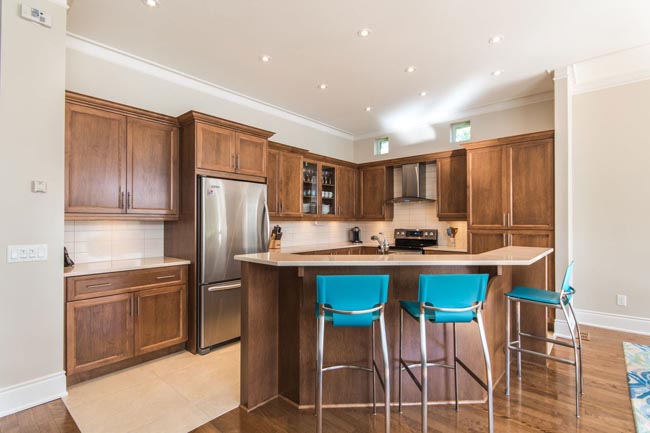 Living Room, Bedroom and Powder Room Design Review in Lorraine, Qc
I contacted Lucie Pitt from Versa Style design to rethink the whole first floor of my house. Because all the rooms are an almost open area, she had to take in consideration my kitchen that was already done. I have very eclectic taste and Lucy brought the whole project in sync. The challenge was to fit classic furniture in my living room and dining room with a more cozy and modern area for reading. The results are astonishing!!! It is mid century contemporary with a WOW effect! My brick wall fireplace was painted black with taupe and crème walls around. I had 2 wonderful classic chairs that were reupholstered in paisley that are in the same color pallet of my sofa and my 2 leather chairs. What wraps it up all together is the beautiful graphic carpet that she proposed. I was absolutely ravished of the results and would recommend her for her creativity, honesty an energy.

Johanne Lapointe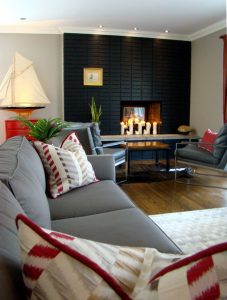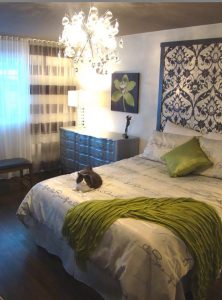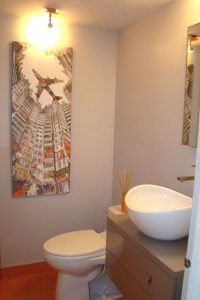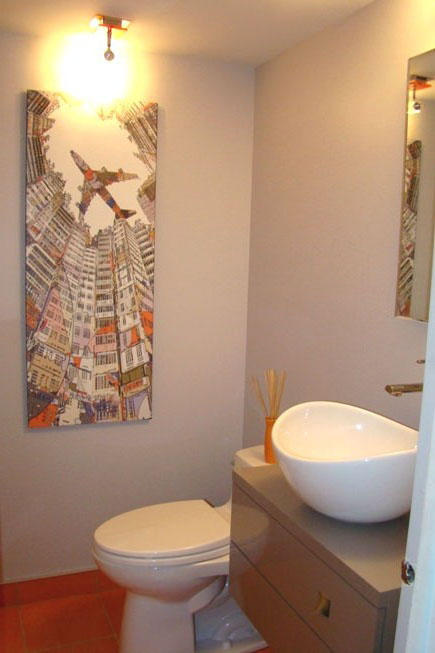 Kitchen and Powder Room Design Review in Outremont, Qc
The energy, professionalism and dynamism of Lucie helped me materialize my dream kitchen and powder room with a result far beyond my expectations! She helped me to clarify what I wanted and reassured me throughout the process.

Marie-Eve Archambault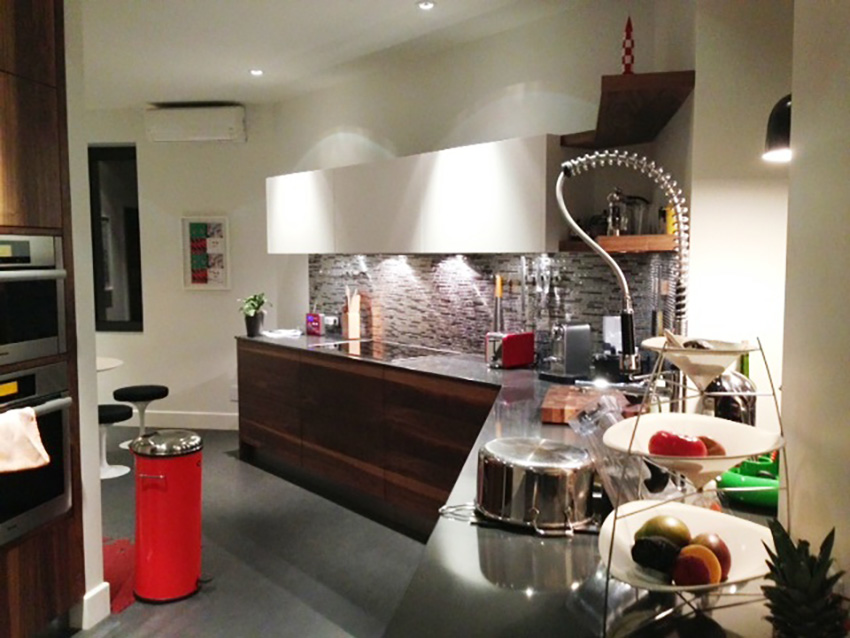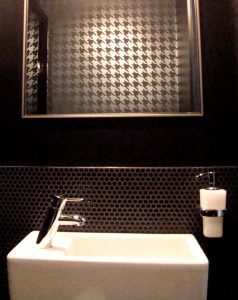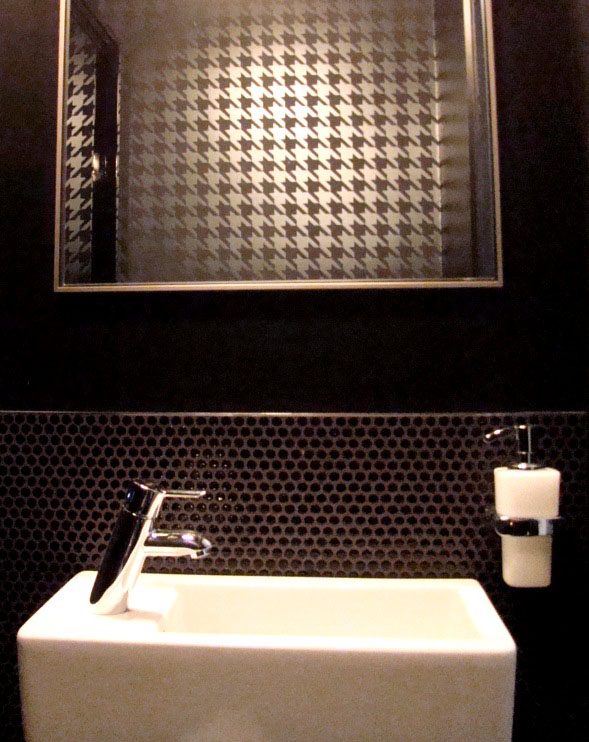 Bedroom, Living Room, Dining Room and Home Office Design Review in Brossard, Qc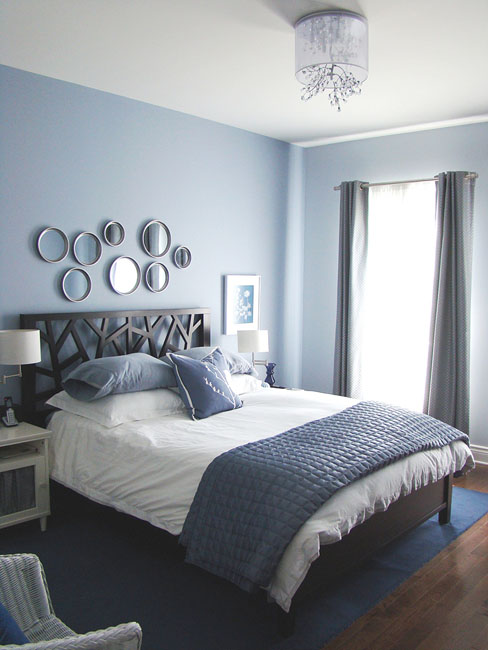 Lucie is an amazing consultant, she was (and still is) an integral part in the design of my new house. Lucie guided me in the decision-making process, from color choices, room design, artwork selection, etc. and was a great "middle woman" for custom-made items. Lucie was there from the get-go and was available for my many, many questions. I would not hesitate to recommend her!

Lyn Johnson
Bedroom, Kitchen, Living and Dining Room Design Review in Montreal, Qc
This is the third time that I have asked Lucie to come and help me make my decisions about changes I want to make to my condo.

Lucie works very quickly and provides good advice. I love it when she draws her sketches. As I am visual, it helps me a lot to understand what she wants to tell me. Above all, she never imposes her sole point of view on me.

Well done Lucie!

Claire Tardif
Bathroom Design Review in Ile-Perrot, Qc.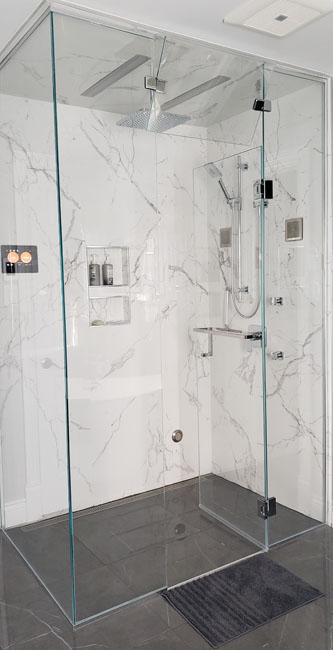 From the moment we contacted Ms. Pitt, she got in touch with us very quickly. She took the time to listen to our requests, while giving us sound advice. Her proposals met our needs and tastes. Thank you very much Lucie,

Guy Bonneau
Office Design Review in Montreal and Longueuil
We hired Lucie from Versa Style to decorate and design the interior of our three offices. We were planning an event that would celebrate the opening of this new office. She was able to provide the service in the very short time-frame. She took care of planning and purchasing decorations for the office which included the reception, a conference room, and 5 offices. The work was done professionally and within the short time-frame.

Boulos Marketing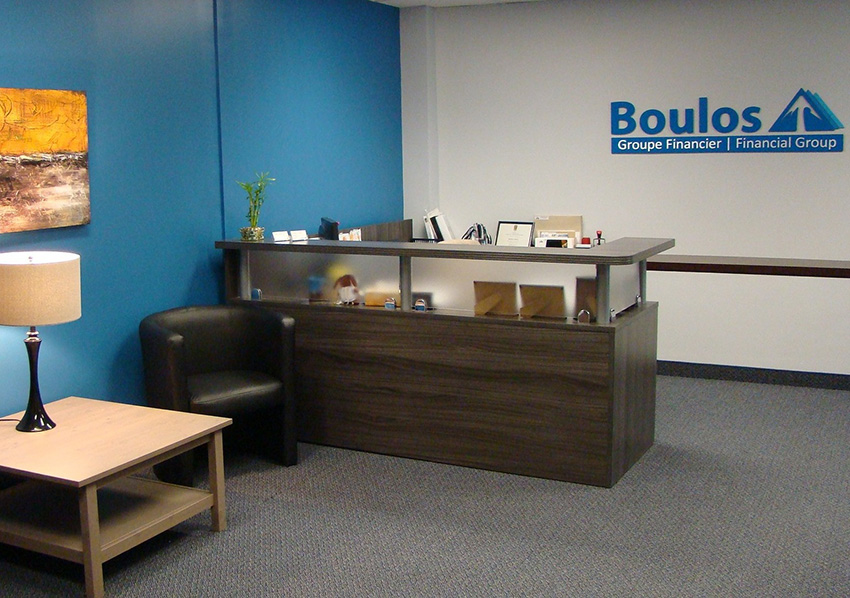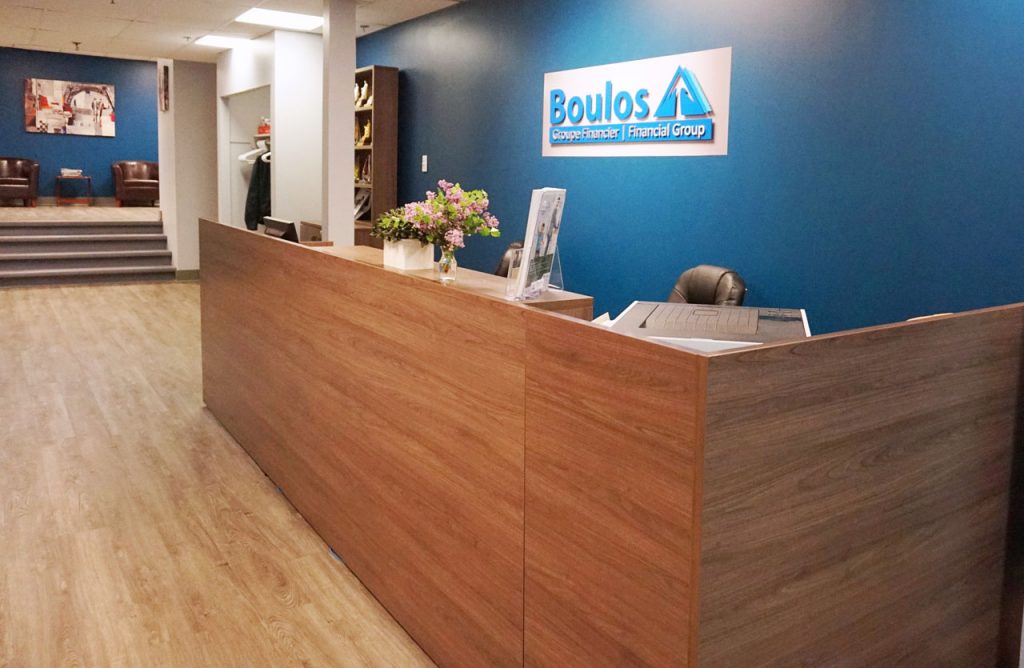 Whole Home Design in Lachine
Lucie did a great job! She was personable and very efficient. She was able to make very clear and concise drawings of each room layout, which really helped simplify what we needed in each room and gave us great ideas for our space. We look forward to continuing to work with her!

Farren Larsen and Meghan Picado
Full Home Renovation in Ville Saint-Laurent
My husband and I were overwhelmed with how to make the most of our small space. Lucie not only provided us with an intelligent layout, she also offered great advice, suggestions and guidance on our home renovations in general.

We are so happy to have worked with her and highly recommend her services!

Joana deCastro and Charlie
Bathroom Design in Pierrefonds, Qc
Lucie is very professional. We worked with her for a bathroom remodel and she helped us in figuring out the style that we wanted, accessories, vanity and plumbing.
Overall great cooperation and very responsive. Would definitely work with her again. We'll also recommend her to friends and family.

Nico Doiron
Home Office Design in Montreal, Qc
Very professional service, great efficiency, attentive to needs. No need to change all the furniture, a few adjustments and additions make all the difference. Despite the limited space, my living room-office seems bigger and the energy circulates better. I haven't had time to put all the suggestions into place yet, but I have started and the results are already satisfactory. A big thank-you!

Julie Paquin
Basement Bedroom and Bathroom Design in Montreal, Qc
Designer attentive to the needs and desires of customers; we are very satisfied with the solutions proposed and the precise plans created on the day of the visit.

We recommend Lucie!

Caroline Gagné
Outdoor Terrace Design on Nun's Island, Verdun, Qc
Particularly efficient, Lucie offered us several very interesting options for the layout of our outdoor terrace. I strongly recommend his services.

Thank you Lucie and looking forward to seeing you again!

Claudie Roy et Jean-René
Review for Outdoor Space Design in Brossard
Lucie is extremely professional, friendly, and talented. She was able to capture what I had in mind, added great suggestions, and exceeded my expectations. Great experience and excellent service.

Joanne Bernier
Review for the Design of a New Home in Montreal, Qc
I had the opportunity of benefiting from Lucie's recommendations for the layout and design of our new home (colours, space planning, furniture selection, window treatments etc) I adored working with her! She is professional and efficient and easily adapts to our style and budget and she really gave us a lot of ideas to set up every space in our home. I strongly recommend her!

Véronique Proulx
En suite bathroom design with a steam shower
We called Lucie to help us with the remodeling of our master bathroom. From the first encounter right to the day of her presentation we felt supported, valued and our desires were her number 1 priority! She takes the time to actually listen and get to know who you are. This was the best investment we made for our project. We highly recommend her.

Tonia Gallo and Dominic Vaccaro
Outdoor Terrace Design on Nun's Island, Verdun, Qc
I loved Lucie's professional service. She met our needs perfectly. Particularly efficient, Lucie offered us several very interesting options for the layout of our outdoor terrace. I strongly recommend his services. Thank you Lucie and looking forward to seeing you again!

Claudie Roy and Jean-René
Design Review for Two Girls' Bedrooms in The Plateau, Montreal
I recommend Lucie's design services without hesitation! I contacted Lucie so she could help with the design of both my teenage daughters' bedrooms. She listened intently and quickly grasped what we wanted. She immediately created hand-renderings for both of the rooms, from every angle. Both my daughters adored all of Lucie's recommendations. We are now ready to move forward because we have exactly what we need. It is very motivating, exciting and that is priceless! Thank you Lucie!

Karina, Mila and Léna Pourreaux
Budget Kitchen Make-Over Review in Downtown Montreal
I hired Lucie to consult on paint colours for a condo that I recently purchased that had dark floors and busy countertops, as well as very orange-hued melamine kitchen cabinets. I also had her help me choose a tile for a backsplash that I added to the kitchen. Lucie was quick to respond to emails, friendly, and most importantly, very helpful. I would recommend her services for your home design needs.

Louise Newall
Home Office Design, Bathroom Design and Kitchen Design Review in Saint-Henri, Montreal
With COVID situation my husband and I are both working from home, where our condo is not really set up for 2 people working at the same time. We reached out to Lucie, our project scope was to create 2 working stations and add more smart storage to our kitchen and bathroom. Lucie was incredibly professional, and quick to capture and reflect our needs in her design. She also took out budget and resell value into consideration. We cannot be happier with her work! The whole process was pain free, no fluff and no hassle! Love it!

Xiao Ai Cai and Perrin Martin
Living and Dining Room Design Review on The Plateau (Le Plateau), Montreal
I needed to redesign and revitalize my dining room and living room. The service rendered to me was professional courteous and helpful. My condo looks new and comfortable. New furniture and hangings. A job very well done.

Patrick Di Giacomo
Bathroom Design Review in Montreal
Lucie gave us valuable advice to organize our bathroom project. She answered our questions clearly and offered us beautiful, practical and functional sketches.

Martine Grenier
Living Room, Dining Room, Bedroom and Bathroom Design Review in Westmount
I appreciated the services and knowledge of this designer. She understands the needs of her client and makes every effort to meet them. I have used this person in two different homes and would highly recommend her.

Michelle Riopel
Living and Dining Room Design, Open-Plan Concept Review on The Plateau, Montreal
Lucie is a professional offering consultation up to full turn-key services based on your budget and needs. I found her work style accommodating and fluid. She specifically helped me with improving my small space open living plan. She helps keep my mind focused on the main pain points that made me seek her out in the first place. She has good judgement and offers realistic solutions and works efficiently when providing design plans of attack.

Mengzhou Li
Kitchen and Living Room Design Review in Greenfield Park
I hired them for a consultation. I will be doing the work myself.

Lucie is very professional, friendly and came well prepared. She takes your personal character, budget and design ideas into consideration adding her excellent design style to the formula to achieve the desired outcome. I would recommend Lucie without hesitation.

Judy Ellerton
Living Room, Dining Room and Bedroom Design Review on The Plateau, Montreal
For context, we hired Lucie to provide design advice for our hallway and to consult on the feasibility of adding a second bedroom within the open-plan concept of our condo. Lucie was extremely professional and efficient. She responded to our emails consistently within 48 hours or earlier, and she was immediately transparent about how much she charges and her process (she also includes this information in her website, which is really fantastic). When she came for the consultation, she wasted no time and got right to work. She mapped out our space and provided suggestions and drawings to visualize how the changes would look. She then suggested companies to do the work and provided us with their contact information. Because of her consultation we feel reassured and hope to move forward with our project. If we need more help in the future we would definitely hire her again.

Alexandra Gifuni
Colour Consultation Review The Plateau, Montreal
We were utterly stuck on paint colours so we got in touch. She grasped the situation immediately and offered the practical advice we desperately needed, asking questions as she went and providing options. Bottom line: We were lost, but she saved us!

Daniel Shumski
Living and Dining Room Design Review in Ville Saint-Laurent
I hired Lucie to help me with a living/dining room re-do. She is a talented designer and was able to have detailed sketches for me within an hour and within a few days she sent me a full "shopping list" with all of the different pieces I should buy and images of specific examples with measurements and even info on which stores were currently selling similar items! She accomplished in a few hours what would have taken me months to research! I felt that she really cares about her client's happiness and goes above and beyond expectations.

Karen Shapiro
Home Office Design Review in Montreal
Lucie was professional, knowledgeable and efficient. She was organised, transparent, and made clear efforts to work within our parameters and budget. Her experience and "know how" was invaluable to us. Thank you Lucie!

Tanya Bergevin
Laundry Room and children's room Design Review in Saint-Leonard
We hired Lucie to help us overhaul our laundry room and our child's bedroom. The challenge was to make a 9 x12 foot 4year-old child's room comfortable to accommodate her newborn sister while still keeping that princess feel. Lucie was able to guide us in rearranging the furniture to create a space with more playroom while changing the wall color to brighten up the area. She created on the spot drawings and assisted with reorganizing the closet to accommodate extra clothes. She also came to shop with us to pick out the decor. We are really happy with her professionalism and she was able to save us 15% at the store with her research and her many contacts. Her service paid for itself with the discounts we saved. We have more projects and will be calling her again. Highly recommended.

Ida Donatelli
Living Room, Dining Room and Bedroom Design, Open Plan Concept Review in Montreal
Lucie was able to grasp and understand exactly the vision that i had. she was able to help me decorate on a budget and refer me to the right stores.

Zalika Dia
Kitchen Design Review in Griffintown
I hired Lucie Pitt, at Versa Design, to redesign my small condo kitchen. Shortly after our first electronic contact, we met, she listened and came up with several ideas. She followed up with more specific recommendations, accompanied me to a contractor #1 (whom I did not use) and recommended another who worked out very well. This was my first experience with a designer and I was very pleased. I would recommend Ms Pitt very highly for her attentiveness to my needs, the quality of her work and follow-up on the renovations to assure quality and satisfaction.

Beverly Redmond
Colour Consultation, Window Treatments and Curtains Review in Villeray-Saint-Michel, Montreal
We contacted Lucie to assist us in choosing wall colours, flooring, window treatments and other design elements. She has an incredible eye and impeccable taste. We loved everything she suggested. Her warm personality, professionalism and knowledge made it a delightful experience. She was mindful of our budget and helped us maximize our dollars without compromising on style. She went above and beyond to ensure we were satisfied. Lucie gave us ideas on where to buy all the items required for completing the desired look. We would recommend Versa Style Design to anyone interested in hiring a professional decorator. Thank you Lucie!

Adriana and Rosa Ricciardi
Living Room, Dining Room and Bedroom Design Review in Saint-Bruno, Qc
I was delighted by the work Lucie did in phase I of my project and I was just as enchanted by phase II, for the shopping. If you love to shop, you will love Lucie because she gives you all the tools to make your passion productive. If, like me, you hate shopping, then faery-like Lucie will accompany you to make this chore a pleasure. It is so well prepared (samples of your colors, detailed lists, notes and sketches) that the merchants are amazed. The time invested is very advantageous because if you do not find the articles you are looking for, you will find them quickly thanks to the generous advice of Lucie who is also an excellent teacher. Without ever judging, she explains to you why it is appropriate or not, with a lot of tact and respect. She also offered, because I was too tired to continue, to do some research herself for the light fixtures and frankly, it was worth the cost! So, I am absolutely thrilled by Lucie's services and when I am ready to proceed with phase III of my decoration project, it is undoubtedly to her that I will appeal, for her wise eye, her professionalism, her judicious advice, and her expertise which allows us to have a warm interior, up to date, comfortable and practical. I recommend Lucie to you without any reservations.

Manon Trépanier
Homestaging Services Review in Montreal
It was a pleasure to deal with Lucie. The level of professionalism she brings to the table is absolutely a must in this field. I appreciate the attention to detail and the passion she shows when working on a project. I have had the pleasure to deal with Lucie from Versa Style Design and I look forward to working with her again!

Marzia Koudedia
Homestaging Services Review in Montreal
Lucie, a true passionate about her work! With her head full of ideas, she will share her thoughts with you for your projects in the instant of just one meeting!

Vanessa Binet Realtor / Courtier Immobilier
Bathroom Design Review in Repentigny, Qc
Lucie did a great job evaluating our needs, providing sketches and details even helping in shopping the materials to upgrade and actualize a 20 year old main bathroom. Great job!

Jean-Louis et Denise Tétrault
Home Staging Review in Montreal
We hired the services of Versa Style Design for a home staging for the purpose of selling our house. Lucie's recommendations were to refresh the kitchen's cupboards with a new coat of paint and move furniture in the living room to open up and give the impression of space at the entrance hall. We followed her advice and. Sold the house in a few weeks.

Hélène Vigneault
Basement and Bedroom Design Review in Rivière-des-Prairies, Montreal
I have had excellent services from Versa Style. The designer provided me very interesting recommendations and advised both on home design (basement and bedroom) and colour choices. The design fees are reasonable. Lucie Pitt responds to my requests within a few days. A very professional person. Thanks to Versa Style, my home is nice, sweet, and accommodating.

Zakia Attab
Bedroom Suite Design Review in Brossard Quebec
We were extremely pleased with the outcome of our project. Working with Lucie Pitt of Versa Style Design was a pleasure. Lucie delivered a design that fit our budget, style and exceeded our expectations. I might add that we are very difficult clients and not easy to please. Both my husband and I have design backgrounds and we found that we could not agree on very much. There were just too many possibilities, but Lucie kept us grounded and on task. The result was a design that suited us both perfectly!

Laurie Swailes and Jamie Newman
Kitchen and Office Design Review in Longueuil, Quebec
Project: redesign my kitchen and my Creative space / office. Create storage spaces and a filing system. Lucie is respectful, efficient, and so kind.

Chantal Thérien
Bedroom, Basement, Living Room, Dining Room, Bathroom and Child's Bedroom Design Review in Saint-Leonard, Qc
Lucie is wonderful to deal with. Extremely knowledgeable and so helpful. She will go out of her to make you happy.

Marysa Crisci
Living Room and Kitchen Design Review in Longueuil, Qc
Lucie was always responsive, available on short notice, helped us better understand interactions between colors and furniture placement, tips that we now apply when we think of re-arranging things. Complete follow-up done on our orders too, worry-free.

Stephan Michon
Basement and Office Design Review in Montreal, Qc
One year ago, Versa Style Design came over my house to work on my basement…in 4 hours Lucie designed a gym in my garage and in the basement, a family room, and an office for my home-based business with many details and options. The next day, I had in my email the plans of the two rooms, with all the specifications… It was so specific (lights, location of furniture, storage racks and more…) that I fixed everything in a weekend…and it is beautiful. My transformation was inexpensive, easy to create and set up…thank you for the excellent work.

Geneviève Dery
Basement and Kitchen Design Review in Saint-Jean-sur-Richelieu, Qc
We appreciated her active listening, her speed of execution, her choice of solutions and her approach. Working with Lucie is very pleasant and stimulating. She left us with several ideas for a project for which solutions and ideas were nowhere in sight. Thanks Lucie.

Geneviève Beloin et Éric
Basement Design Review in Montreal, Qc
Lucie is an exceptional designer and human, she knows how to adapt perfectly to her clients. You have a project? Do not hesitate, call her! Thank you, Lucie, for everything 😊

Nelly Roux
Kitchen Design Review in Montreal
Very attentive to the needs of the client. We were very satisfied with the service for the design of our kitchen.

Manon Gauthier
Kitchen Design Review in Montreal
We asked Lucie for the plans of our new kitchen!!! What a professional woman full of ideas!!! I highly recommend her to you. I cannot wait to see what she suggests to us for selecting ceramic tiles and colors …

Julie Thériault
Kitchen Design Review in Montreal
We met with Lucie to help us with ideas for our very tiny kitchen, we noticed she was really in tune with what we wanted and what could be done within our budget. We were impressed that within a short period of time she had sketches ready for us to visualize the kitchen.

Lucie is professional and very talented. Also, she is very easy to talk to and she listens to what you want. We had a great experience. Sandra and Ivan

Sandra Elster-Wotchinski
Kitchen Design Review in Montreal, Qc
Lucie is very available and responsive. We called on her for the plans and recommendations for our kitchen renovation. She gave us highly valuable advice adapted to our taste and our budget. She has made many resources available to us, which gives us the freedom to do our work ourselves or to use professionals. I highly recommend her services!

Stéphanie Kraess
Colour Consultation Review in Saint-Jérome, Qc.
Excellent designer! Knows how to listen to her customers and knows how to impress them! I love her vision of design! I strongly recommend her !!

France Comeau
Kitchen Design and colour consultation Review in Boucherville, Qc
I had the joy of receiving Lucie Pitt as a design consultant a few years ago. I enjoyed the experience so much that I asked for the same service again for my new home. She listens to our tastes and needs. She managed to put together pieces that we would not have thought we could keep. I am happy to avoid making mistakes in our renovation projects and choice of colors. We have saved precious time and avoided unnecessary costs.

Helene Brillard