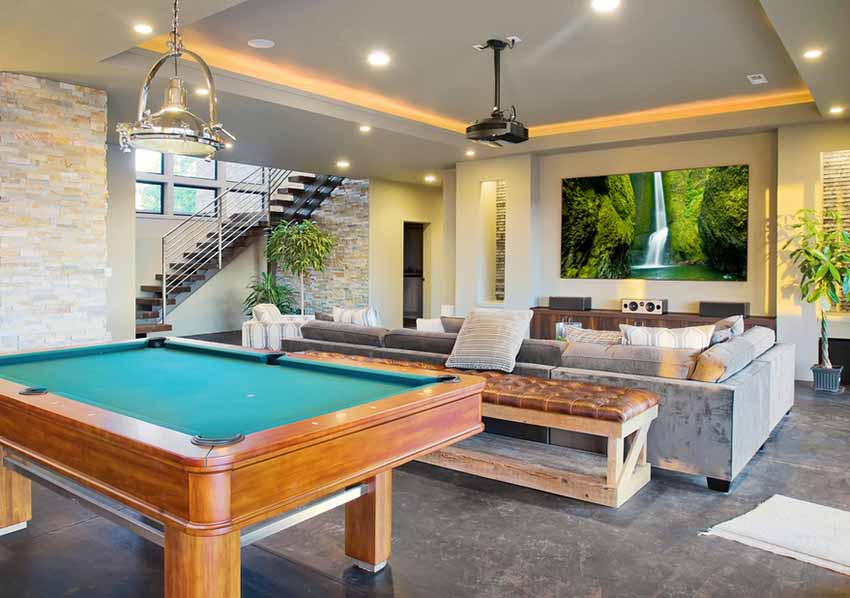 Versa Style Design provides basement interior design services to the Greater Montreal Region. This service can range from a 'simple brain-storming consultation' with excellent hand-rendered plans and ideas to a complete 'turn-key renovation design package'. Regardless of the scope of your project, we make sure that the improvements made to your basement will fit your budget, needs and personal style.
Basement design services begin with an in-home consultation to understand your specific needs in terms of storage as well as the activities that will take place in the basement. Different families have different uses for their basement; we want to design your basement to fit your needs and to add value and functionality to your home.
Basement Design with a Home Cinema
Most large family homes have a secondary lounging zone in the basement. The most common new basement designs include a home cinema area with comfortable seating for the whole family. This area can act as the main living den where the whole family spends time together or where a family member can quietly retreat to for some rest and relaxation. Your new basement design can become your new favorite spot to watch Netflix or play video games with friends.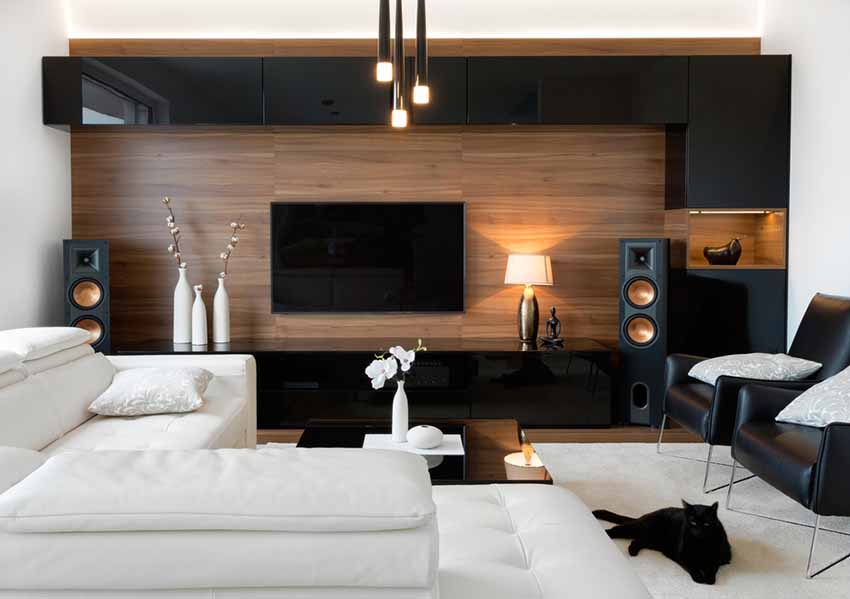 Basement Design with Storage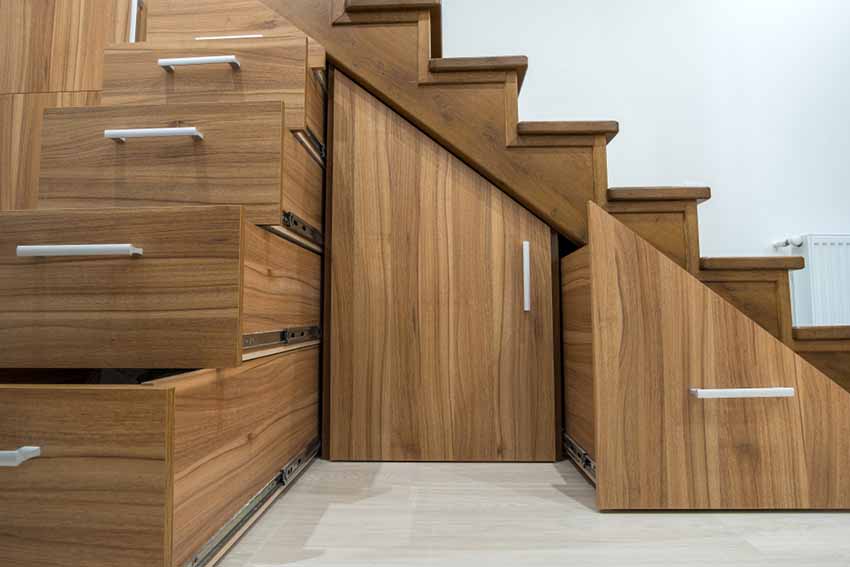 Most homes desperately need additional storage space. What better place than the basement to add functionality for an organized and de-cluttered home? The more hobbies a family or an individual has, the more they require storage for sports equipment, tools, crafts, games, photographs and collections.
As your family grows, so will your need for additional storage. You might as well include it in your design and add value to your home. Let us know what you will be storing so we can make the proper recommendations for your new basement design.
Basement Design with a Play Area
Does your new basement design need an area dedicated for the children? The modern family has a wide variety of interests and children need to have a space of their own. Discovering their passion, hobbies and friends will help us design the perfect play area for your children. With some of this information in hand, we will design your new basement to include an area that your children really enjoy with plenty of child-friendly storage solutions to help them stay organized.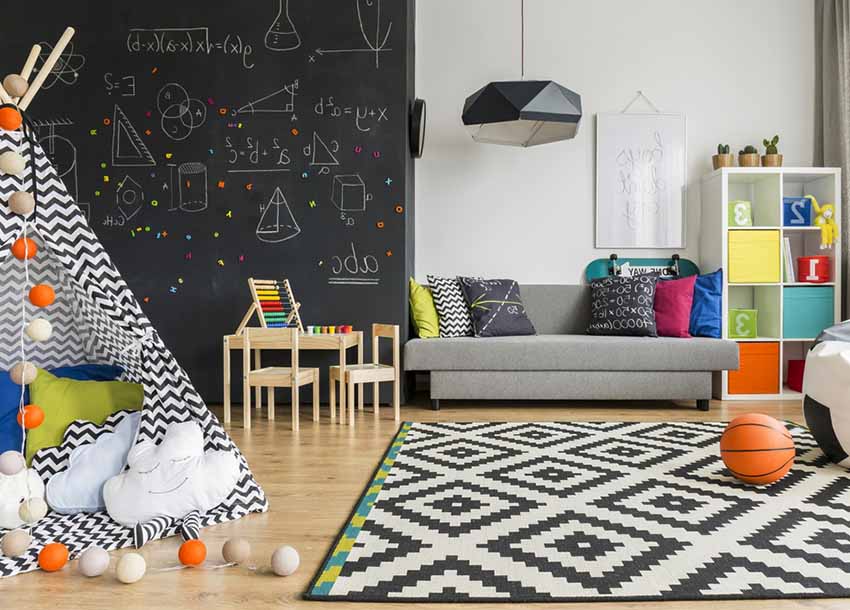 Basement Design with a Workshop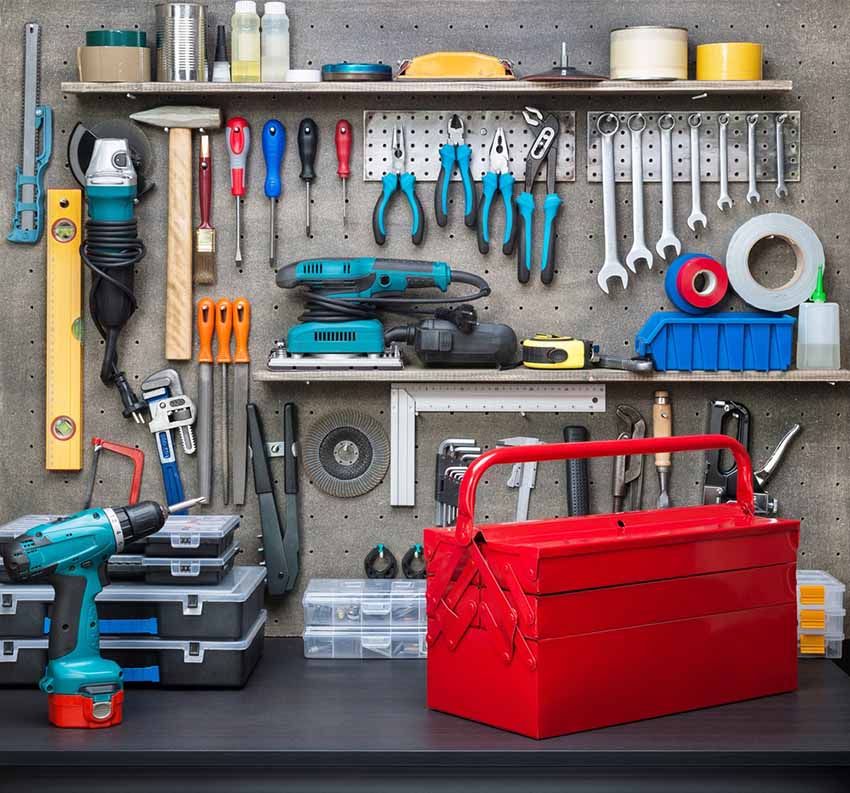 Some homes without a large garage lack sufficient space for a handy man or craftsman to set up an area with a working surface and place for the tools and equipment. The solution to having a workshop at home, in the absence of an extra-large garage, may be to set up this zone in the basement. Your workshop should provide easy access to the proper tools set up within functional storage solutions. This can be achieved with a global design that is organized and that fits with your personal style.
Basement Design with a Laundry Room
An organized home cannot succeed without a highly structured laundry room. We take it a step further and completely renew the way you do laundry by including functionality and storage in our design. A laundry room doesn't require large windows or a lot of square footage, therefore having one in the basement is ideal. If you want to integrate a laundry room in your basement let us know.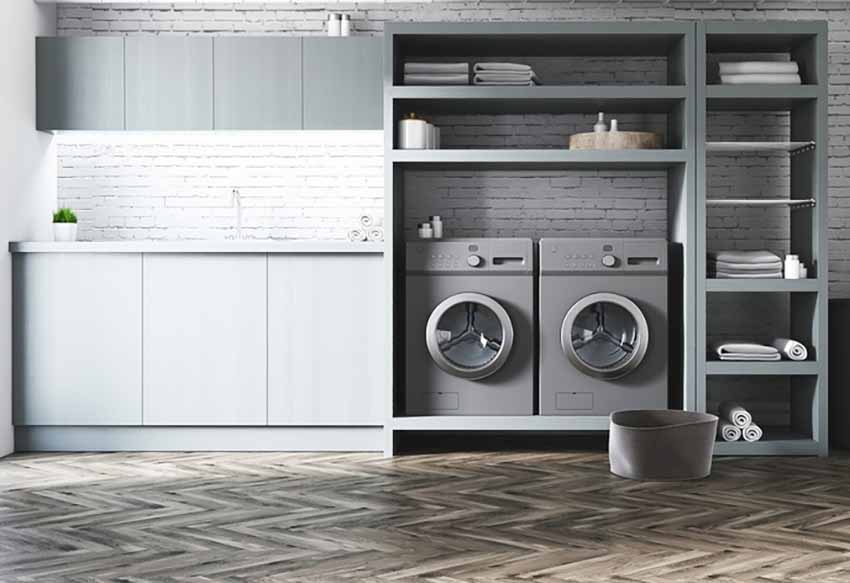 Basement Design with a Bedroom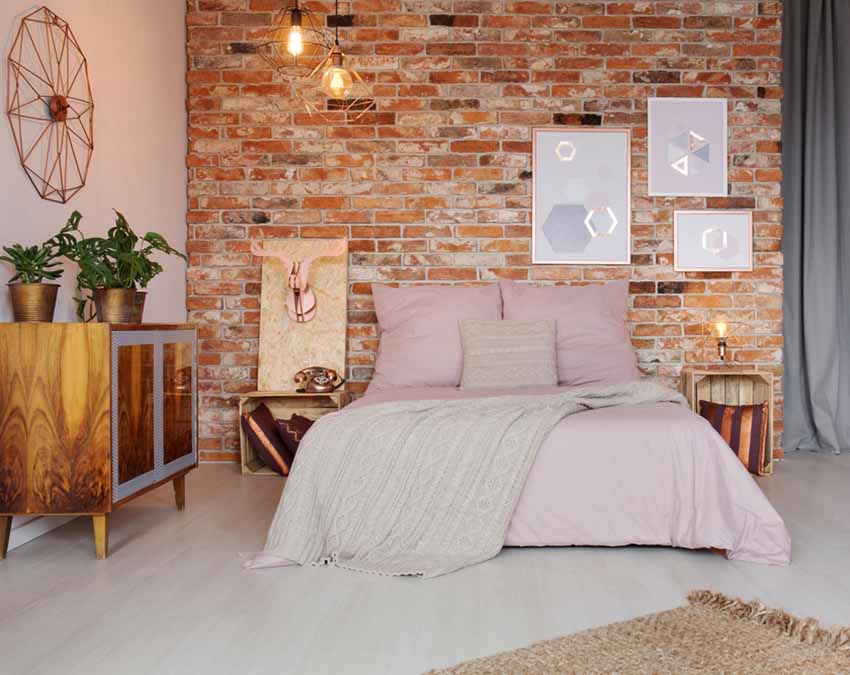 Perhaps your family is growing, or you simply want to add a guest bedroom to your home. By adding a bedroom to your basement, you can increase the value of your home instantly. If this bedroom will be used permanently, we will design it around the family member's needs. If you want to have a guest bedroom, we will design this bedroom with a more neutral and cost-efficient design. Add a bedroom design to your new basement.
Basement Design with a Home Office
A home office can be very useful for the whole family. Perhaps your home office will need to accommodate more than one family member at a time. A home office must be well organized, it must also be well designed. Having a decluttered office design can increase productivity and your new office should do just that.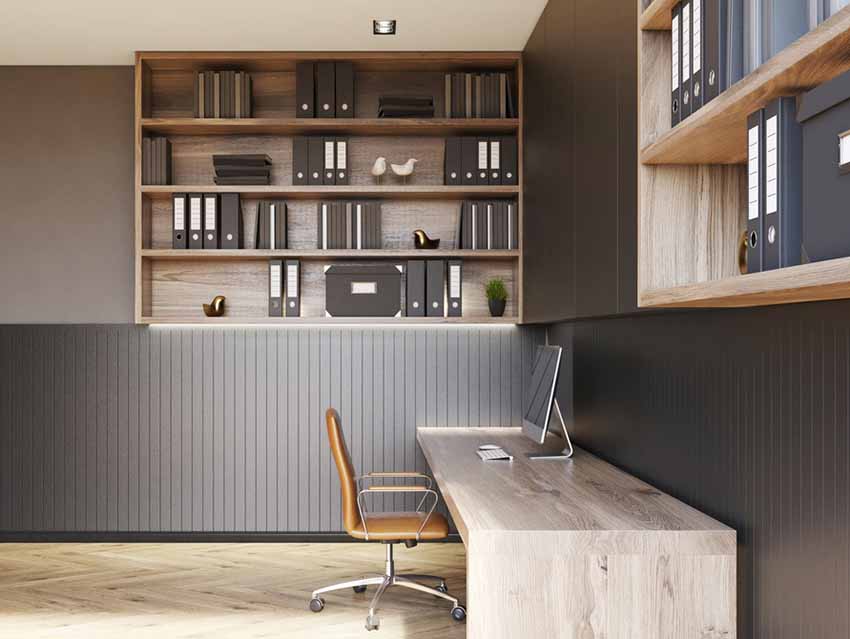 Do you or your family need a new home office in the basement? Although it might not be the best location for a home office, the basement often has more space to spare and with the proper lighting and layout it won't feel like a basement office at all.
Basement Design with a bar for entertaining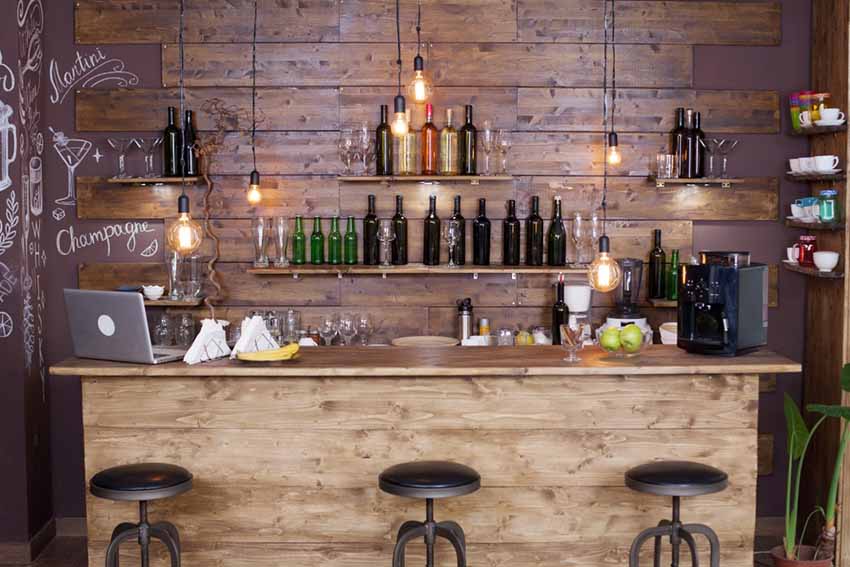 If you want a bar experience in your basement to treat guests to a drink, we can help. There's nothing better than having a zone set up for receiving friends over for cocktails, playing a game of pool, sharing a glass of wine or watching a game.
Your new bar design can include an integrated fridge, storage behind the bar and a design that is warm and inviting. We can integrate this bar design with other activities such as darts, billiards table tennis, or playing poker and board games. Frankly, the sky is the limit.
Basement Family Den Portfolio
Basement Family Den Design Portfolio in Saint-Lambert, Qc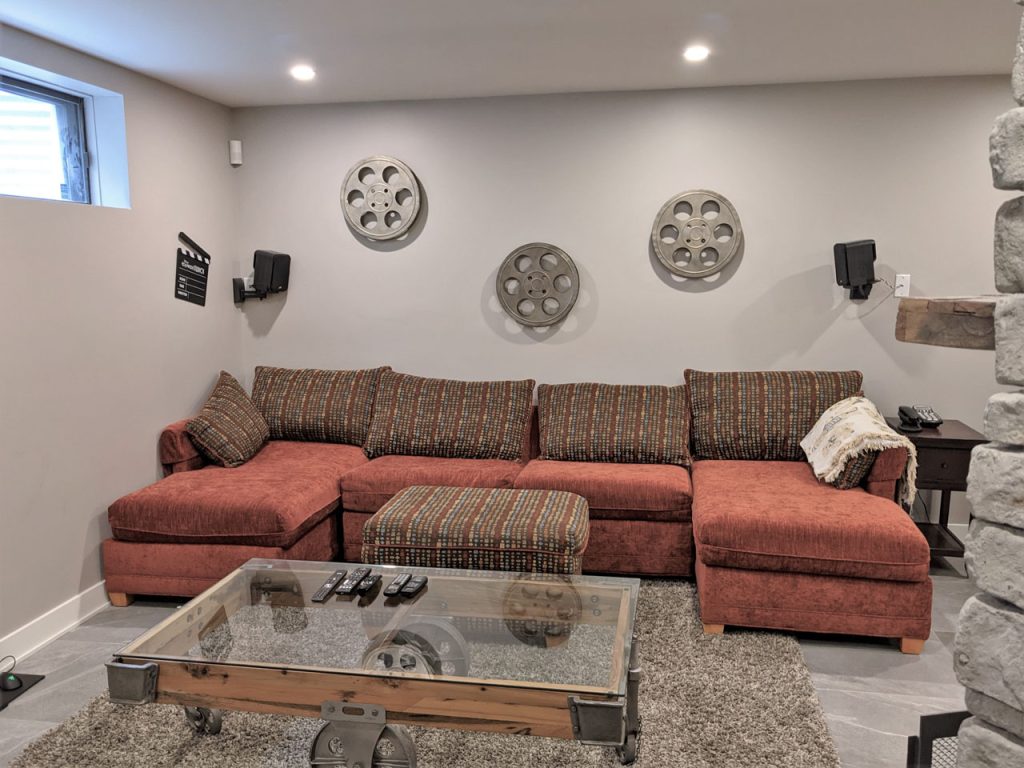 Included in a full major basement renovation, this family wanted an updated and refreshed family den.
Basement Bathroom & Laundry Room Portfolio
Bathroom & Laundry Room Design in Saint-Lambert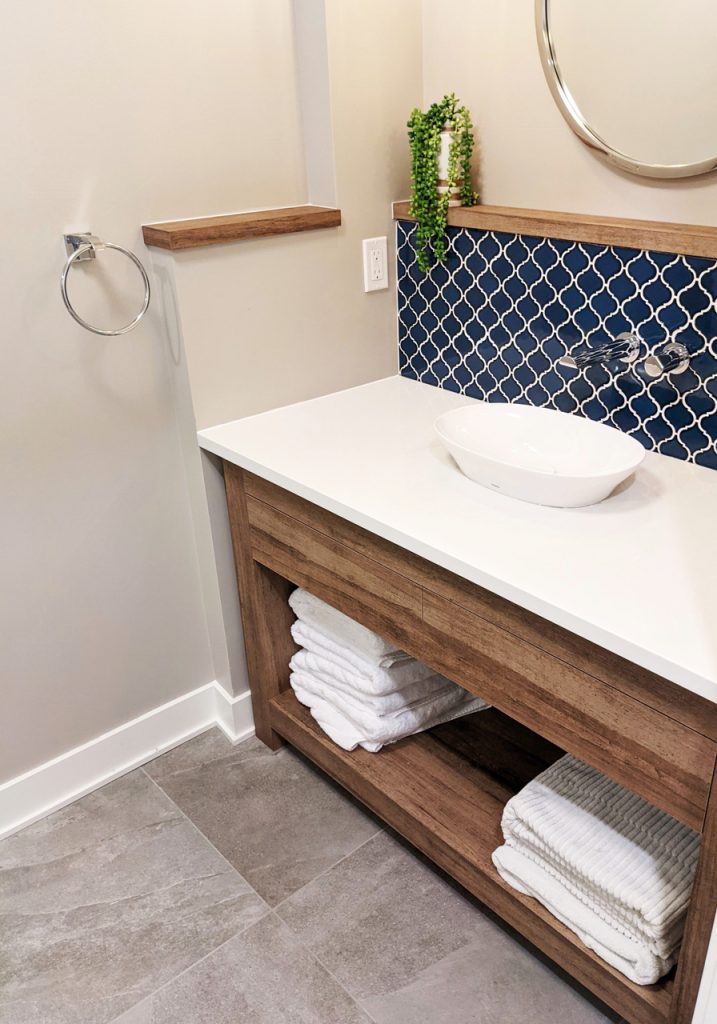 The clients wanted to separate the laundry zone from the bathroom in their basement.
Laundry Room Renovation in Chambly, Quebec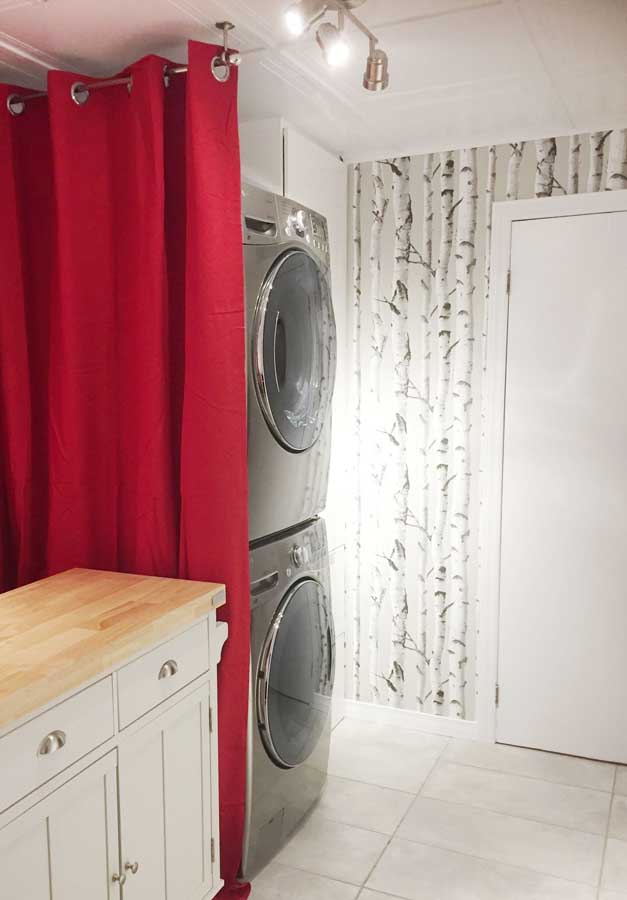 The clients wanted to create a bright, stylish and functional laundry zone in an unfinished portion of their basement.
Basement Wine Cellar Portfolio
Wine Cellar Design and Renovation in Saint-Lambert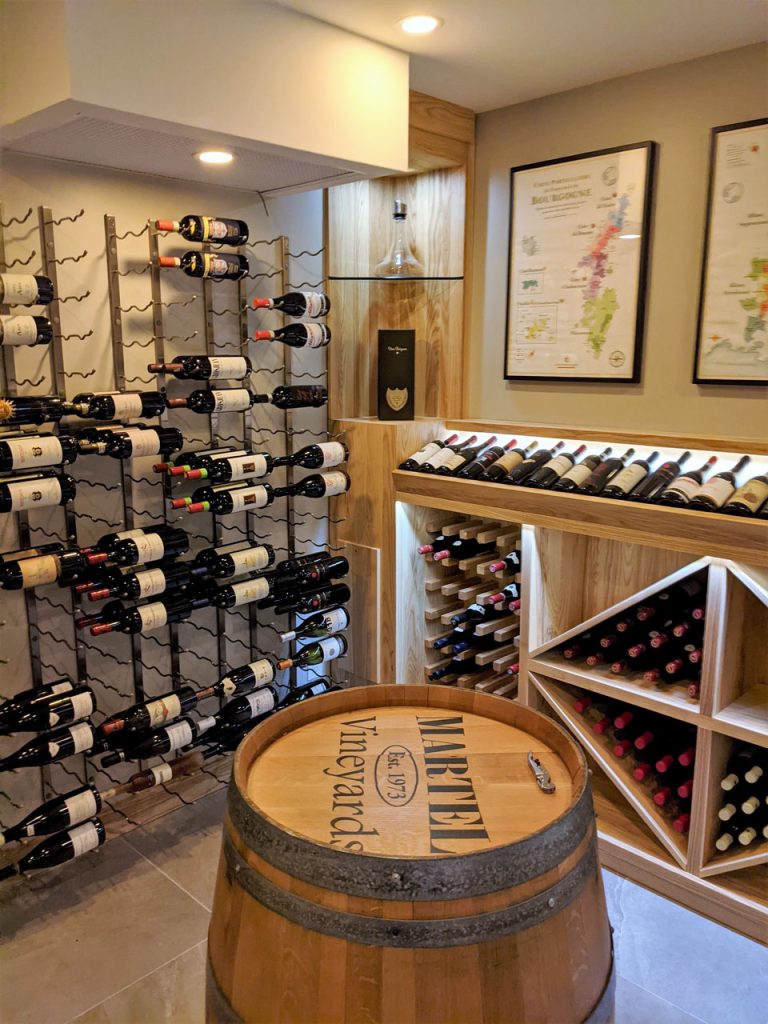 Our clients had a cluttered storage room that they wanted to repurpose as a private wine cellar.
Basement Home Gym Portfolio
Home Gym Design in Saint-Lambert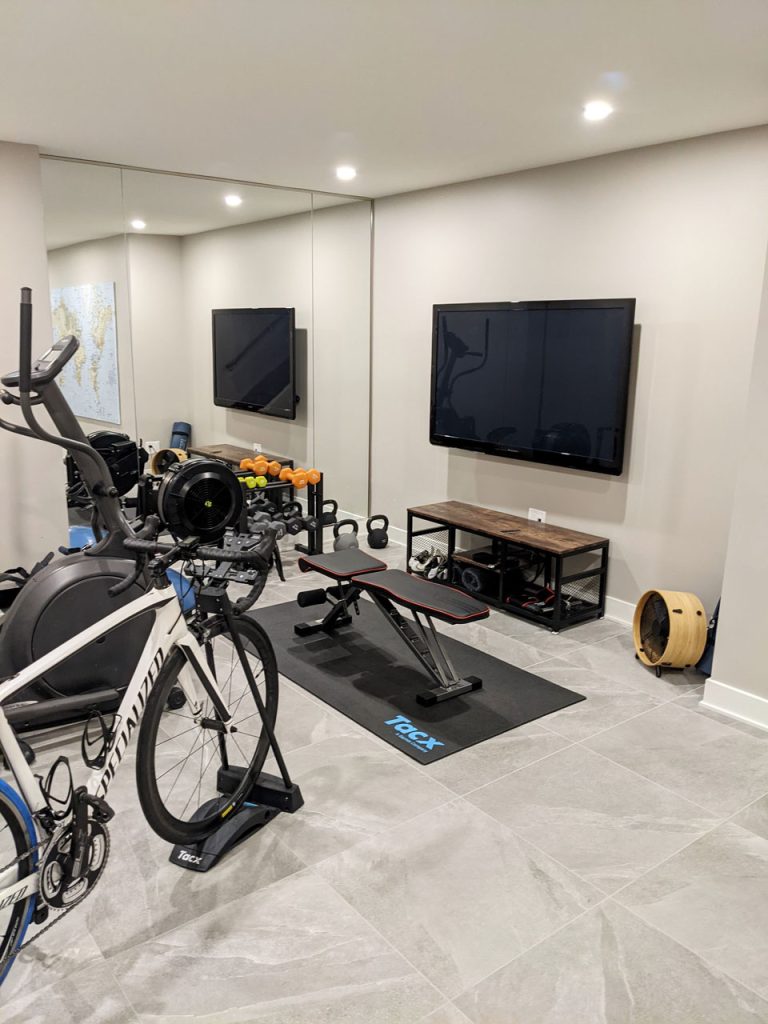 The clients asked for a home gym that was modern, functional, could fit all their exercise equipment, includes a wall-mounted tv and storage for weights, shoes, and gloves as well.
Home Gym Design in Old Montreal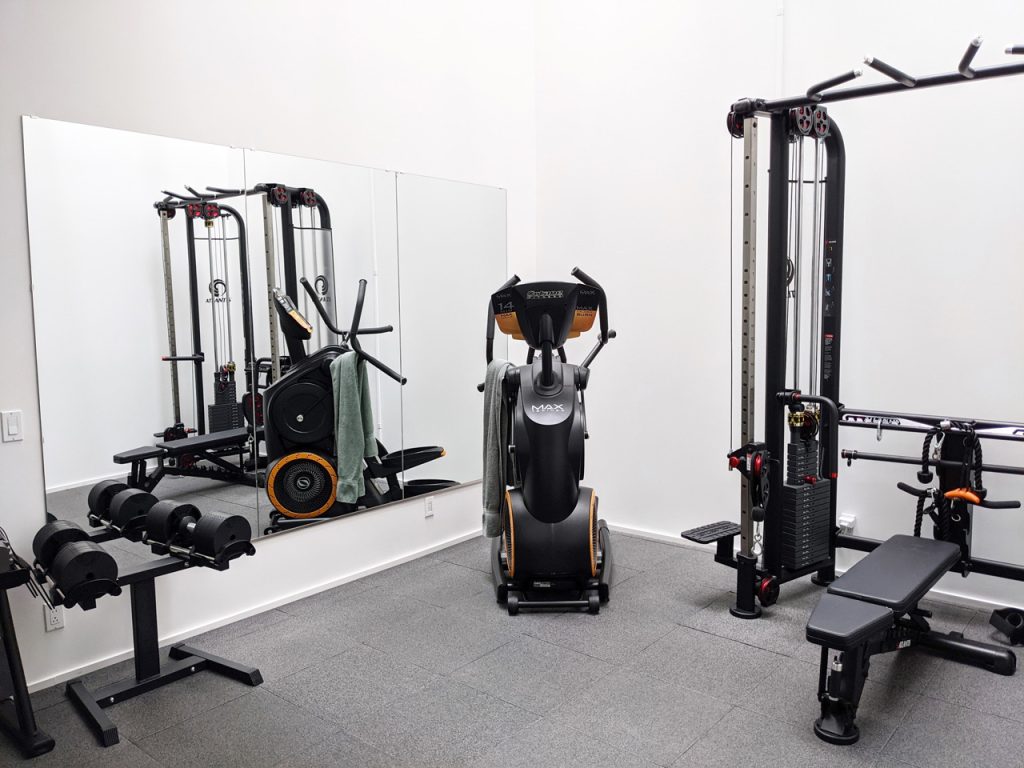 The client had a spare room in his condo, so we set up a home gym with cushioned protective flooring as well as a great lay out with room for added equipment.
Tell Us About Your Dream Basement Design
Expert Interior Designer
Following your initial consultation, you will be presented with 3 different design offerings:
$
Initial Consultation

+

Buying Guide
Simple Floor plan
Storage Recommendations
New Spacious Layout
New Colour palette
$$
VSD Essentials

+

Showroom visits
(private and public)
Sample materials and fabrics
Shopping
Styling, installations and the decorating
Auto CAD
$$$
VSD Deluxe

+

3D computer renderings
Trade negotiations
Cost analysis
Orders and deliveries
On site Project Management
I feel like I've moved into a new space, yet I am still right at home! The colors you recommended as well as the proper placement of my furniture and accessories has made everything look better as well as giving the impression of a much bigger and inviting space! Once again, a BIG thank-you!

Denise Cardinal, Montreal, QC.
Are you located in the Greater Montreal Region?