One of the aspects of designing bedrooms that really gets my creative juices going is the fact that the bedroom is our very own private sanctuary. When it comes to creating great living room or dining room designs, we sometimes play it safe. We want guests to feel comfortable, and if we are honest, we want people to like us and approve of our choices. The way we set up our homes reflects our personal style, just as much as our wardrobe reflects who we are and what we are about.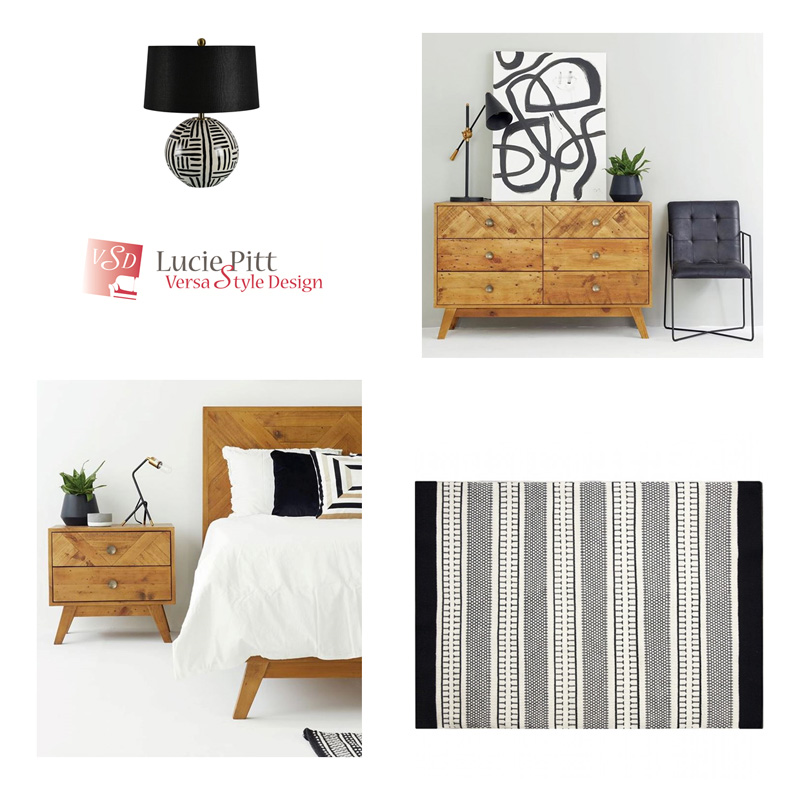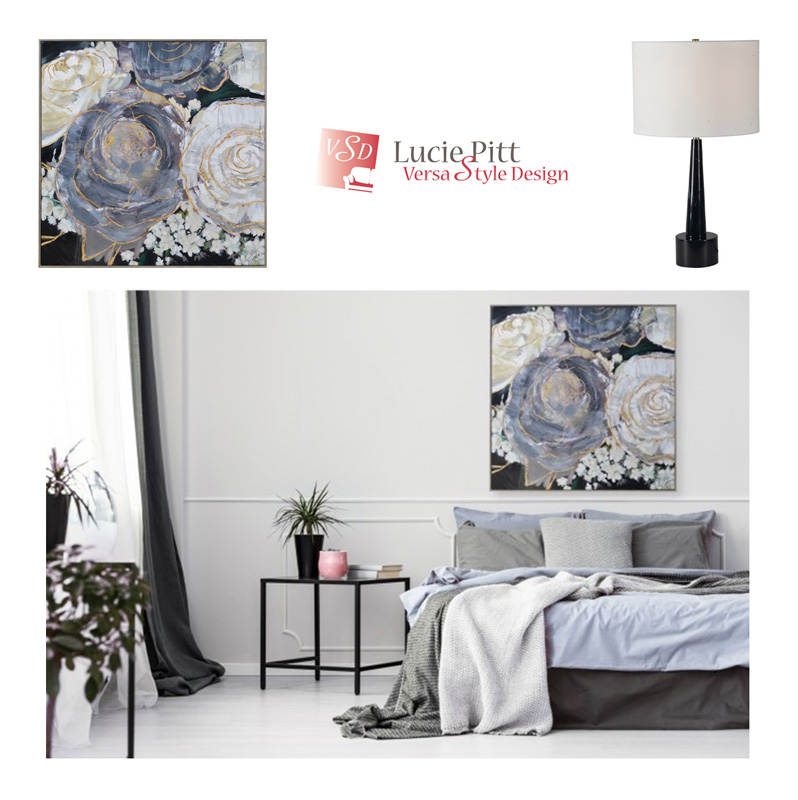 When designing bedrooms for my clients, I encourage them to think about pleasing themselves. The bedroom is our private oasis. It is the first thing we see when we get up in the morning and the last thing we see before shutting our eyes at night. If we are considerate of others when decorating the most visited rooms in our home, can we at least be a little self-pleasing when it comes to the bedroom?
Here are a few ideas to inspire you. Hopefully, some of them will motivate you to change up a few decorative elements. You do not need a total bedroom renovation. With just a couple of changes you can push the reset button and flow into spring and summer with a new outlook on life.
This is the room that recharges your batteries, so make it amazing. You deserve it!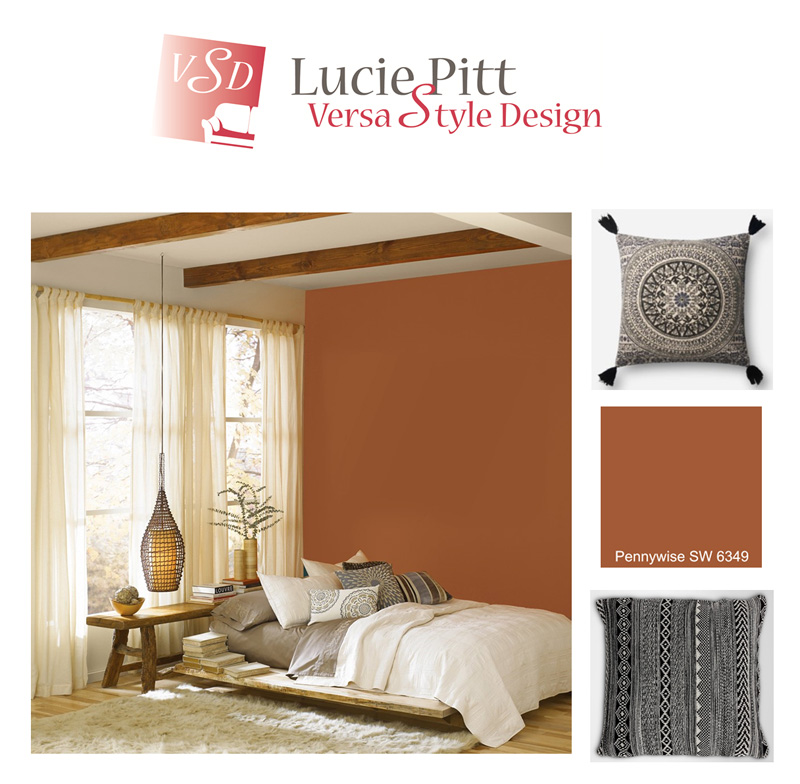 Change the colour palette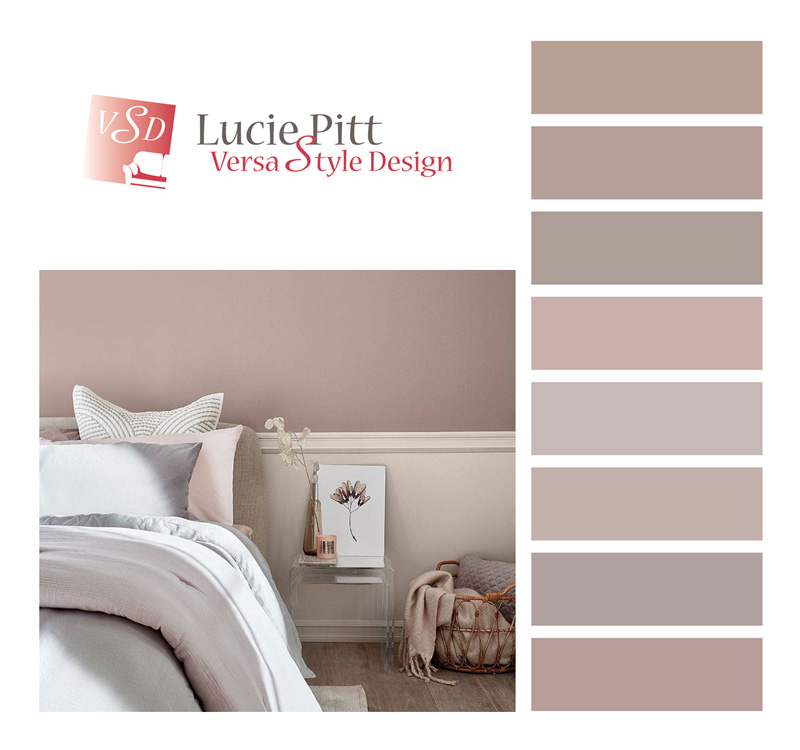 The first strategy I share with clients is choosing a new colour palette. The colours we liked 10 years ago are not necessarily the ones we want to look at for another ten years. The best way to update your colour palette is with paint. Wall paint is easy to apply and relatively economical when it comes to updating your space, so think of this element before setting out to change your furniture.
Declutter your bedroom with smart storage
Our bedrooms are meant to nurture, replenish, and restore our energy. If our bedroom is cluttered with books, papers, boxes, clothes, and general disorder, how can we be expected to relax and shut out the stress? Fortunately, furniture manufacturers have been creating storage units, dressers, tables, and shelves that fit every style and budget. They have also had great success in designing compact units for small spaces.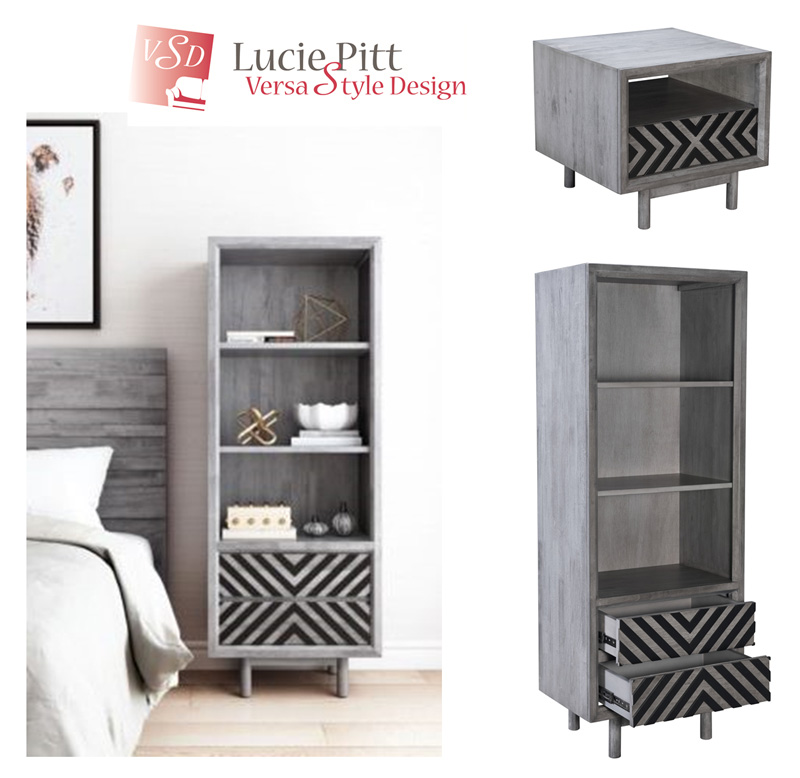 For a cozy bedroom choose natural fibres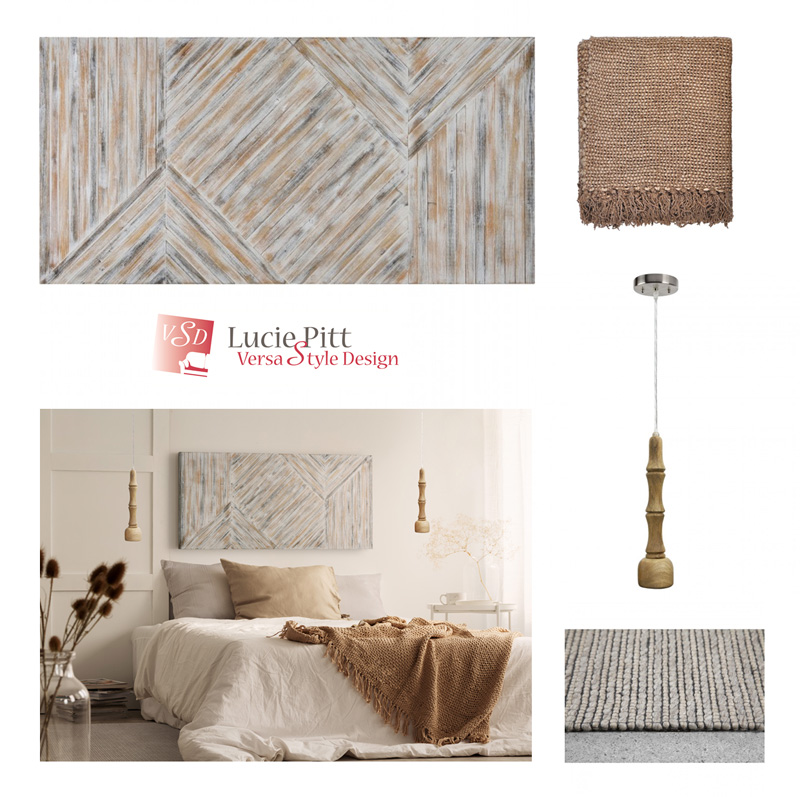 Nothing motivates us to kick our feet up as much as casual furniture made with easy-living natural fibres. This bedroom style is far removed from the Hollywood glamour bedrooms found in the movies.
The rustic bohemian design elements in this space are very inviting…. So much so that I would be tempted to stay there……forever.
Complete the look with accessories
Do you have a bedroom that looks dull and boring? That could because there is no focal point. Once you have the basic furniture in place, go ahead and add appointed accessories that represent the mood you are wanting to create. You should choose accessories with pattern and colour, especially if the walls are very neutral. The good news is that accessories are economical and can be changed up with the seasons.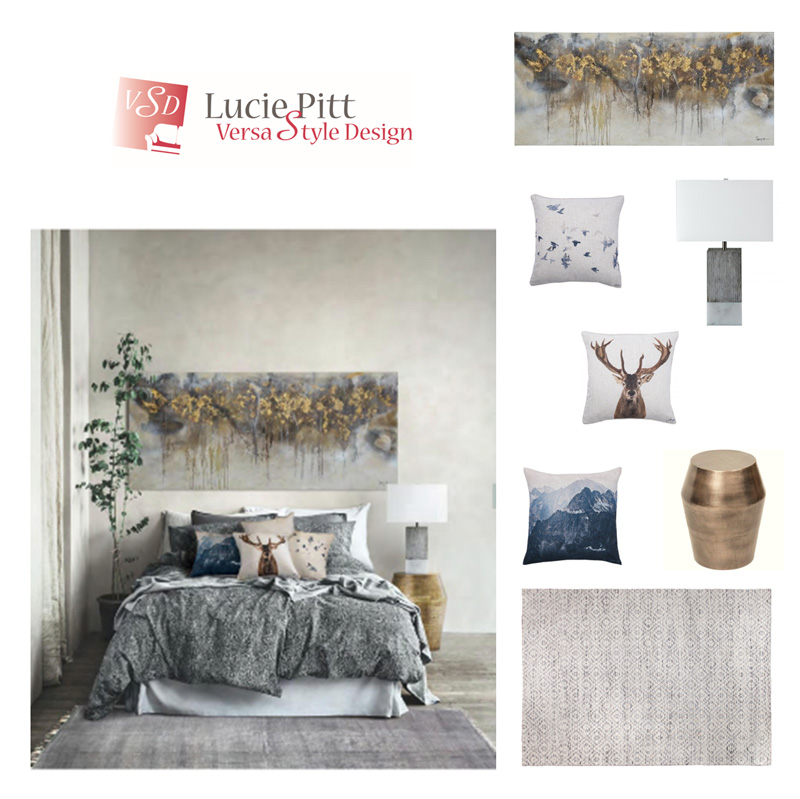 Add light and space with a large mirror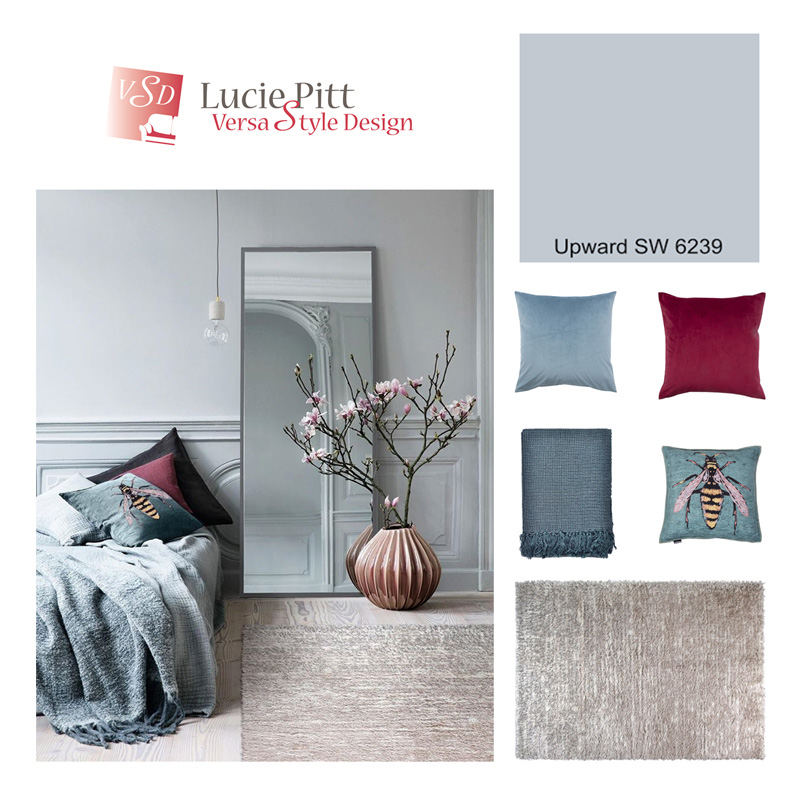 Adding a large mirror to a space really works. It expands the space and multiplies the amount of light.
Two factors to keep in mind: Make sure the room is decluttered, if not you will be doubling the amount of clutter through the reflection. And the second thing to think about is putting the mirror close to a window so it reflects even more light into the bedroom.
Pair grey and beige together for a serene space
Using a palette of gentle neutrals together is a guaranteed method for creating instant chic. The most important design principle to apply when going full neutral: Make sure to integrate a lot of pattern and texture. Notice the three cushions all have a different fabric and there is a subtle geometric motif on the bed spread. The area rug anchors the space with yet more texture and there is an eye-catching pattern used on the headboard.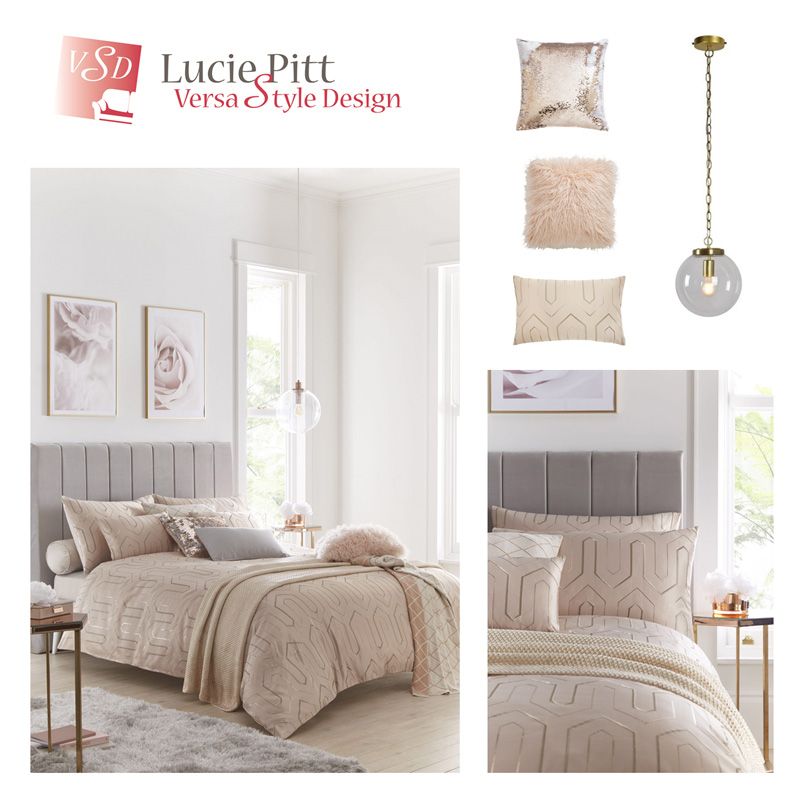 Add colour with pillows and throws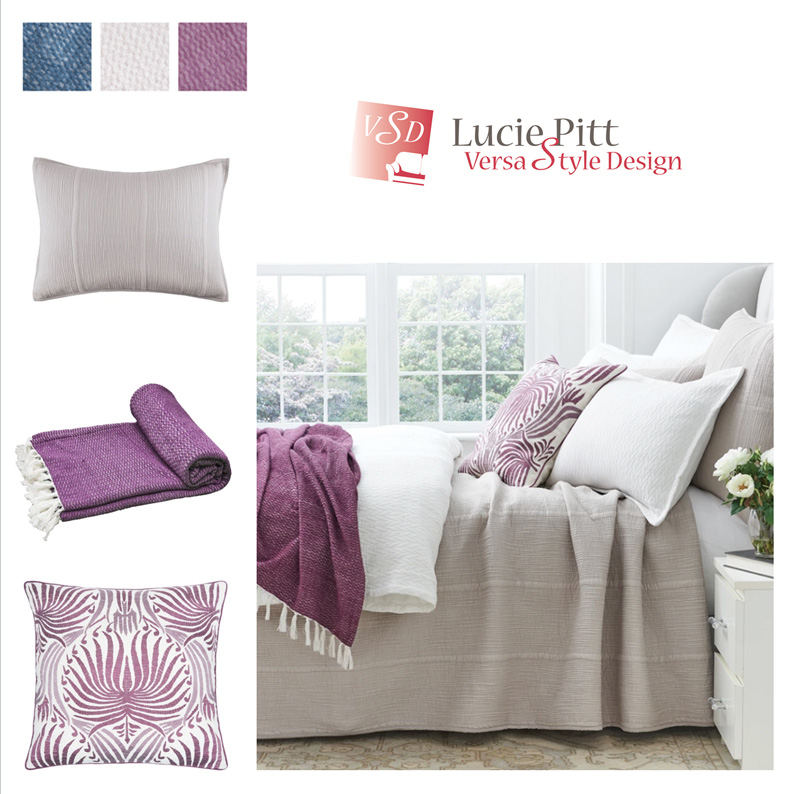 If you have a neutral-toned bedspread, then go ahead and layer it with cushions and blankets. As you can see here, the plum accent completely uplifts the bedroom. The motif on the cushion is also eye-catching.
When it comes to accessories, I love changing them up in Springtime, and once again in Autumn. This would be my summertime look.
Create an accent wall
Once again, the bedroom is a private room and should really reflect your own personal style. As you think about designing your bedroom consider going dramatic. Be bold with ideas you may not allow yourself in a space you spend a lot of time in or that you entertain in.
This wall mural is dramatic but not distracting, and the nighttime moon theme might help in enjoying a good night's sleep!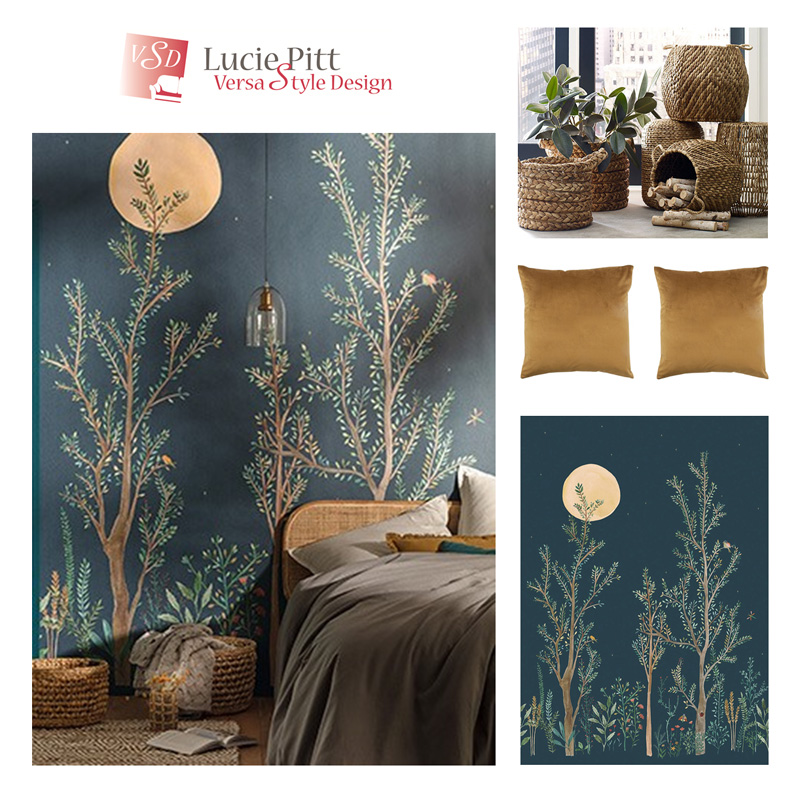 Add structure with shelves and wallpaper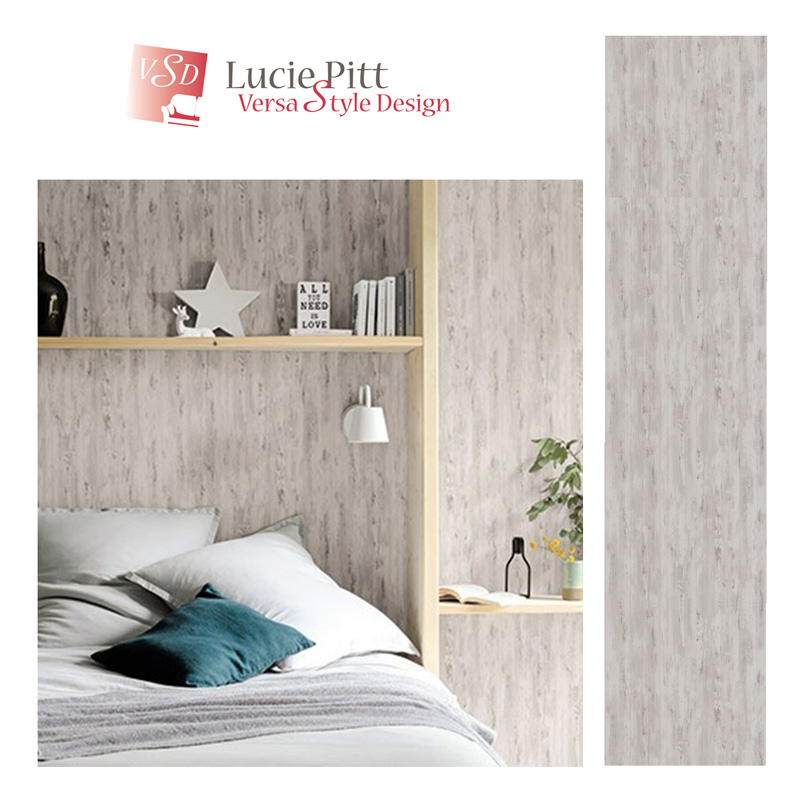 The custom shelving on this wall is simple. The wow factor is from the imitation-wood wallpaper behind the shelving. Naturally, you can apply wood panels to the wall, but wallpaper that looks like wood is increasingly popular.
Here, the weathered wood-look on the walls adds a rustic element to the design, and also acts a interesting feature wall for the bed.
Add some glam with custom curtains and bedding
I often hear clients complain that their bedroom does not seem 'finished' or 'decorated' even after they made a few changes. More often than not, it is due to the fact that there is nothing more than a flat, lifeless blind on the window. Frankly, I think window blinds are functional, but never are they decorative enough to add polish to the space. You can purchase 'off-the-shelf' curtains, but keep in mind that there is rarely enough fabric in those curtain panels. These curtains were custom-made, and it shows!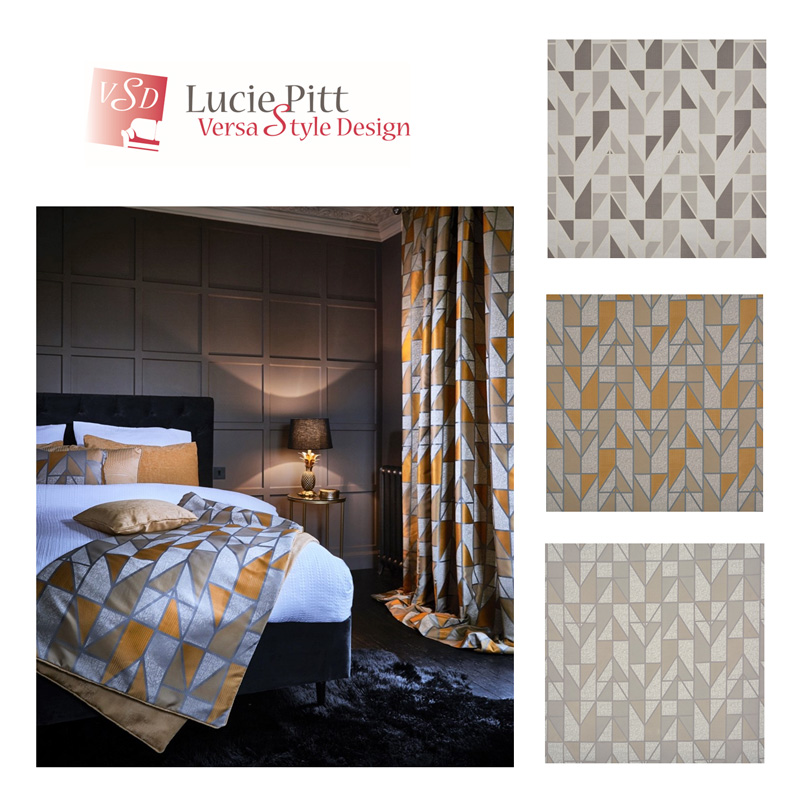 You would like to adopt some of these ideas in your own space but you don't know where to start?
Contact us to transform your home or office according to your style, your budget and your specific needs. By discussing your project we can provide you with relevant information concerning our services, the process and our design fee.
Click here to contact us.