You spend a tremendous amount of time in your kitchen. Because of this, it is vital that it be functional and inviting and that you feel great preparing meals as well as entertaining friends and family. If you are like most folks, you are most likely waiting for the finances to completely renovate and create the kitchen of your dreams.
The good news is that you can transform your kitchen without breaking the bank. There are strategies and ways of making specific changes that will have a high impact, even on a tight budget.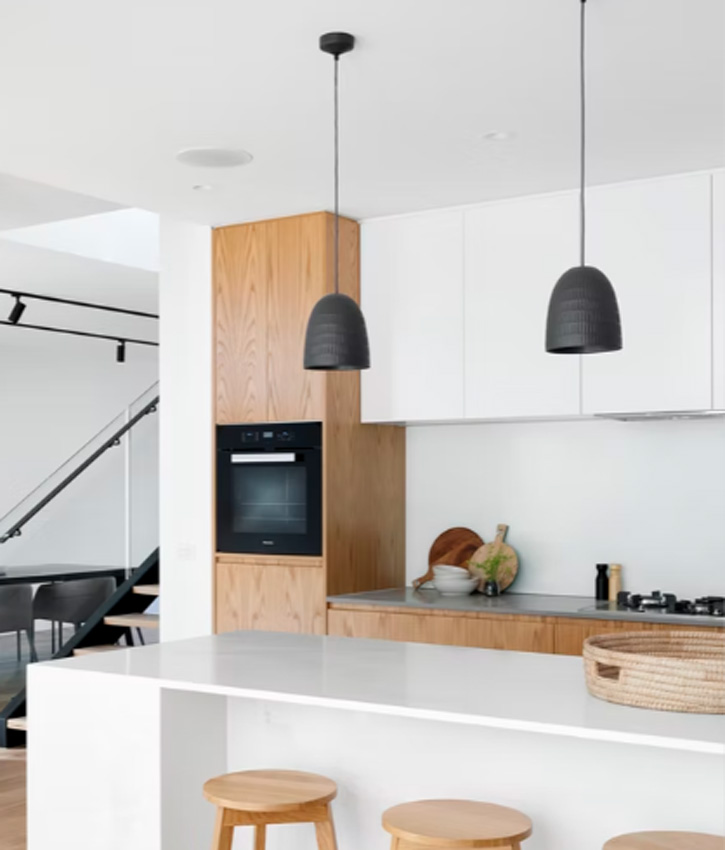 The first thing to consider when renovating on a budget is recycling what you already own because the factor that causes a kitchen improvement project to skyrocket in price is purchasing new cabinetry.
The second thing to consider is that re-configuring the floor plan will increase costs because of the plumbing and electrical work that follows. All this also requires a new floor because the old one no longer matches the new set-up, etc.
The third thing to consider is improving your kitchen in well planned phases…doing a little each year. Here are a few simple ideas to give your kitchen a face lift that will cost you far less than doing an entire kitchen renovation.
Paint Out Your Old Kitchen Cupboards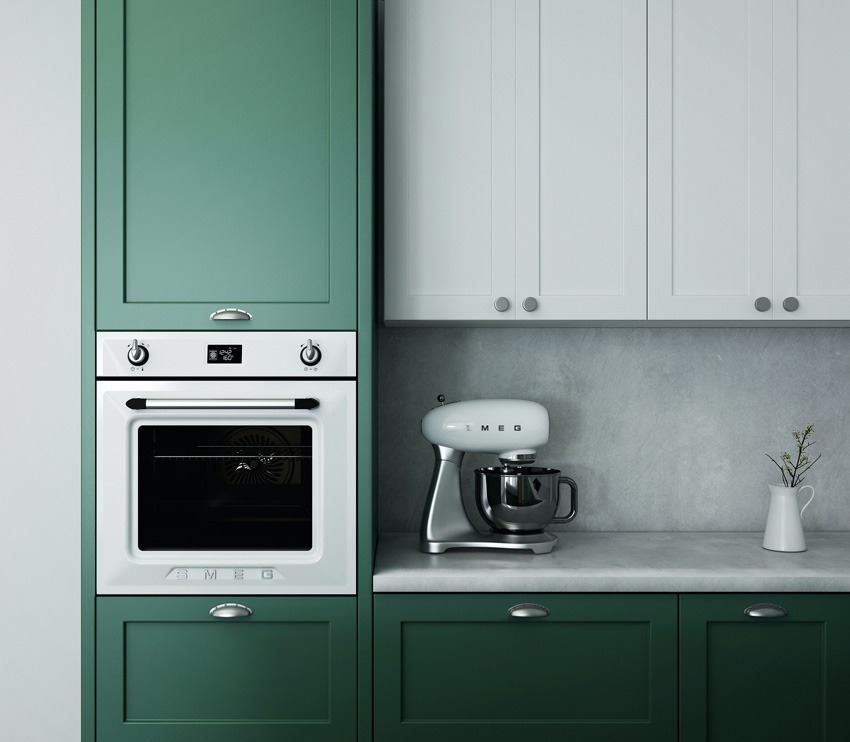 This will require some effort on your part, but you are perfectly able to accomplish this. Every standard paint manufacturer has a line of products for prepping and painting kitchen cabinets and You Tube is abundant with friendly tutorials as support. Alternatively, you can hire this out and it will still cost less than purchasing new kitchen cabinets. In some cases, the painter can paint the cabinets on site, in other cases, the doors are dismantled and moved to a clean and dry shop for spray painting.
Cover Your Old Floor with a New Area Rug
Is your old floor tired and out-dated? Cover it with a nice area rug to hide the wear and tear. Choose a low maintenance indoor-outdoor carpet or one with synthetic fibres. There is also a wonderful selection of waterproof vinyl carpets on the market. My favourite line of vinyl rugs is from Adama Alma, which Versa Style Design imports from Barcelona. Make sure the carpet is dark and patterned to hide any stains. And if your kitchen is neutral-toned, go ahead and add colour!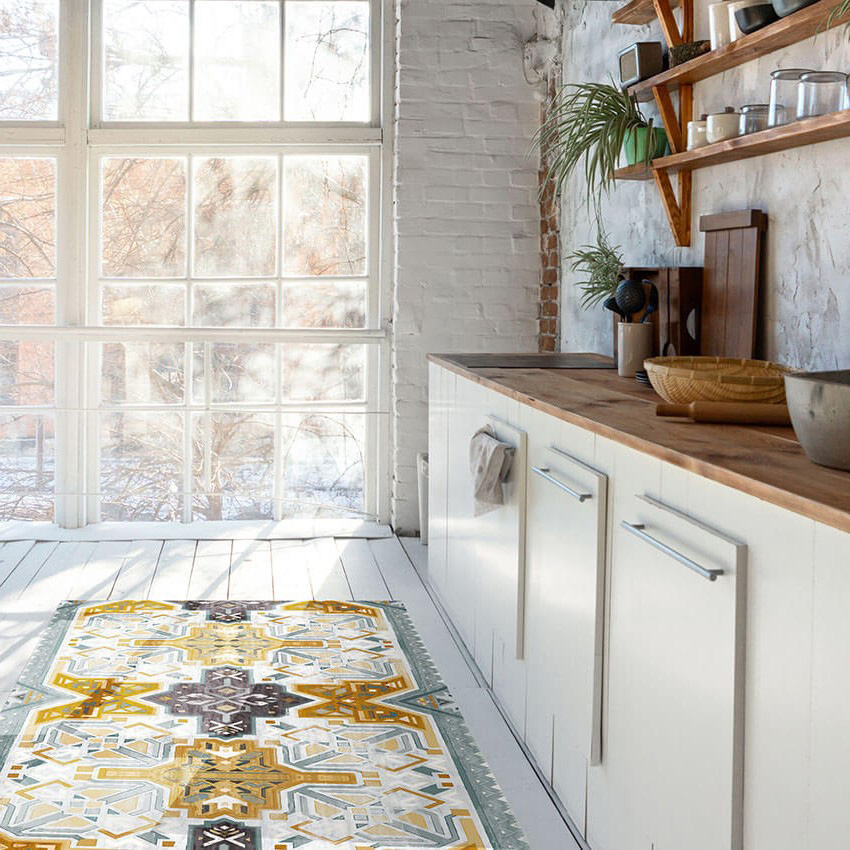 Recycle an Old, Cherished Piece of Furniture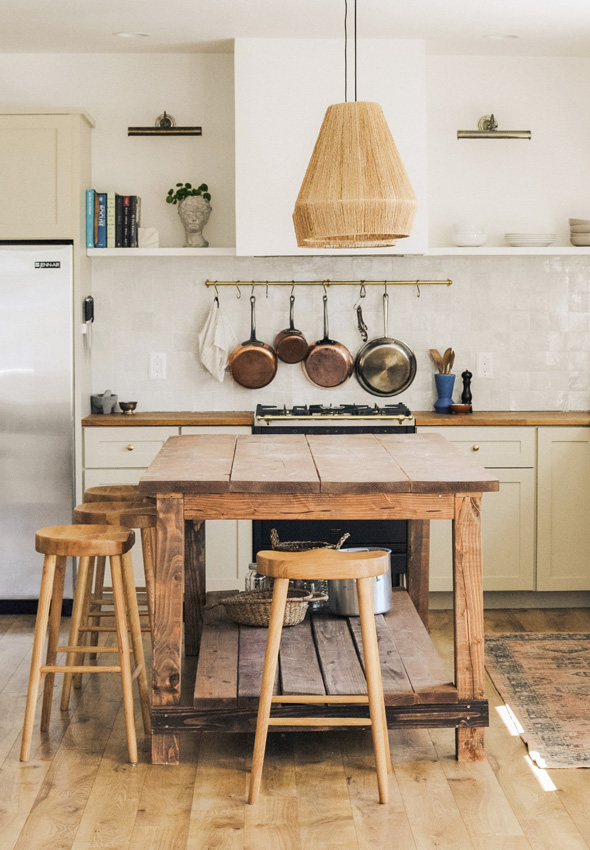 Integrating a unique piece of furniture can make a huge difference in the appearance of a kitchen. Give an old, cherished piece that you inherited or picked up at the flea market a whole new life and purpose.
Farmhouse tables can be repurposed as kitchen islands for food prep as well as provide seating for friends and family. Old armoires can be upcycled as food pantries.
Replace Your Counter
If your budget is too tight for a granite or marble counter (costing on average $100.00/sq. foot) then Quartz or Corian are great cost-effective alternatives ($50 – $80.00/sq. foot). If you want to save even more, consider the new generation of modern laminates such as Formica. They are as beautiful as they are durable and go for between $25 – $50/sq. foot. They are also easy to install.
Designer trick: To make a laminate counter look high end, invest in a great looking high-quality backsplash tile.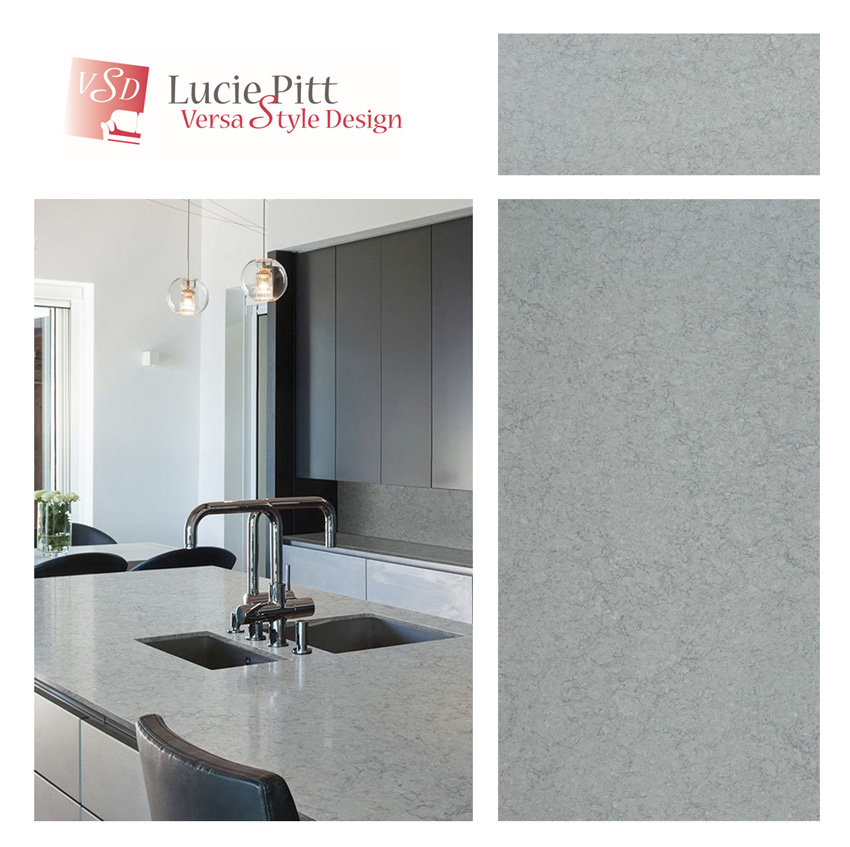 Install Backsplash Tiles with a Lot of Personality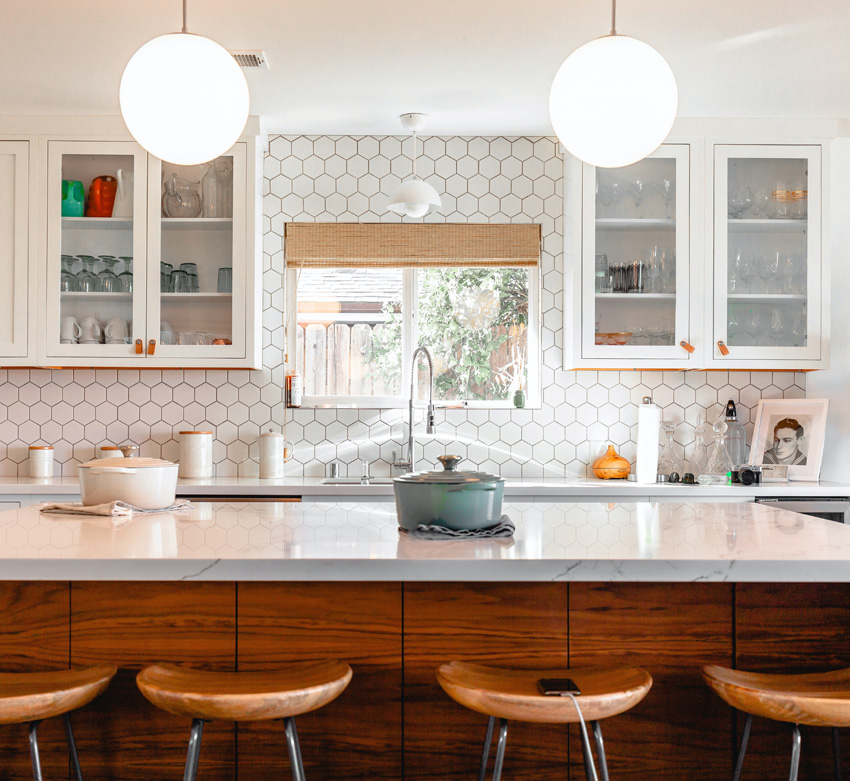 An outstanding wall tile gives any kitchen a lot of style. I often recommend that clients change up their backsplash and add a coat of paint to the walls because if they do just that, the entire kitchen will feel like it was renovated. For high impact, choose textured relief tiles and add lighting so the surface comes to life. I believe that the kitchen backsplash is like completing an outfit with a great necklace or necktie. A new backsplash adds a wonderful finishing touch to a kitchen and stands out like a jewel.
Replace the Lighting
Suspended lighting is both functional and makes a big style statement. Adequate kitchen lighting is vital and should be positioned over your dining table and kitchen island as well as over your sink. Remember to properly light specific work zones so you can perform your tasks with comfortable lighting; the cooking area as well as clean up and food preparation areas.
Be bold when choosing the scale and style of a suspended light.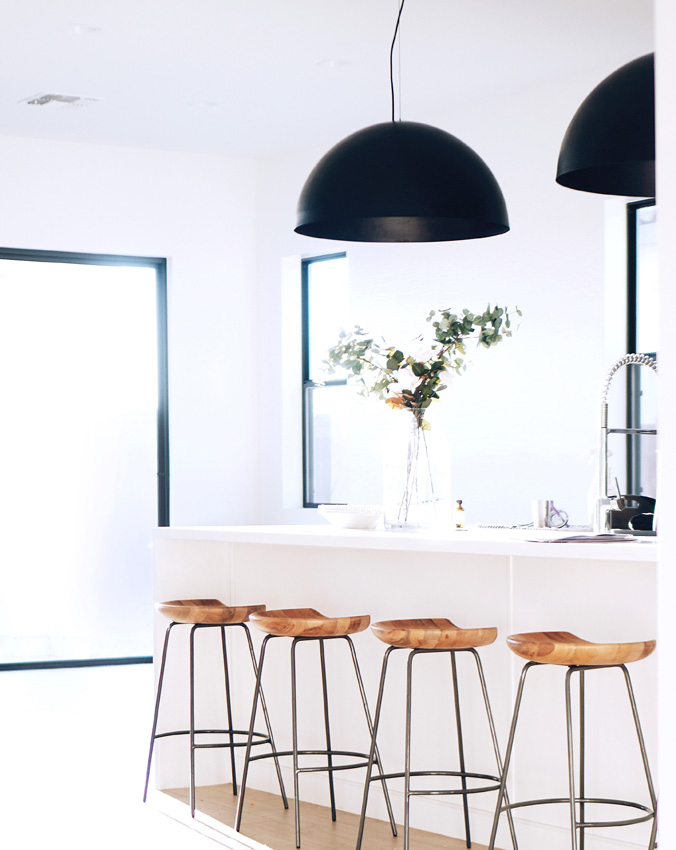 Change the Door and Drawer Handles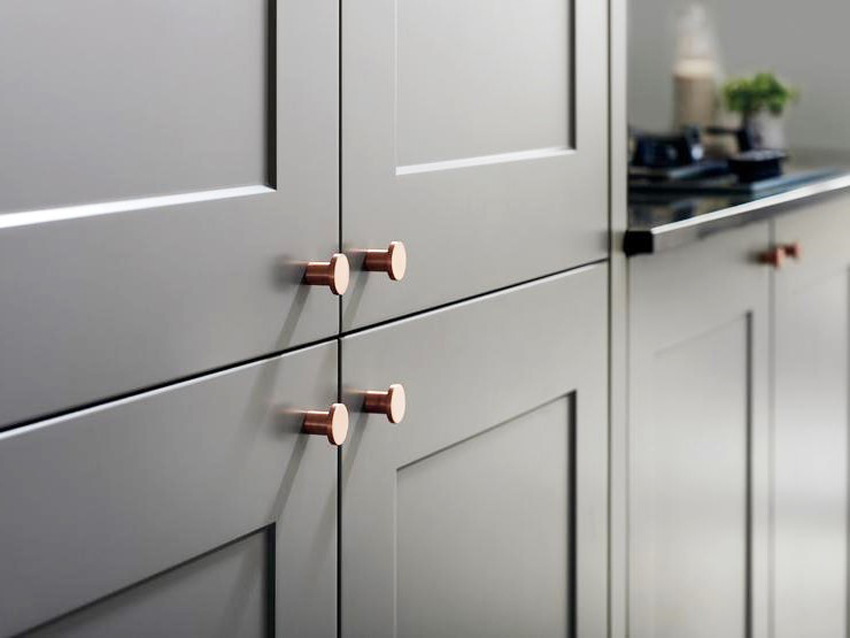 Sometimes just changing up the door handles will give such a face-lift to the doors and drawers that you won't feel as rushed to renovate the whole kitchen. Choose handles that are harmonized with your general kitchen style. Also consider a different metal; if you kept it safe with brushed nickel, opt for a warmer tone like gold, champagne, bronze or copper. Perhaps a brass or pewter handle would be a nice match. Again, be bold and creative.
Inject Some Colour With New Decorative Accessories
Probably the easiest and fastest way to a new kitchen is simply changing all the decorative elements. Choose new chairs, vases, bowls, curtains, artwork, a tablecloth, and napkins in a whole new accent colour.
You can have a brand-new kitchen after a few hours of shopping. If you have open shelving (also a budget-friendly idea) make sure there is a common theme and colour palette to avoid a cluttered look.
Even just one of these budget-friendly ideas can transform your kitchen. As you can see, you don't have to renovate your entire kitchen to have what feels like a new one that fits with your personal style.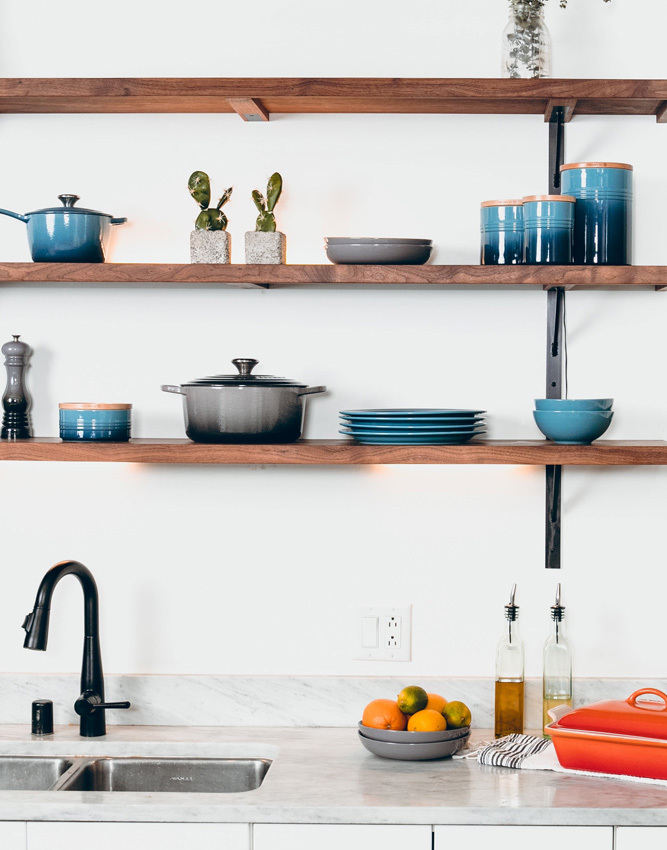 You would like to adopt some of these ideas in your own space but you don't know where to start?
Contact us to transform your home or office according to your style, your budget and your specific needs. By discussing your project we can provide you with relevant information concerning our services, the process and our design fee.
Click here to contact us.