Where does everyone want to hang out? In the kitchen of course! And which room do we end up using the most? That's right… the kitchen. Kids are snacking or doing their homework, parents are cooking, friends are part of the food prep before a celebration, families are gathering and creating memories, enjoying the only times everyone seems to be together and engaged.
Kitchens are also an investment… not an expense… an investment! They are directly linked to the value of the home, and when they are well designed, they actually sell the home.
It seems like every year there are new innovations, design elements and fabulous ideas that get us dreaming of our ideal kitchen.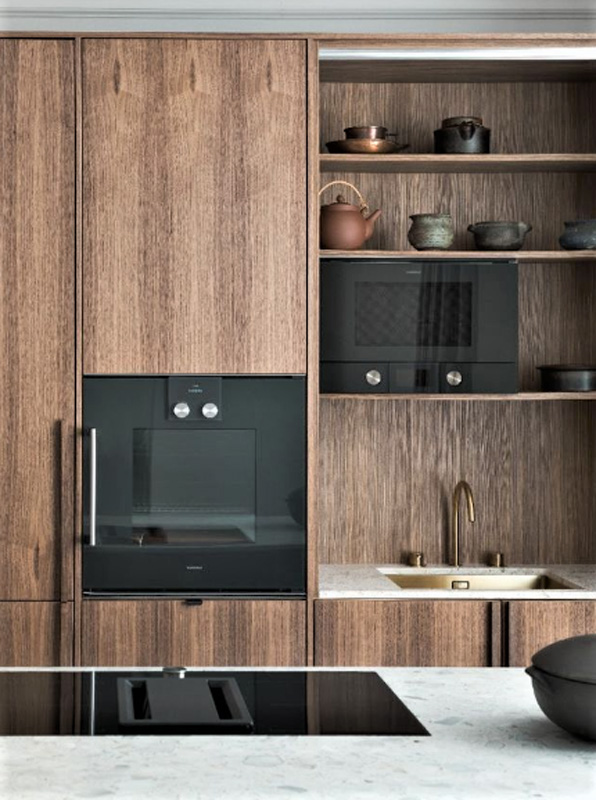 Eventually there comes the day when the dreams need to take form and become reality. To help you along, here are a few very important kitchen trends and styles for 2023 and 2024 along with some of the valuable tips I share with my clients.
Statement Lighting Over the Island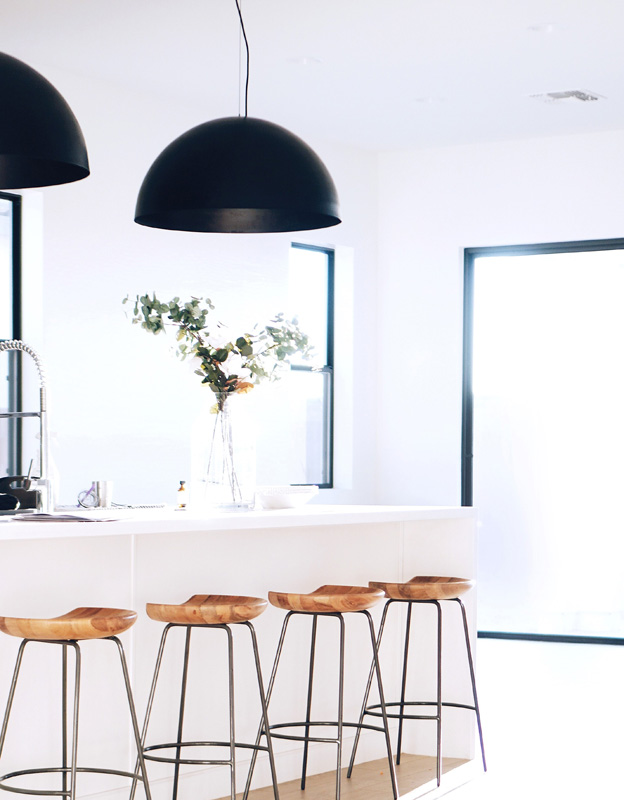 Kitchens need general ambient light, in the form of recessed pot lights or a ceiling fixture, and they also need directional functional lighting that adequately covers all the counters as well as the kitchen island. Most clients need a little encouragement when it comes to selecting the style and type of pendant light hanging over the island. They timidly lean towards safe and small lamp shades for their own kitchen, forgetting how impressed they were every time they saw a statement light over a friend's kitchen island.
Have fun with this aspect of your design scheme, it is not a huge expense and will go a long way in adding a 'wow-factor' focal point to your kitchen.
Integrated and Innovative Appliances
Companies like Gaggenau offer a range of ovens, combi-steam ovens, and combi-microwaves. Components such as storage, warming and 'sous-vide' drawers are also available in a variety of sizes to add flexibility to any design. All their components can combine with this fully automatic coffee machine. You can prepare every variation of espresso, coffee and milk-based drinks, as well as hot water for other beverages, including tea.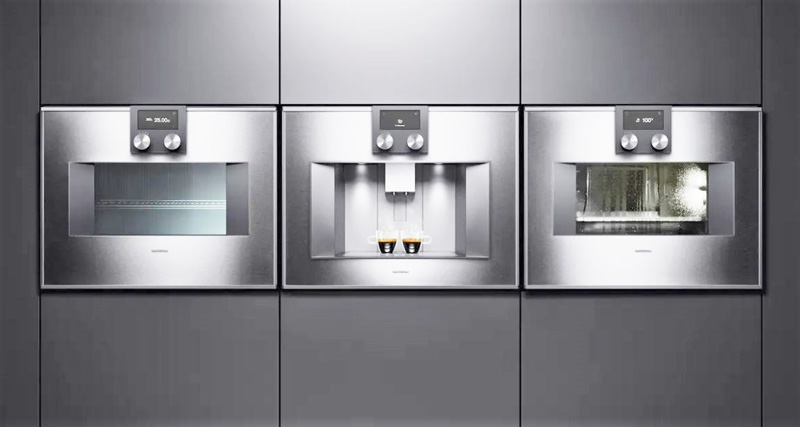 You can program and save any configuration you like for each member of the family. This Gaggenau combi-microwave, coffee machine and combi-steam oven set-up is functional and completely built-in and flush to the cabinets.
Natural wood with black and white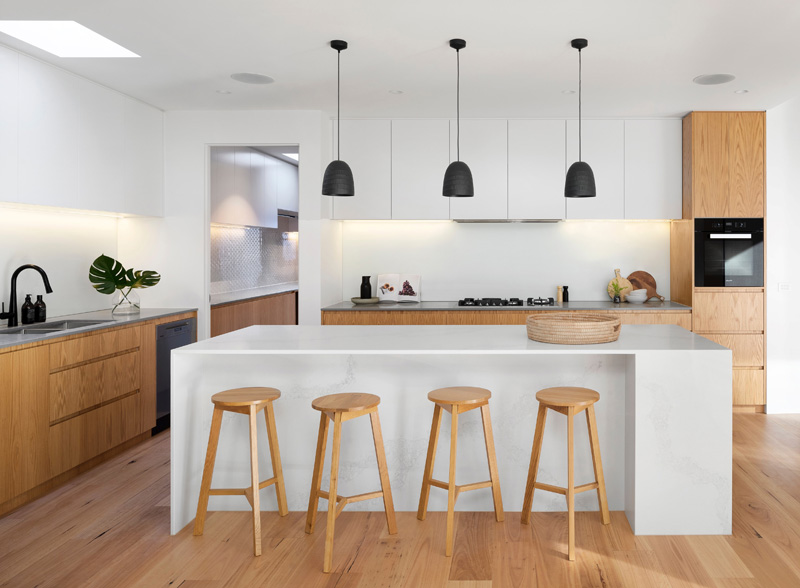 The all-white kitchen is being replaced by a warmer version, incorporating natural wood tones accented with hits of black for graphic visual interest. White oak is very popular as well as high quality veneers from companies such as Uniboard and Egger.
In this kitchen there is an equal distribution between the white and the wood tone, but you may choose to increase the ratio of either one. You must also consider the type and tone of the floor when choosing which wood essence will be used in the cabinetry.
Matte and Minimalist Black
One of the things I love about the popularity of using black in interior design, regardless of how it is applied, is that every component really stands out. Black is still a neutral which means it doesn't clash with anything. And, as a bonus, every type of metal hardware or plumbing fixture looks great with black.
When it comes to using black, it is very important to balance out the darker elements with plenty of light, incorporating lighter walls, counter, and floor…and…. plenty of natural and artificial light.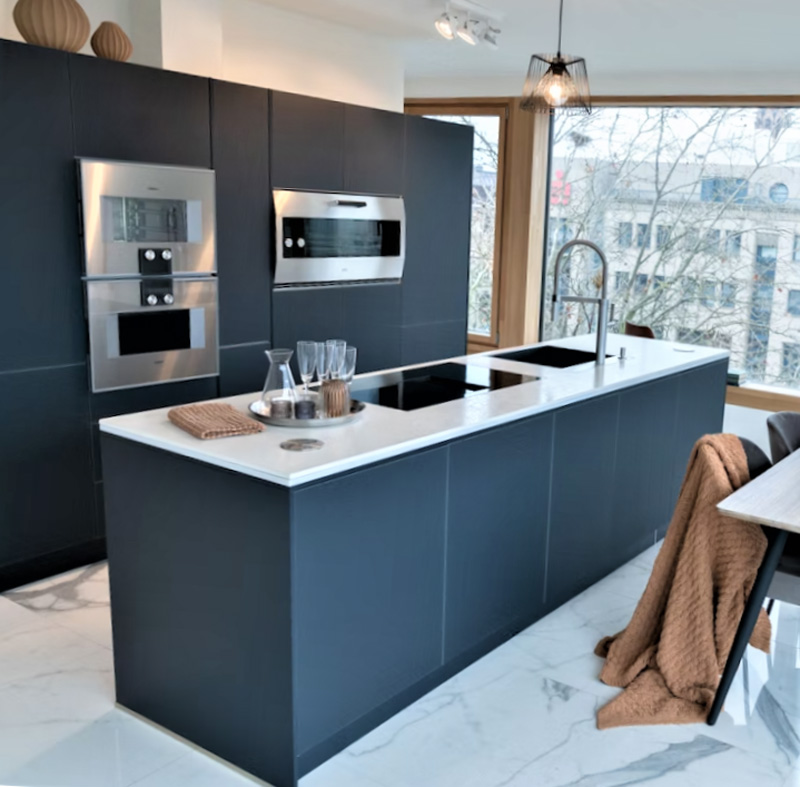 If your kitchen is lacking in daytime natural light, up the ante with a good light plan including recessed pot lights. Also consider a nice shade of medium to dark grey as an alternative to prevent the kitchen from being too dark.
Fluted wood panels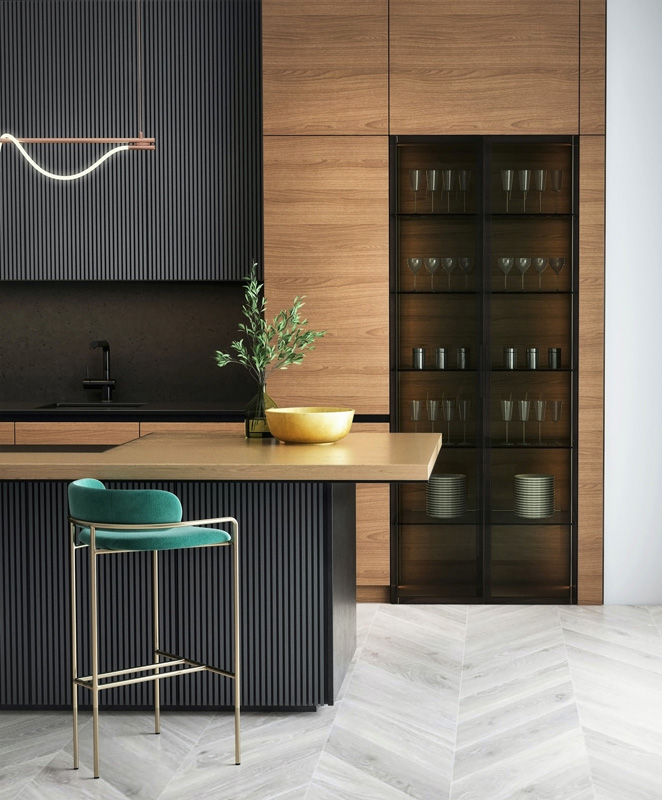 This is a trend I can really get my teeth into. Reminiscent of mid-century modern esthetic and design, fluted wood panels are a fabulous way of adding a unique and bold wow-factor to any room, including kitchen cabinetry and the kitchen island. A little goes a long way, and they don't give this away so make sure you get the help of a designer to determine the best use of this graphic design element.
Fluted wood panels come in natural wood essence tones or can be painted any colour you like. In this case we see a beautiful combination of charcoal grey fluted wood on the upper cabinets and island paired with a light grey chevron floor tile and beautiful light natural wood.
The classic and always modern arch
In design school, we are trained to avoid too much of any one thing. And one of the design elements that is often overlooked is the over-use of straight-angular lines and right-angles. In our designs we are taught to balance out hard edges and corners with gentler curves and arches. You can see this design principle used in artists' paintings through the ages as well as architecture going back to the Greeks and Romans (and caves, if you want to go that far back).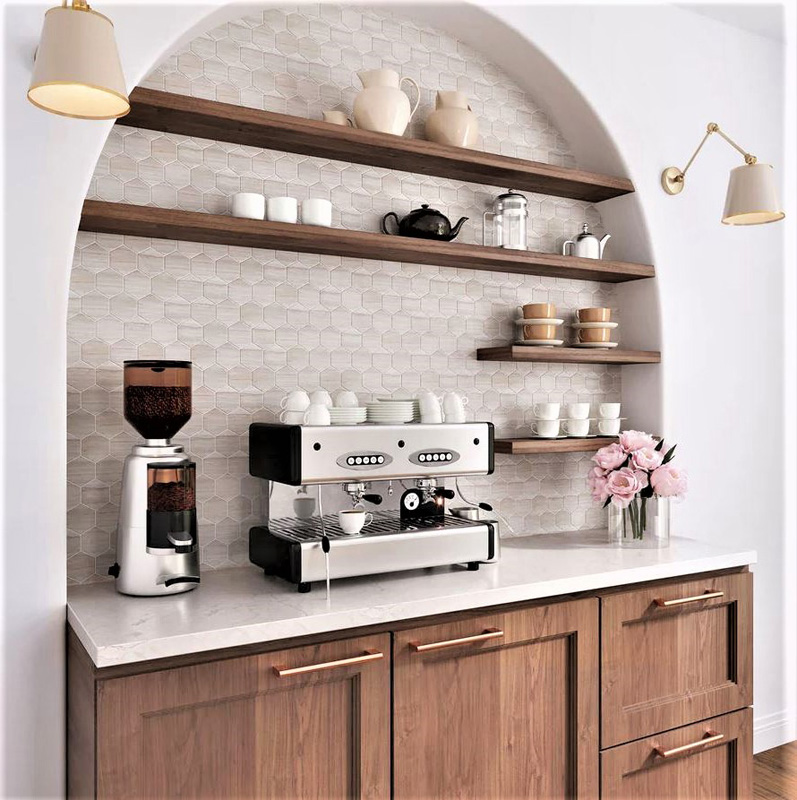 Arches can be introduced as a doorway, a window, a wall opening, a wall niche, a mirror or furniture.
Here is a great example of the archway integrated to a functional coffee station with added shelves. And I love the hexagon tile detail drawing the eye in.
When it comes to design trends, I recommend clients always think strategically, because kitchens are an expensive investment, and you want ROI and great lasting power design-wise. But when I look at the kitchen trends presented in this article, I feel confident that anyone of these ideas, if well executed and thought-out, WILL stand the test of time.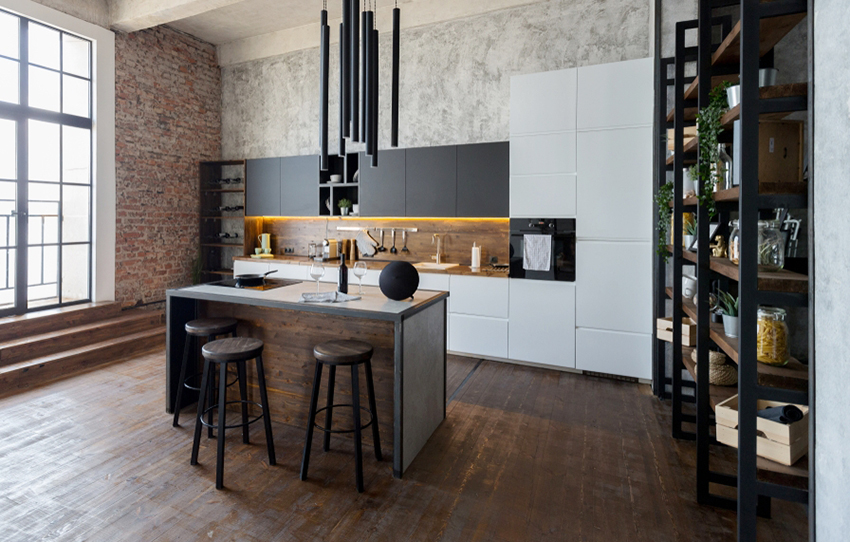 Montreal Kitchen
Design Services
To learn more about our kitchen design services offered to the Greater Montreal Region.
You would like to adopt some of these ideas in your own space but you don't know where to start?
Contact us to transform your home or office according to your style, your budget and your specific needs. By discussing your project we can provide you with relevant information concerning our services, the process and our design fee.
Click here to contact us.