When it comes to renovating bathrooms, the design possibilities are as great as your imagination and your budget will allow! The options in bathroom design are almost unlimited.
Consider the various trends and choose the ones that inspire you the most. The role of the bathroom has evolved very much and it is now one of the most functional rooms in the home.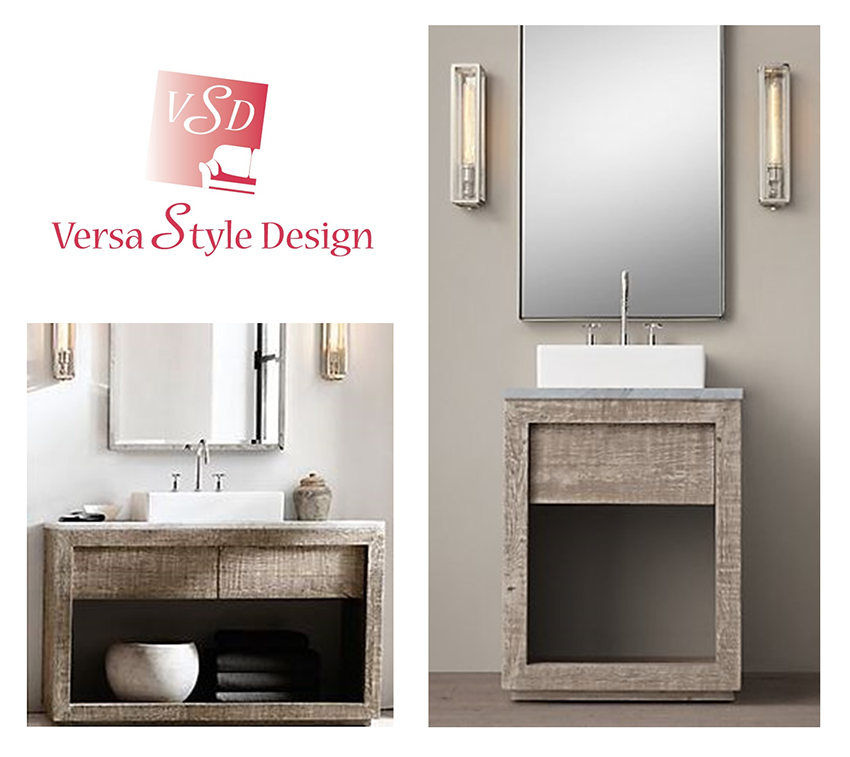 Functional storage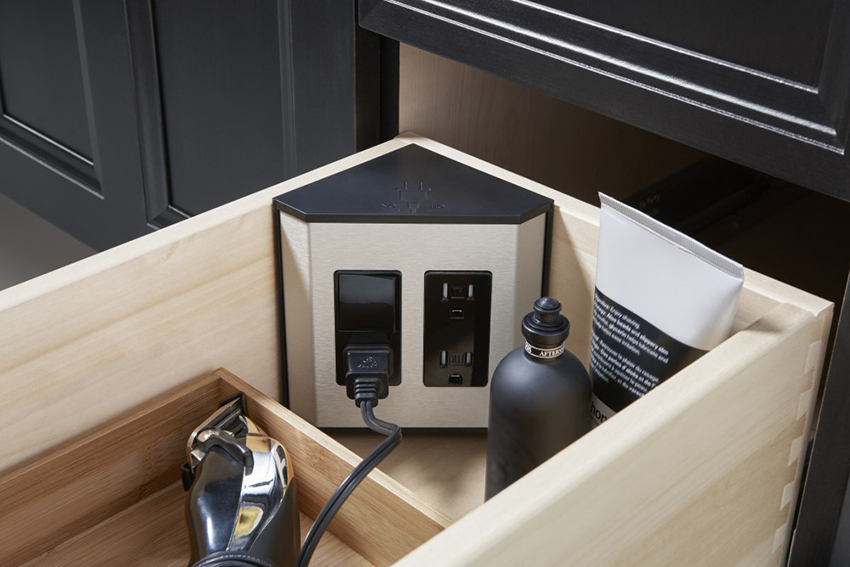 Increase the amount of storage and try to optimize every square inch that is available. The compartments in drawers, storage cabinets and shelves are sought after more than ever and are part of a well thought-out bathroom.
Stowing away your personal items inside closed storage is a good way of contributing to an uncluttered bathroom. The cleaner the space is, the bigger it appears.
Patterns
The minimalist styled bathrooms are always trendy, but many desire a contemporary bathroom that is more personalized.
White, grey and warmer neutrals are still popular, but many of my clients are daring in choosing bolder patterns, especially in chevron, hexagon or Mediterranean-style motifs.
Statuario marble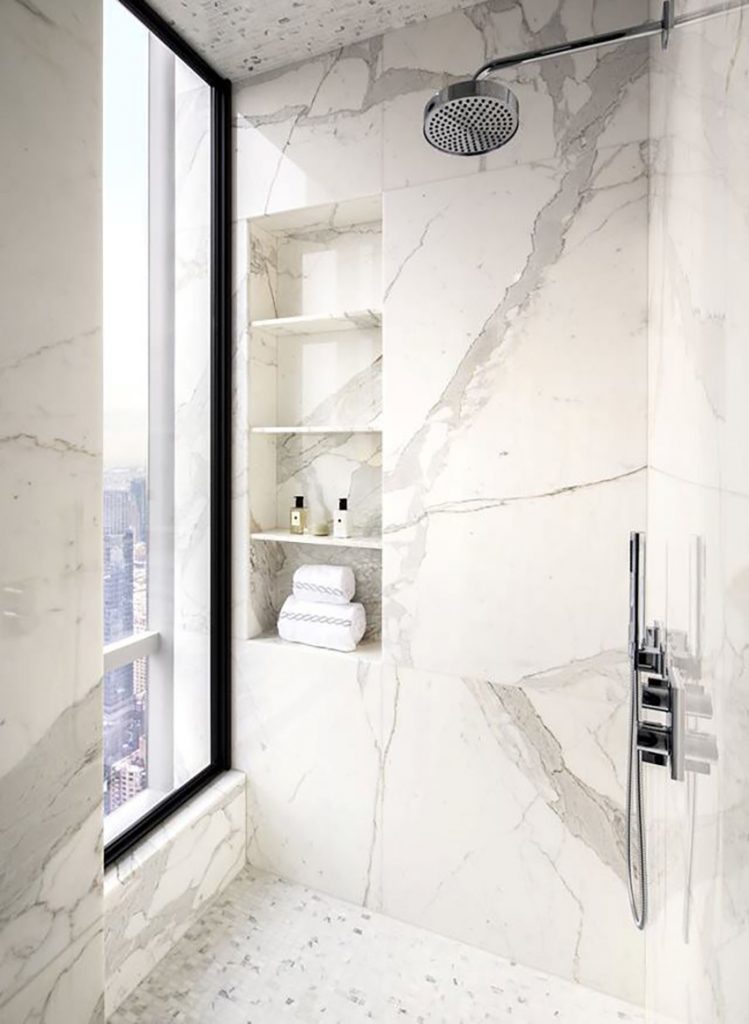 Marble is making its 'come-back' in 2018 for bathrooms. If your desire is to have a space that is sophisticated, clean and classic, then choose this beautiful natural stone, or to save money, opt for the budget friendly imitation marble tiles or slabs.
Rest assured, there is no need to empty your bank account. A variety of materials, much more affordable, have taken on the Statuario appearance. The result: Its elegance has contributed to 'stepping up a notch' many bathrooms, even the more budget-friendly ones!
Tiles
For showers, walls and floors, tiles are still very popular, including porcelain and ceramic. Very trendy right now are various geometric patterns, some with relief, some tone on tone or multi-coloured, and even in patchwork patterns.
There are ceramics on the market that imitate higher-end materials like wood and marble or even concrete. Apart from ceramics, natural stones are preferred, such as quartz and marble.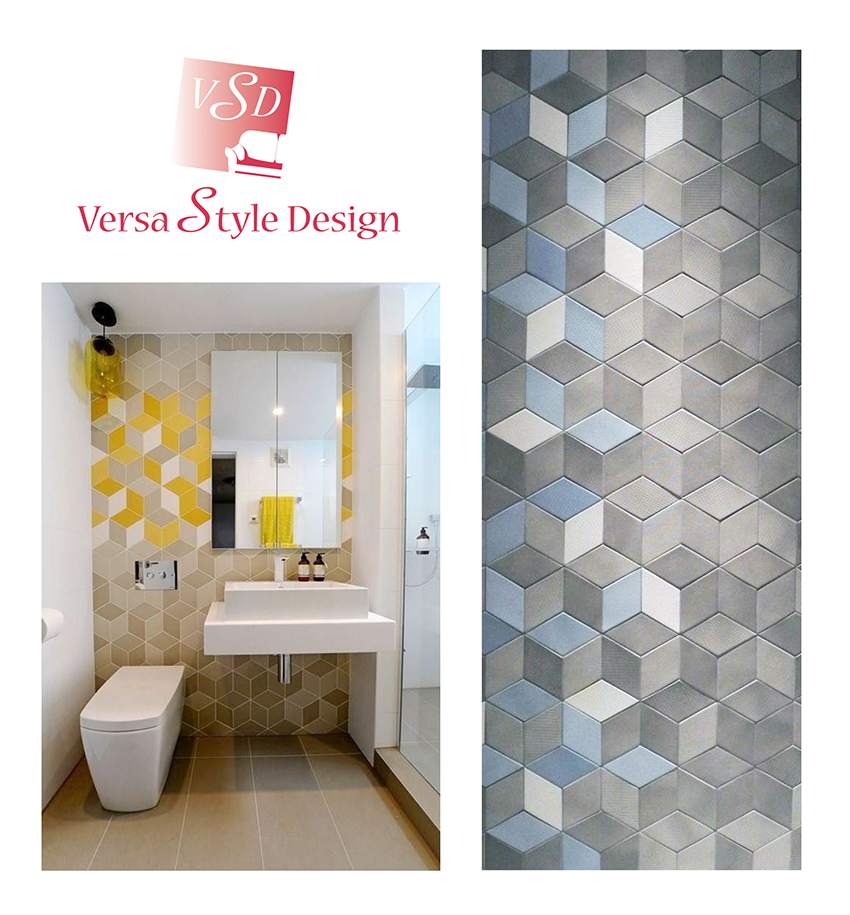 Spacious showers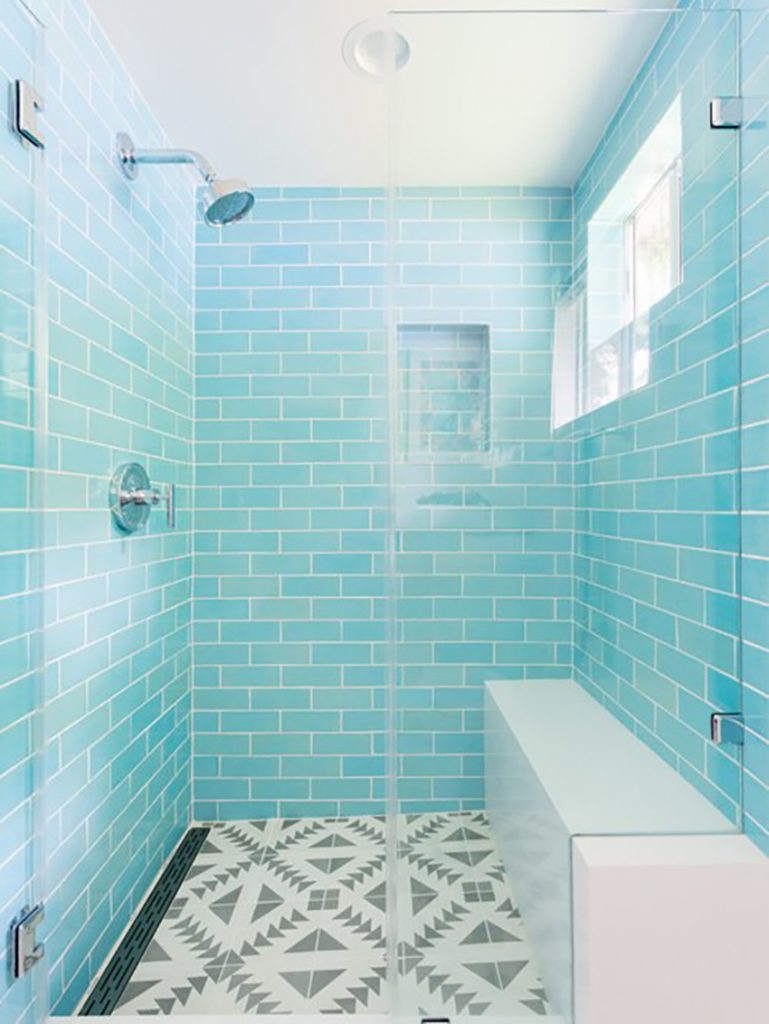 For the shower, several options are out there, but there is more and more demand for large tiled showers with glass. Also very popular is the fully equipped multi-functional shower including the integration of a bench as well as a steam system.
Don't forget the ever important storage by adding tile shelves or a niche to hold shampoo, shower gel and soap. There are even wall-mounted soap and shampoo distributors, such as those in hotel rooms, that can be installed to save space and which turn out to be an eco-friendly choice when buying bulk products to refill them.
Freestanding bathtubs
After having been put aside in the last few years, the bathtub has come back even stronger by being more luxurious, more comfortable and offering more space for the ultimate pampering experience.
The freestanding bathtub is popular and is available in a multitude of shapes: square, oval, round, asymmetrical or rectangular. To maximize the wow- factor, it can be installed in the center of the room if you have the space.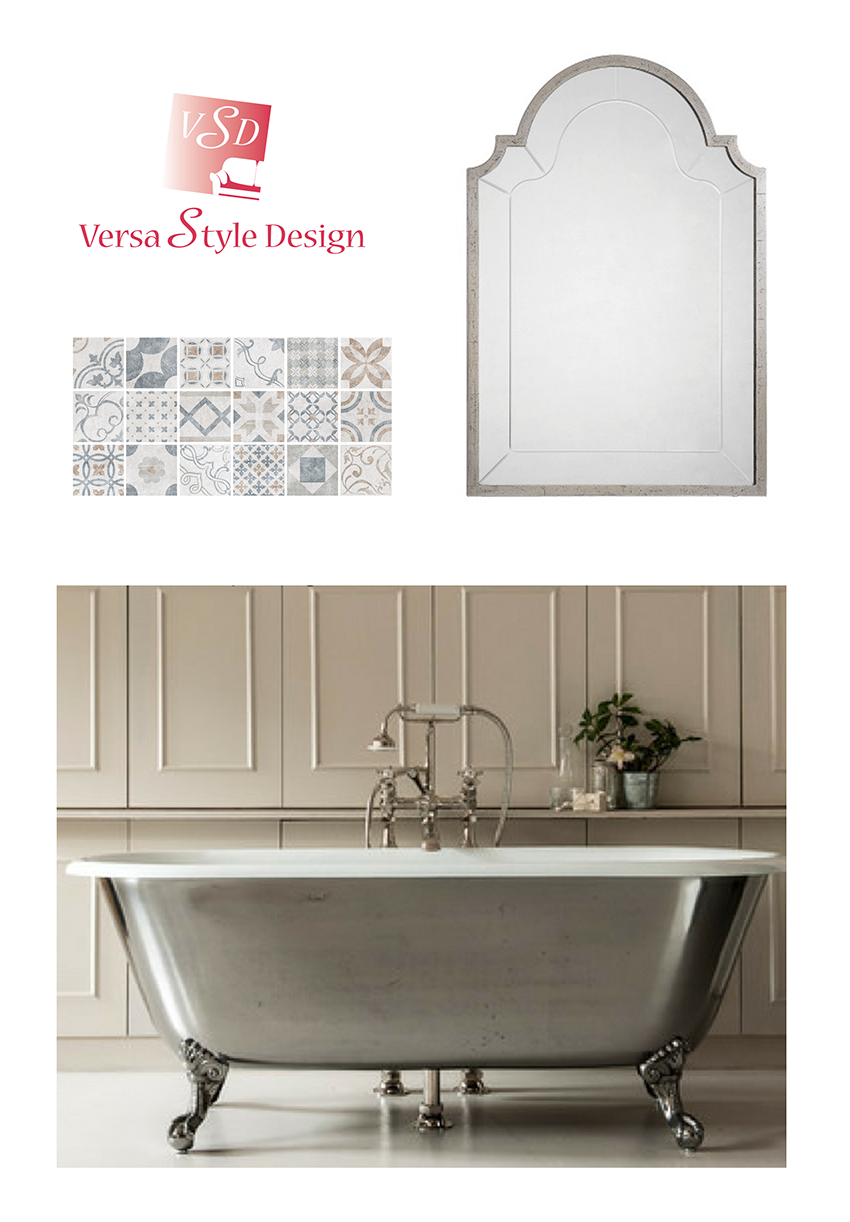 Imitation-wood tiles
Increasingly popular in Quebec, 'imitation-wood' porcelain tiles are a great floor or wall covering that offer the natural beauty of wood and the technical qualities of low-maintenance porcelain.
This type of tile was conceived to be durable and yet it has the natural sophistication of high-quality wood. Choose this product if you want an easy-to-maintain, rustic and inviting bathroom. Consider using it in the shower if you like, it is 100% waterproof.
Hardwood in the bathroom
In the context of a modern bathroom, wood brings a more classic side to the decor by balancing opposing styles. A multitude of types, grains and finishes are available, catering to everybody's taste.
Contrary to what one might think, this material breathes very well and naturally absorbs humidity, making it a very popular option for the bathroom. However, it is necessary to wipe off the accumulation of water at the exit of the shower or the bath to avoid its deterioration over the long term.
As with any major renovation project, sound planning is required. Several points should be considered before you start and you should take advantage of all the resources at your disposal. For more ideas for your next bathroom project: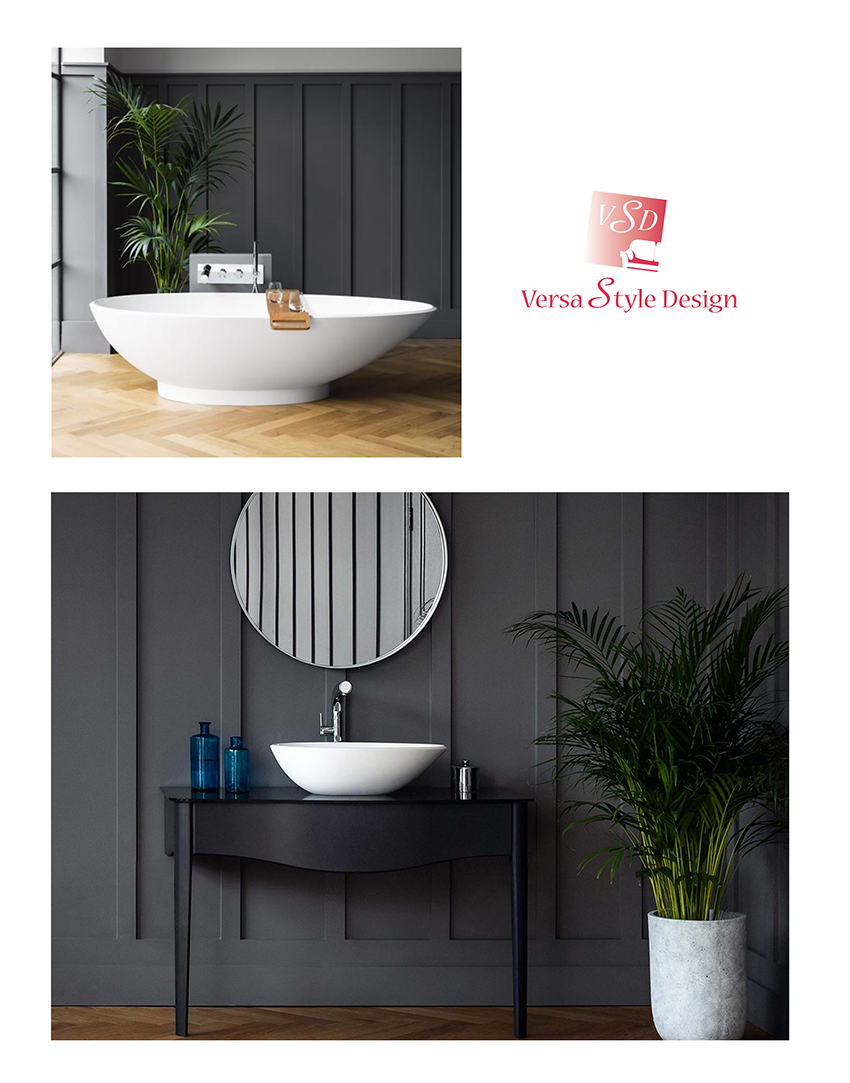 You would like to adopt some of these ideas in your own space but you don't know where to start?
Contact us to transform your home or office according to your style, your budget and your specific needs. By discussing your project we can provide you with relevant information concerning our services, the process and our design fee.
Click here to contact us.