Welcome to Versa Style Design, where we offer exceptional interior design services to the Greater Montreal Region. In this blog post, we'll explore the world of blinds and shutters, showcasing their beauty, functionality, and the essential role they play in enhancing your living spaces. Let's delve into the details and discover the perfect window treatment options for your unique needs and design style.
Determining the Function: What Do You Expect from Your Blinds? Before embarking on your window treatment journey, it's crucial to establish the primary function you want your blinds to fulfill. Consider your specific requirements, such as protection from the elements, light control, privacy preferences, or simply a decorative touch.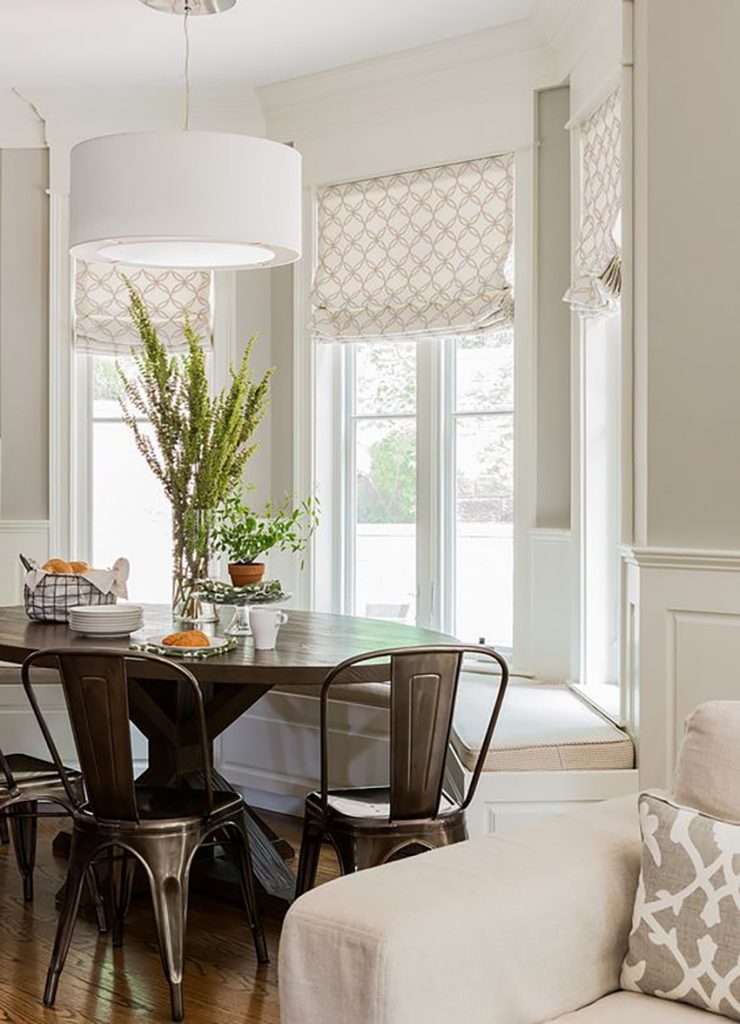 Rolling Shades: Versatile and Light-Filled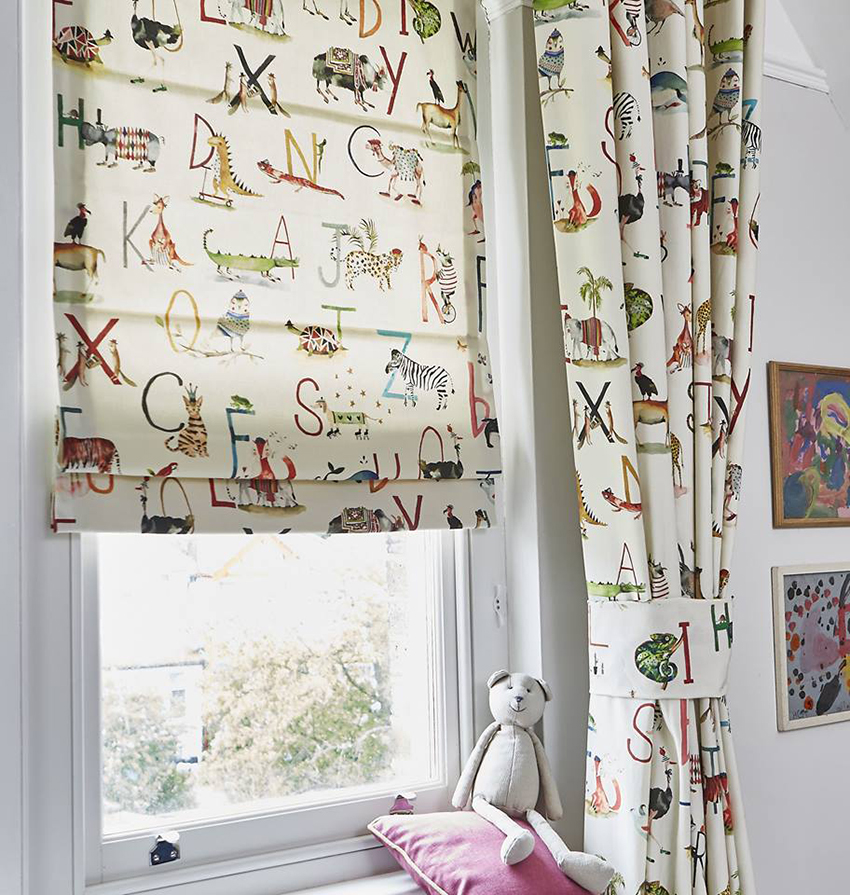 Rolling shades are excellent for blocking out bright sun rays while maintaining flexibility. They come in various styles, including horizontal or vertical blinds, allowing you to filter the sun's glare while preserving your view outside. These shades also enable ample light and ventilation through your windows.
Design Tip: Opt for rolling shades in rooms where you desire a balance between natural light and privacy, such as living rooms and kitchens. Consider selecting shades with textures or patterns that complement your existing decor.
Sliding Panels: Contemporary Elegance
Gone are the days of outdated vertical blinds. Modern sliding panels offer a wide array of textures, patterns, and colors to elevate your interiors. These panels effectively filter light and provide varying levels of privacy while effortlessly gliding over each other to expose larger windows or doors.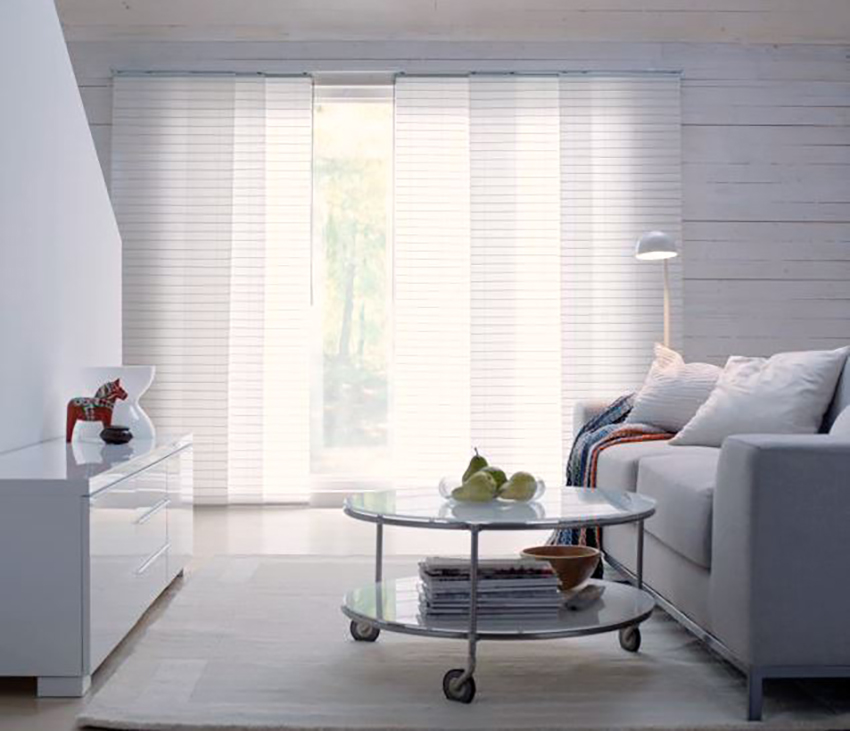 Design Idea: Use sliding panels to create a chic and sophisticated look for your patio or balcony doors. Choose a weave that strikes the perfect balance between light filtration and privacy, ensuring you enjoy the beautiful view outside.
Optical Illusion: The Graceful Pirouette Blind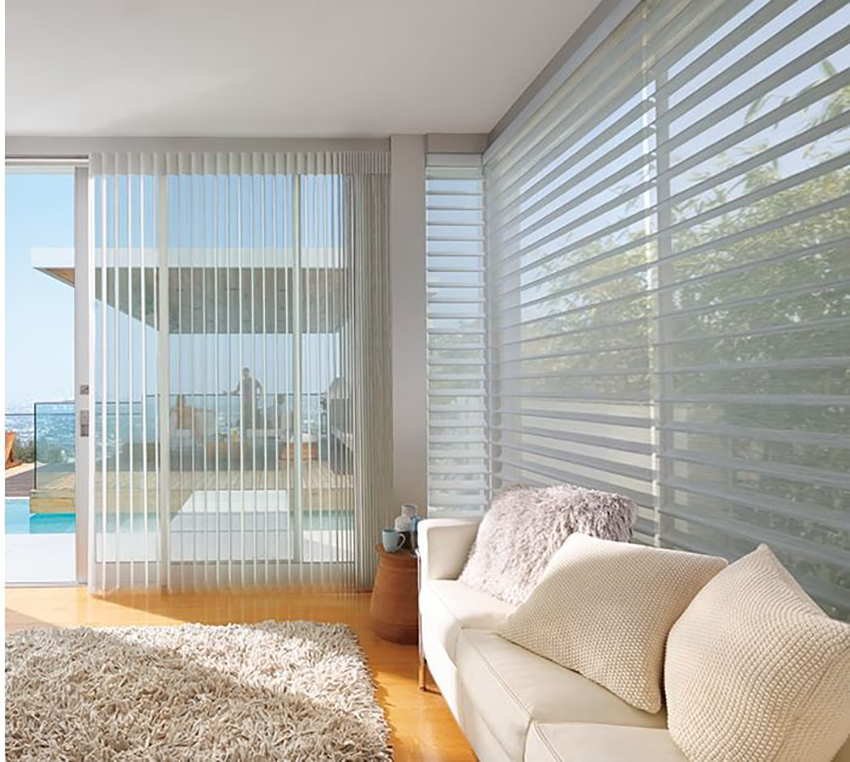 If you seek an elegant alternative to traditional blinds, the Pirouette blind is a mesmerizing choice. Composed of softly folded sheer fabric, it mimics the appearance of horizontal blinds when open. As you approach the window, transparent fabric backing unveils itself behind each fold, adding a touch of visual intrigue.
Design Idea: Incorporate Pirouette blinds into your living room or bedroom, allowing natural light to gently filter through while maintaining privacy. Explore various neutral colors, textures like satin, linen, or crepe, and different pulley systems to customize your blinds according to your style.
Horizontal Blinds: Classic and Functional
Horizontal blinds are a timeless option that seamlessly combines form and function. When fully open, they maximize the amount of natural light and provide unobstructed views. By adjusting the slats, you can control lighting levels and create privacy from outside traffic.
Design Tip: To modernize the look of your space, opt for horizontal blinds with wider slats, an extensive selection of colors, and diverse materials. Choose imitation wood for high humidity areas, as traditional wood slats may not fare well in bathrooms. Be mindful of aluminum blinds, as they tend to create noise when rattled by the wind.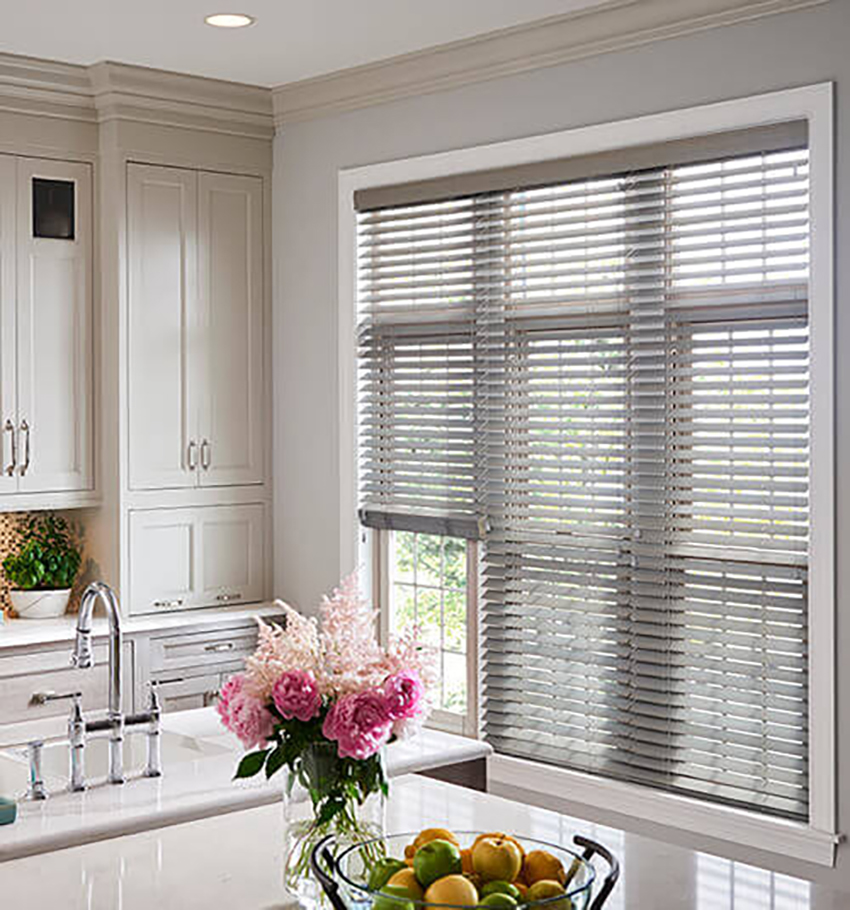 Cellular Shades: Style Meets Energy Efficiency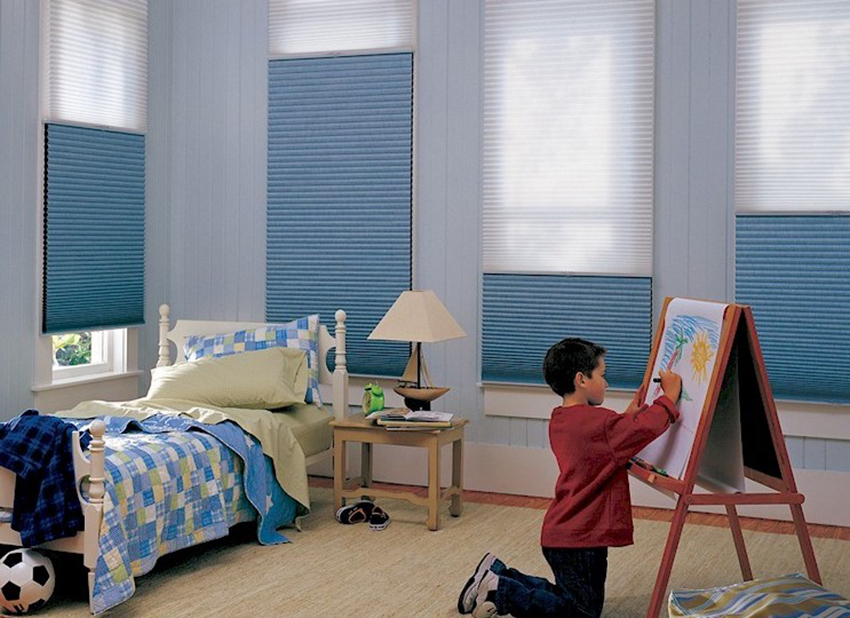 Recognizable by their distinctive honeycomb shape, cellular shades effortlessly blend style with practicality. These shades consist of unique fabrics layered together, creating a visually appealing look while offering superb energy efficiency. Available in multiple cell sizes and with horizontal or vertical orientations, they provide a range of light-control options.
Design Idea: Combine cellular shades with attractive curtains to enhance the aesthetic appeal of your room. Instead of settling for drab neutrals, opt for shades that coordinate with your existing decor, infusing vibrant colors or patterns into your space.
The Roman Blind: Supple Sophistication
Roman blinds exude an air of supple elegance, making them a popular choice for interior design. For ease of use, opt for sturdier fabrics in areas where frequent adjustments are necessary. In contrast, lightweight fabrics with softer folds can create a casual and relaxed atmosphere.
Design Tip: For bay windows, ensure the blinds are precisely tailored to fit the inside of each window frame, with clean edges for a polished look. Consider layering different fabrics with varying tones or patterns to create a more intimate ambiance. Adding a structured valance on top can complete the stylish ensemble.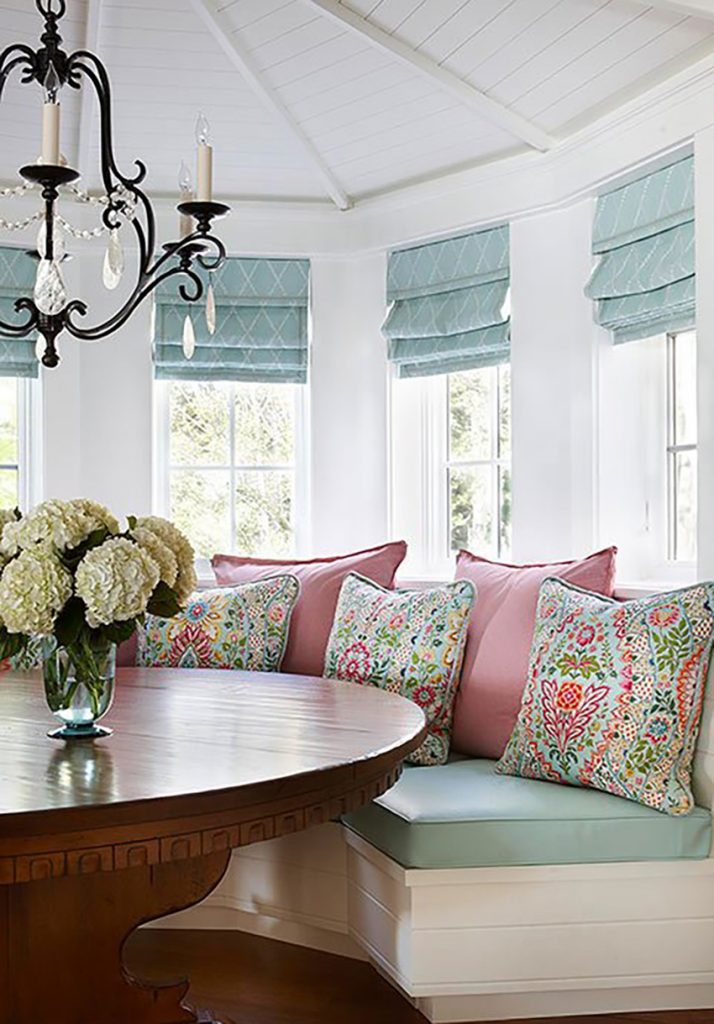 Curtains with Roman Blinds: Layers of Style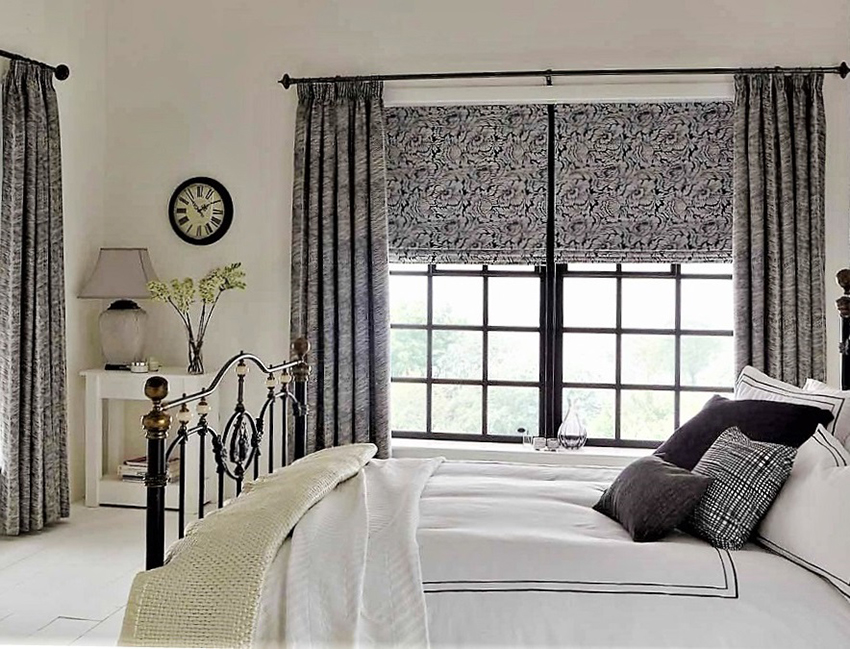 Elevate your space with a combination of curtains and Roman blinds, allowing you to achieve a darker, more intimate atmosphere. Experiment with different fabrics, tones, or patterns to create visual interest. Additionally, structured valances can serve as the perfect finishing touch to this layered window treatment.
Design Idea: Opt for metal tie-backs if you plan to open and close the curtains frequently, as they provide a contemporary touch. However, if your style leans towards a more traditional or classic aesthetic, fabric tie-backs can add a touch of elegance.
Up and Down Blinds: Versatility with a View
For those desiring privacy while still enjoying outside views, up and down blinds offer a practical solution. Lower the blinds to expose only the upper part, enabling a clear view while maintaining privacy. These blinds are also ideal for uniquely shaped windows and rooms on street levels.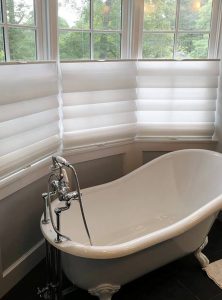 Design Idea: Explore the Silhouette collection from Hunter Douglas, offering a multitude of fabric and color options. Choose between 2-inch, 3-inch, or 4-inch slats to customize the blinds according to your preferences and the specific requirements of your space.
Solid Shutters: Classic European Elegance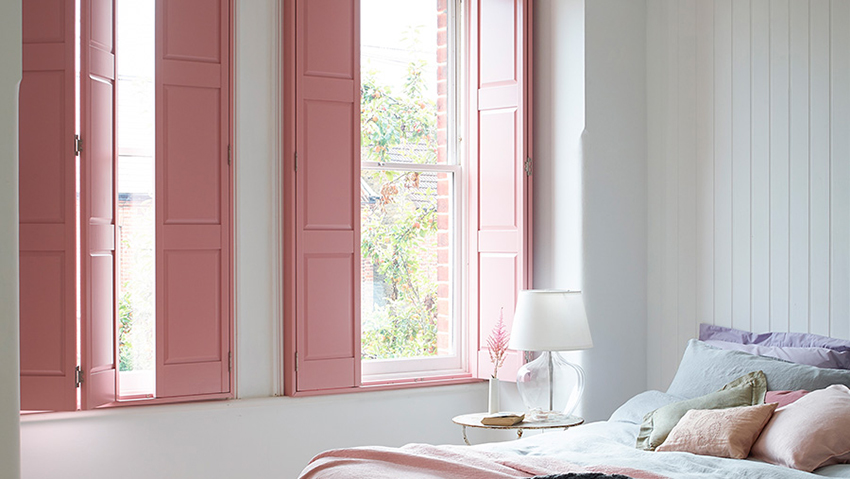 Introduce a touch of classic European elegance to your interiors with solid wood shutters. These highly functional and stylish shutters can swing on hinges, swivel, slide, or fold. They allow you to adjust the amount of air entering the room while effortlessly adding a timeless charm.
Design Tip: Paint your solid shutters to match your decor, showcasing their versatility. Consider opting for folding saloon-style shutters for rooms where you desire flexibility in adjusting ventilation and light.
Shutters with Slats: Complete Control
Shutters with slats offer exceptional control over light, ventilation, and privacy. Venetian slats provide the ability to open one or both sides partially or completely, tailoring the amount of light entering the space. Choose between wooden or PVC options, available in various colors or natural wood finishes for a unique touch.
Design Idea: Select slat widths that align with your desired aesthetic, ensuring they harmonize with the overall style of the room. For a classic and refined look, opt for wooden shutters, whereas PVC shutters offer a contemporary vibe.
Keeping Up with Canadian Safety Regulations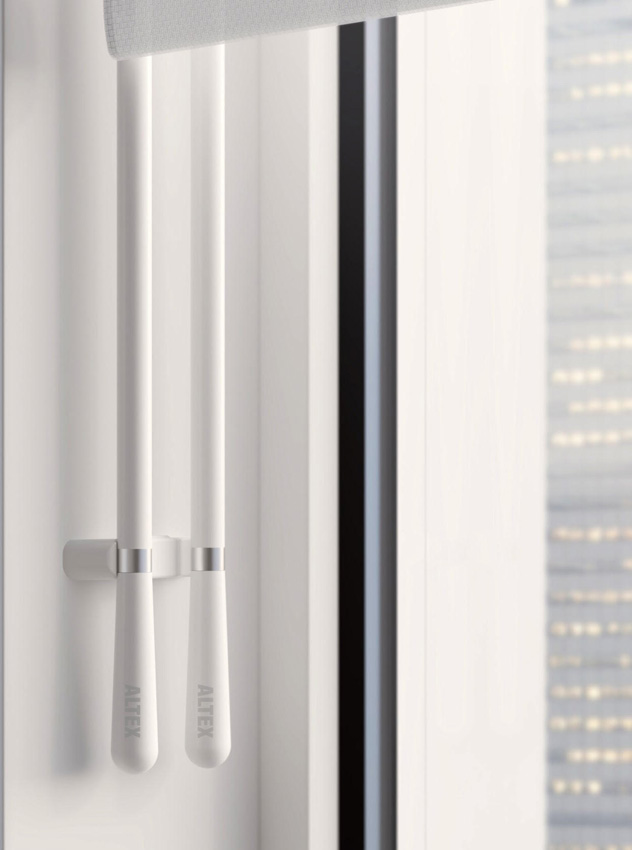 It's essential to stay informed about safety regulations when it comes to corded blinds, particularly for the well-being of children. In Canada, Corded Window Covering Regulations were implemented on May 1, 2022, to eliminate the risk of strangulation.
To comply with the regulations, changes have been made to many window coverings. Most blinds and shades will still be available, but with alternative lift systems such as shrouded continuous cord loops, cordless systems, power wands, or motorization/automation. However, some products like mini/aluminum blinds, top-down bottom-up shades, and pleated shades will no longer be available due to their internal cord operations.
If you already have corded window coverings at home, note that the regulations only apply to new window coverings sold after May 1, 2022. However, for enhanced safety, it is recommended to replace older corded coverings with cordless options. If you choose to keep corded coverings, follow the provided safety guidelines, including proper installation, securing cords, keeping cords out of reach, and maintaining a safe distance between furniture and cords.
Embark on Your Design Journey with Versa Style Design
We hope this comprehensive guide has inspired you to explore the world of blinds and shutters, offering countless design possibilities for your home or office. At Versa Style Design, we specialize in transforming spaces according to your unique style, budget, and specific needs.
Contact us today to discuss your project and discover how our professional design services can elevate your living spaces. Let us guide you through the process, providing relevant information and expertise to create your dream interior. Click here to get in touch and embark on your design journey with Versa Style Design.
You would like to adopt some of these ideas in your own space but you don't know where to start?
Contact us to transform your home or office according to your style, your budget and your specific needs. By discussing your project we can provide you with relevant information concerning our services, the process and our design fee.
Click here to contact us.