The kitchen island is on everybody's wish-list when it comes to designing a new kitchen. There are many types of islands to suit every need. Some islands can be purchased ready-made, like at Ikea or Costco, for instance. But most islands are custom designed and include specific components such as a wine fridge, deep drawers, a microwave, an eating counter with stools, a niche for serving bowls and recipe books, and much more.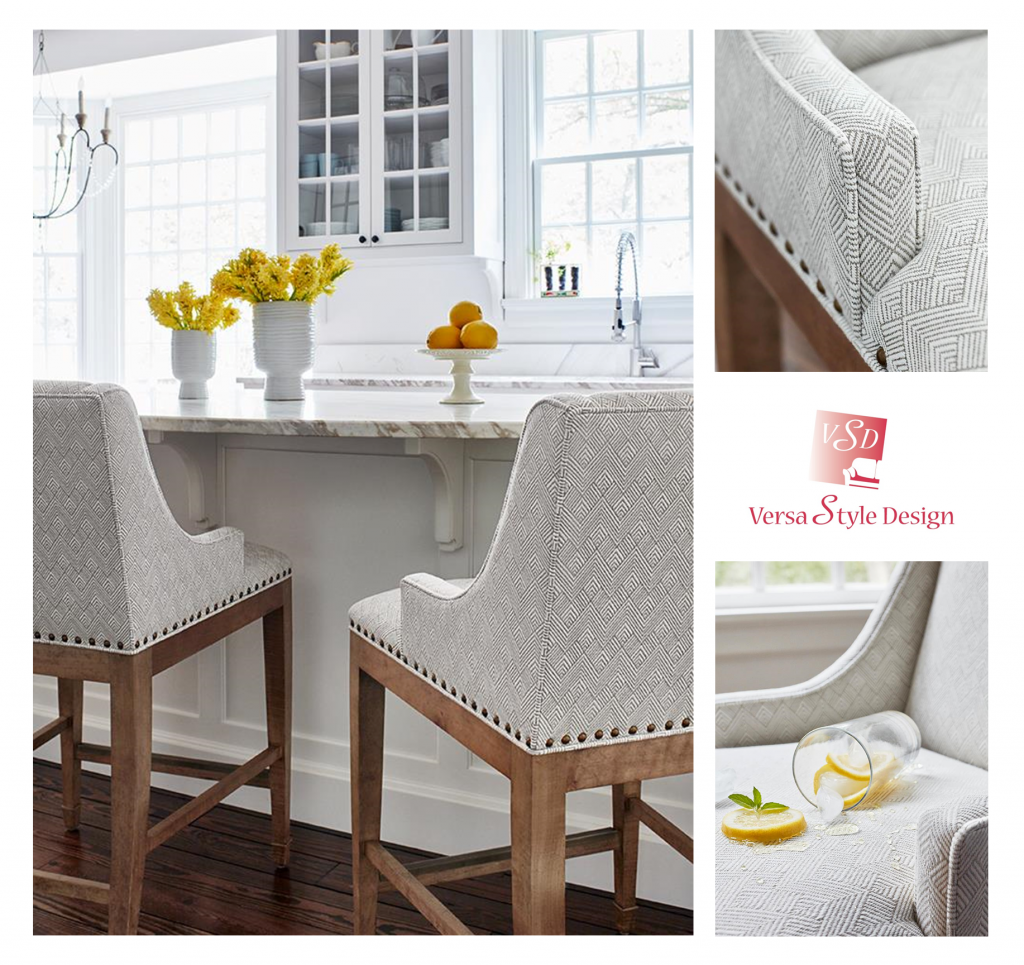 Since they help to maximize space with plenty of room for storage, you can have less cluttered countertops and more room for prepping food, eating, or helping the kids with their homework.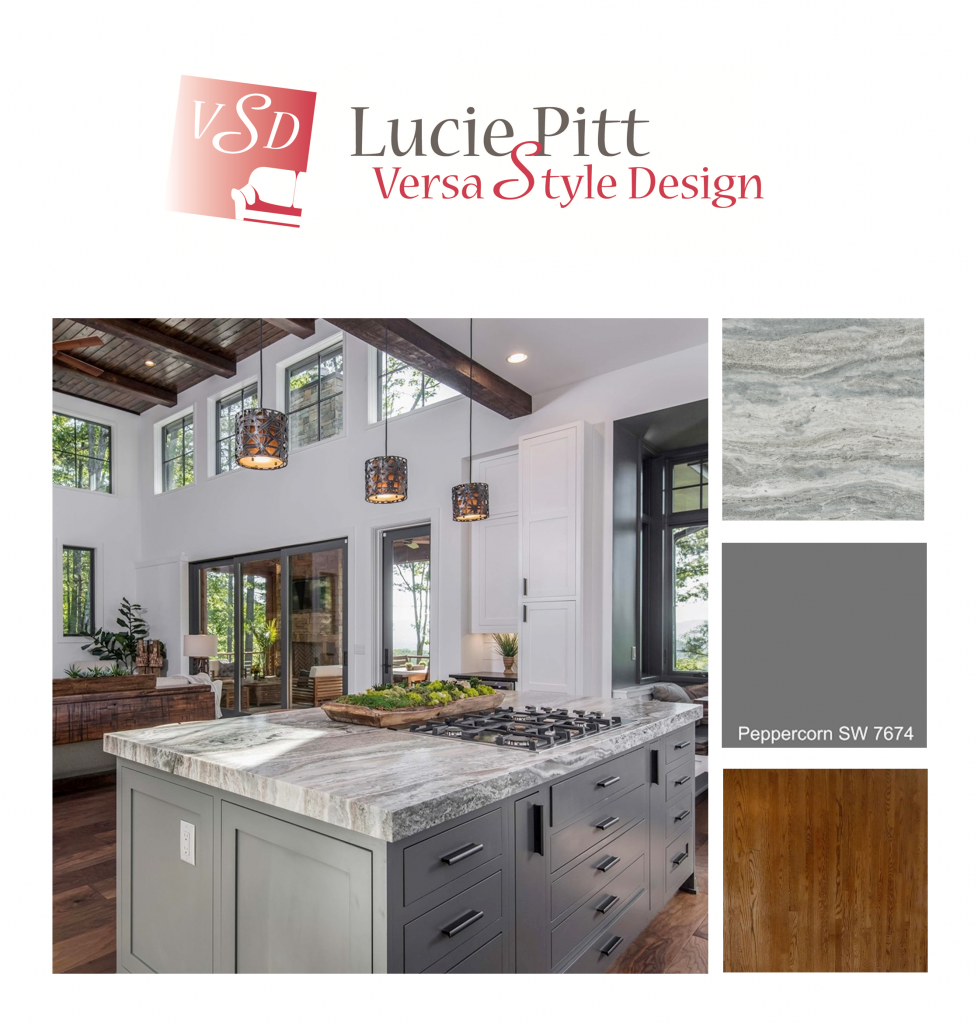 Whenever I create kitchen designs for my clients, the first thing I confirm is if there is, in fact, enough space for an island. You need to allow at least 36 to 44 inches of space between the perimeter of the island and surrounding furniture, counters and cabinets. This space ensures that there is enough room for people to move around the kitchen unobstructed, as well as allow you to open cabinets and appliances such as the stove, dishwasher and refrigerator.

I have designed some very narrow islands in small kitchens which were still functional, making sure there was plenty of room for circulation and functionality as a top priority.
Here are a few different kitchen island ideas to inspire you:
The shape of the island
As a general rule, an island should be the shape of the kitchen. If a kitchen is square, the island is usually square as well. Most kitchens are rectangular, so naturally, rectangular islands are very popular. If you have a very large kitchen you can have a U-shaped or L-shaped island. When your kitchen island design takes the shape-factor into consideration, the flow of the space feels inviting and it helps make the room feel more open.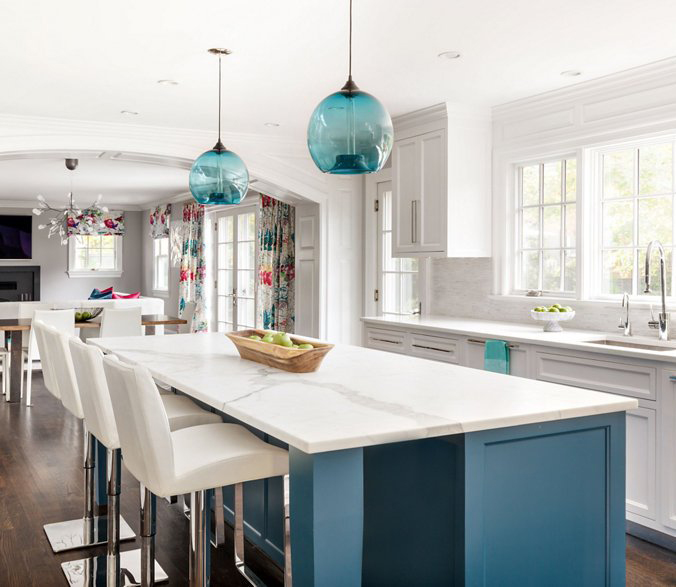 To make an island more interesting, consider painting it a different tone or colour and go ahead and add unique colourful pendants for more personality.

Up-cycle an older piece of furniture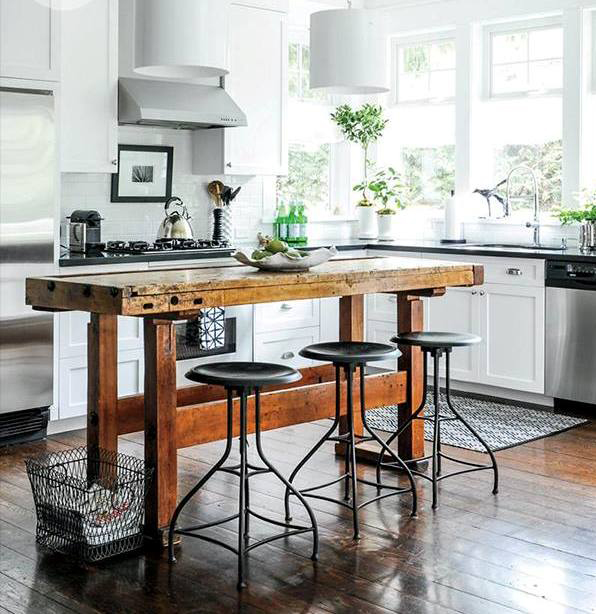 If you want to add instant charm to your new kitchen, consider integrating an old table or counter-work-bench. Is there an old forgotten piece in the basement or garage? If not, a trip to the flea market may open up new options to you. If the base of the island doesn't work, we can change that with complimentary vintage wood, like the example here. An old weathered bench was given new rustic wooden legs for more height. This brings me to the next point.

The height of the island and the seating
If you buy a ready-made island that is too tall, or not tall enough, a good handy-man or carpenter can adjust it. You need to also consider the height of the stools in relation to the height of the counter. There are 3 heights in kitchen seating: standard table-height seats (for lower level counters) counter stools, and bar stools. Kitchen island counter heights vary as well, to accommodate taller people, shorter folks, pastry chefs, regular foodies, and everyone else.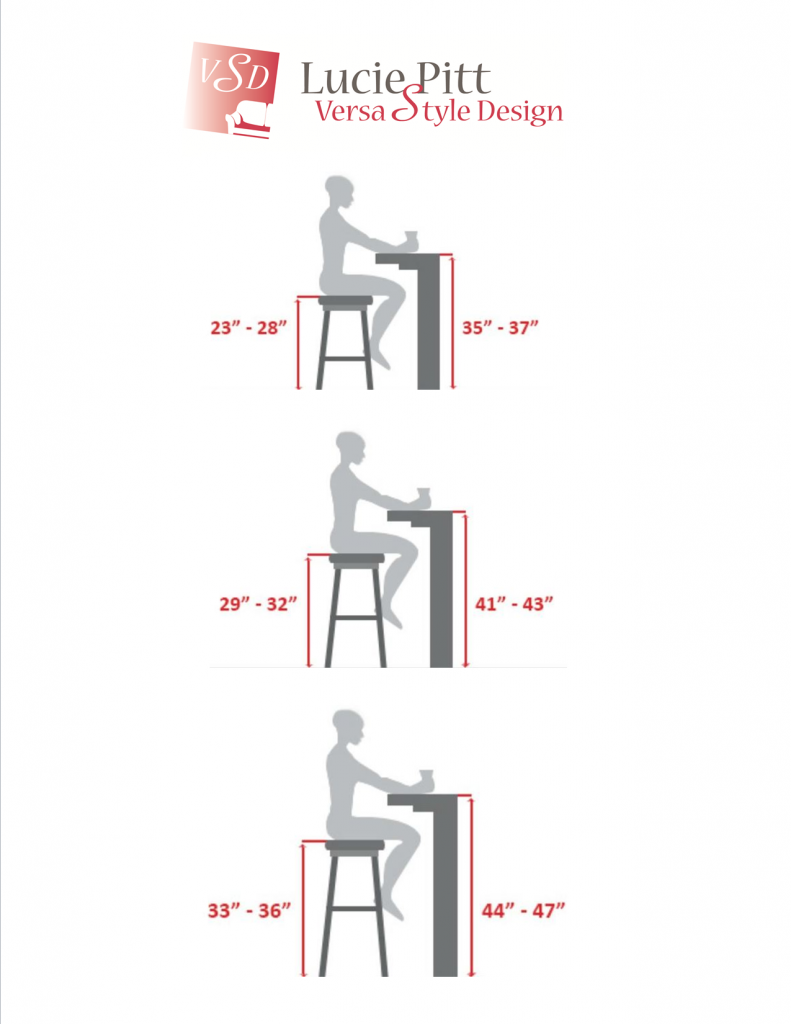 For large kitchens; an island with an eating nook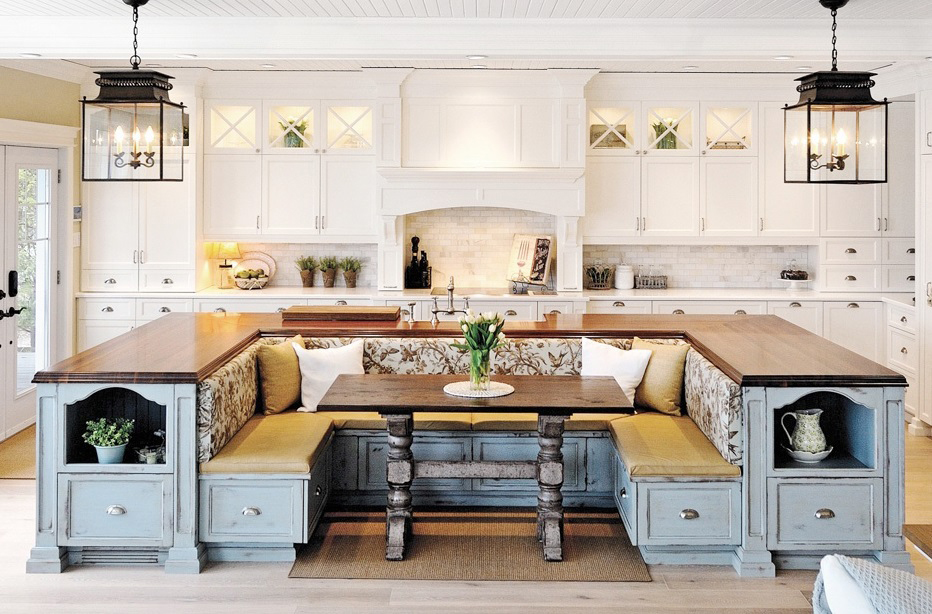 If you have a very large kitchen, and you always dreamed of a custom eating nook, why not consider combining it within a u-shaped island. Just look at all that counter space! Nobody is getting in anyone else's way and there is a lot of storage behind those benches. If you still need MORE storage, there are pull-out drawers underneath the seating.
Plumbing can be installed to accommodate a sink and dishwasher. Clearing up the table is as easy as handing it over the counter, where the sink is already waiting.
Also for large kitchens; an L-shaped kitchen island
L-shaped kitchen islands pack a double whammy; they have plenty of space for food prep, and a whole other section for eating, socialising, crafts or homework. They require very large kitchens that are more square than rectangular. Because of its sheer size, clean-up time may take a little longer, but you will never, ever complain that you don't have enough counter space again!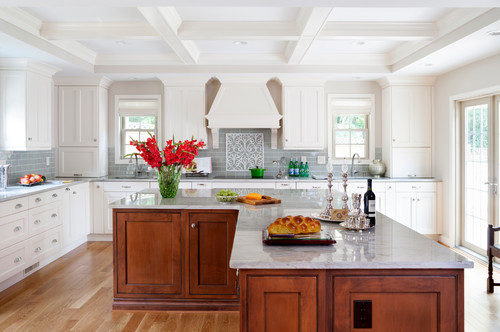 Compact kitchen islands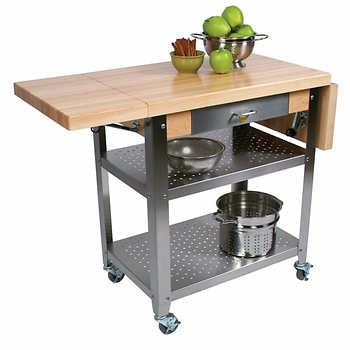 If your kitchen is very small, but you really have your heart set on adding a kitchen-island, then consider small-scale options, which can include an added butcher block, wheels and open shelving for easy access to your small appliances or serving platters. Often very charming, these tiny islands can be extremely functional, offering extra storage space and a pretty decent additional work surface. They are also much less expensive than a fixed or custom kitchen island. When you're done, you can roll them away.

---
You would like to adopt some of these ideas in your own space but you don't know where to start?
Contact us to transform your home or office according to your style, your budget and your specific needs. By discussing your project we can provide you with relevant information concerning our services, the process and our design fee.
Click here to contact us.
---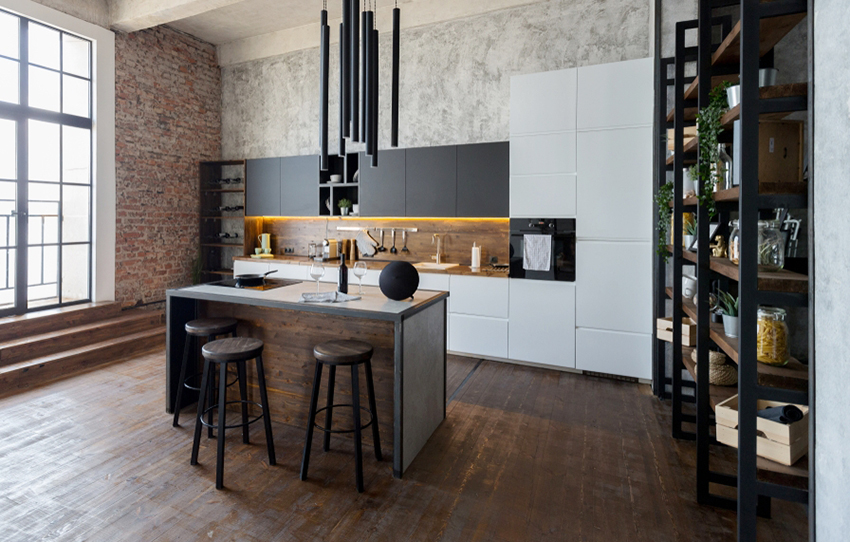 Montreal Kitchen
Design Services
To learn more about our kitchen design services offered to the Greater Montreal Region.