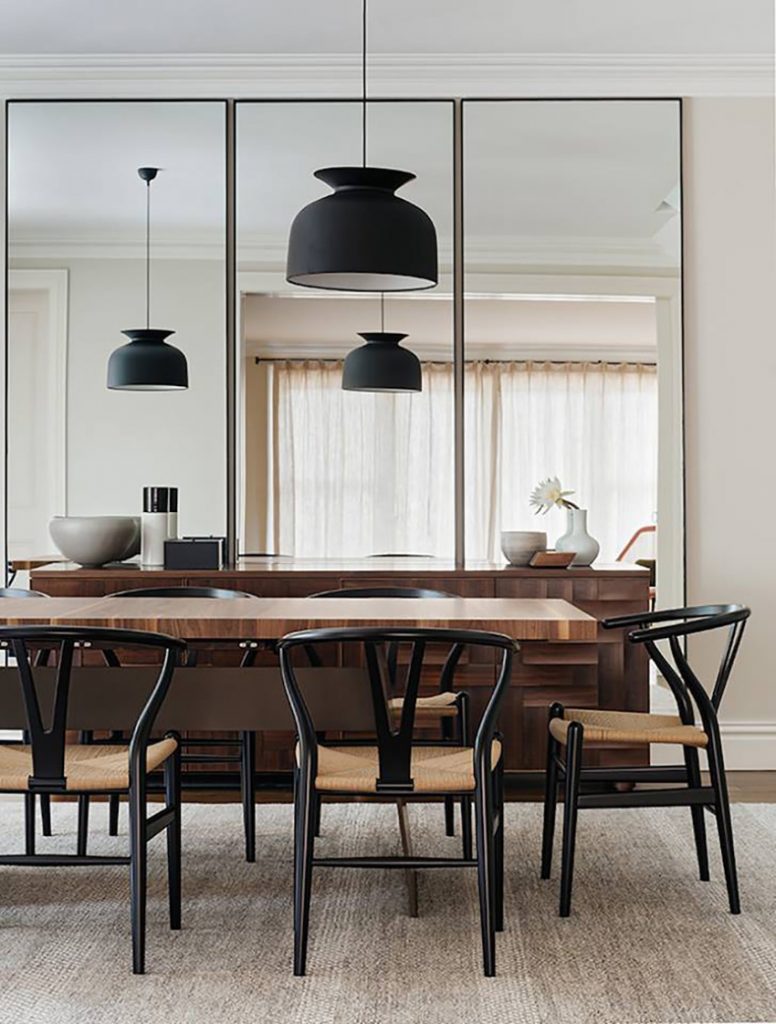 I meet many clients each week and it hasn't happened yet where one of them tells me 'I have too much space, please make it seem smaller'. Inevitably, in every home there seems to be at least one dysfunctional zone that needs to be tweaked and re-thought. This seems to be increasing with the trend toward more compact urban lofts, condos and town houses. Even in larger traditional homes, in the majority of renovation projects I demolish certain walls in order to create that open and airy layout that is in such high demand. But this is an expensive strategy and definitely disturbs your regular lifestyle for a little while. This is the reason I always begin with exploring with my clients options that are far simpler, more accessible, and definitely more economical!
Regardless of your budget, if you want to give the impression of more space you do not have to transform your home or office into a construction zone.
Here are a few simple ideas that will allow you to create a much roomier and cohesive living or office space.
The strategic use of tones and colours.
In this hotel room at the Casa Angelina in Amalfi Italy, there really isn't a lot of room at all. In fact, I would call it tight, but this fact doesn't seem very apparent nor would it be too bothersome. With the absence of contrasting lines, pattern or color, our focus is not drawn to the lack of space but rather the abundance of light and serenity. Here is the benefit of the monochromatic palette (different shades of the same hue), the absence of excessive patterns or contrasting lines. It is a calmer and more seamless look and this contributes to the spacious feel.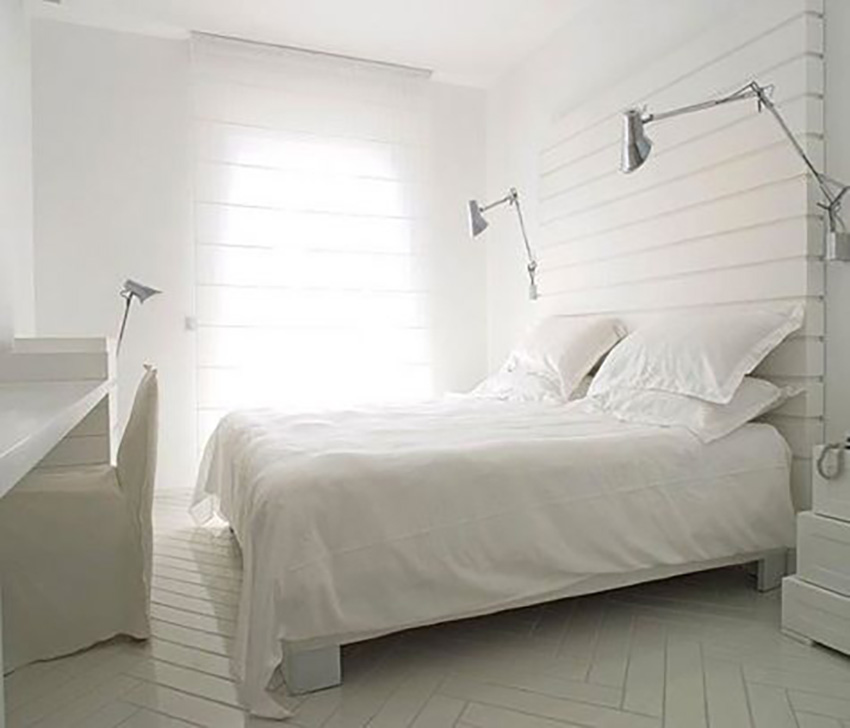 Paint the ceiling the same color as the walls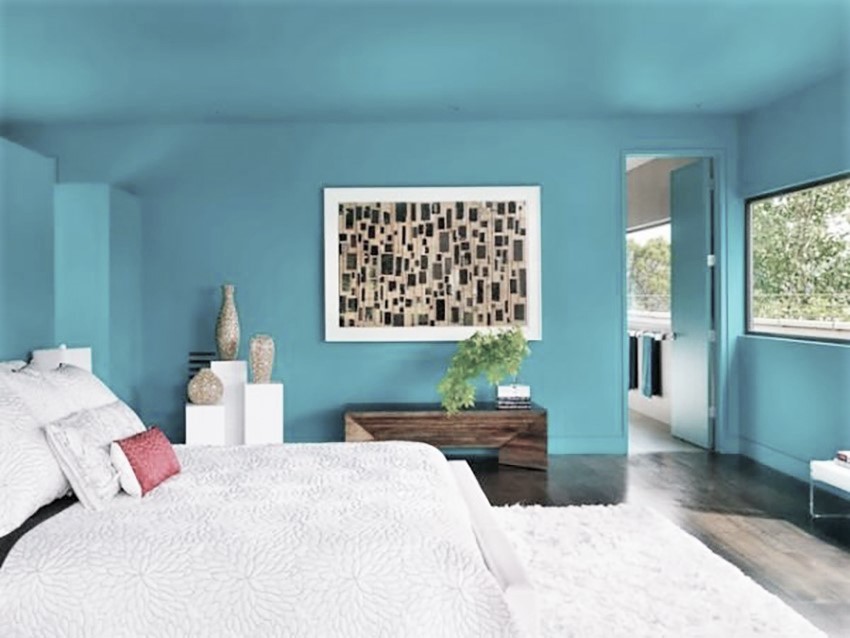 It works with the white bedroom, but this also works with a vibrant colour. You have surely heard the recommendation to paint the ceiling a lighter tone, but I would like to show you AN EVEN BETTER STRATEGY, which is precisely AVOIDING the creation of a 'line' of demarcation between the walls and ceiling. In this gorgeous bedroom with turquoise walls, the ceiling is also painted in the same shade. I know it's darker than we are accustomed to seeing, but it still doesn't seem heavy or suffocating.
We often hear fashion stylists telling us to wear one shade, like black, from head to toe so the silhouette line remains 'unbroken' and fluid. The same principle applies with living spaces. When choosing a color for a room, make sure to consult a professional who will help you make the selection in the space itself.
Integrate multifunctional furniture
This Evo storage coffee table from Structube plays many functions. A piece like this is essential, functional and stylish in any small space. Other examples include sleeper sofas, Murphy beds and ottomans that flip into tables and contain storage.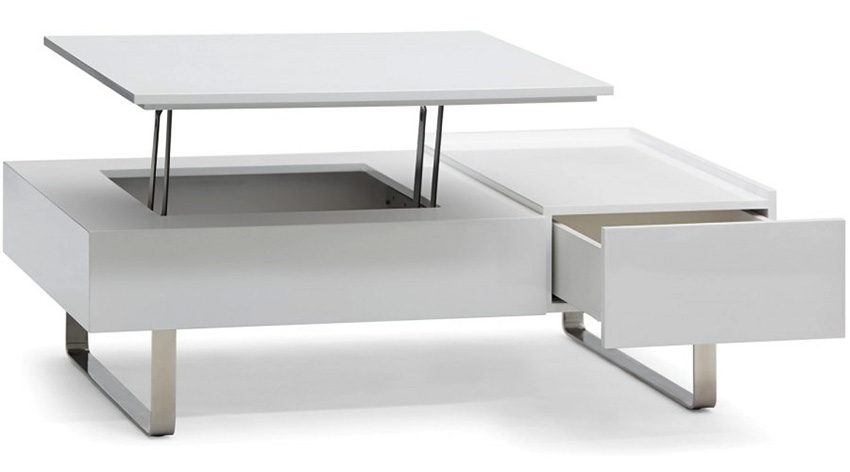 Use a round table instead of rectangular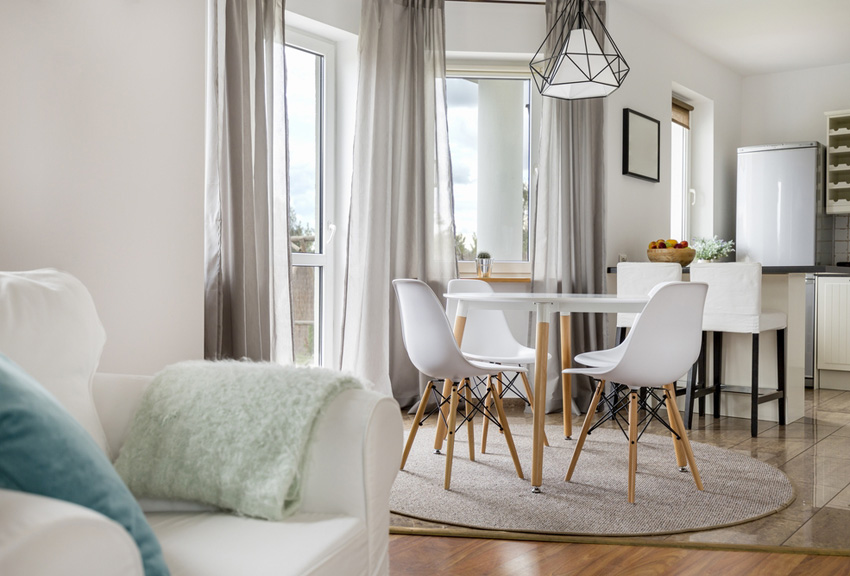 Round tables are fabulously inviting. Everyone is face to face and there are no awkward corners to navigate around. If you have a super tight eating space, go for round, with the option to extend it into an oval for the occasional larger gathering.
Use light strategically
Try to remember that the more (artificial or natural) light you have in the space, the roomier it will seem. And it seems every lighting professional you speak to these days all agree on one thing: avoid lighting the room from ONLY a single ceiling source. Quite the contrary, try to integrate varied sources of light, and at different levels such as aptly placed table lamps, floors lamps or recessed lighting that will add depth.
It's quite simple when you think about it, whatever remains in the shadows disappears and the room seems to shrink down to a much smaller zone…Especially in basements, where the natural light tends to be practically non-existent, the light plan must be well thought through. Because of the low ceilings in most basements, it is essential to brighten up the extremities, the corners as well as the ceiling itself in order for the space to feel cozy, spacious and inviting.
To conclude
As you can see, you need not become a victim of your lack of space, but rather slowly work toward integrating some of these principles. You will quickly discover their hidden potential as well as that of your working and living space!
You would like to adopt some of these ideas in your own space but you don't know where to start?
Contact us to transform your home or office according to your style, your budget and your specific needs. By discussing your project we can provide you with relevant information concerning our services, the process and our design fee.
Click here to contact us.