Laundry rooms don't get a lot of attention because they're often located in a closet or the basement. Whether you have a big or small laundry room, here are some practical ideas to inspire you.
Water and bleach can damage certain finishes such as wood or porous stone. You should choose waterproof materials like ceramic, linoleum or vinyl. Don't forget to use epoxy tile grout for the floor tiles and install backsplash tiles behind the washer and dryer for total protection and easy maintenance.
A space in your bathroom dedicated to the washer and dryer may be a great space-saver, however, access to the machines may be a challenge if the bathroom and laundry area are tight and cluttered. For this reason, make sure to plan functional closed storage such as cabinets or decorative baskets.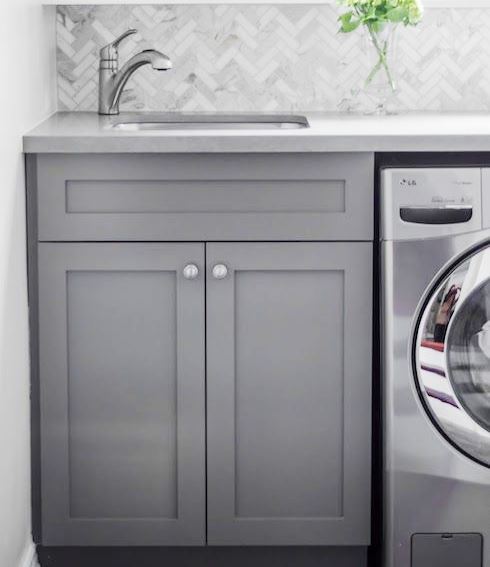 Make function a priority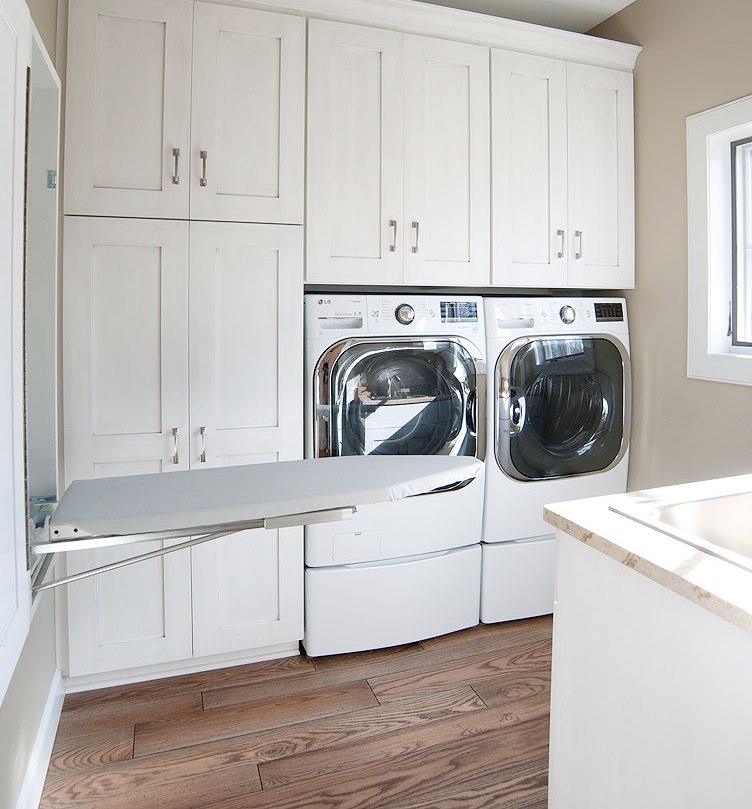 Having a laundry zone on an upper floor with the bedrooms and clothes hampers is practical, but the noise may cause a disturbance.
Having it on the main floor offers the possibility of multi-tasking; doing laundry while preparing meals, but if it is an open common area, extra effort is required for keeping the laundry area uncluttered with a lot of hide-away storage.
Finally, a laundry zone in the basement is more discrete, but requires many more trips up and down the stairs. You also may miss hearing the buzzer.
Add colour!
A bright and refreshing colour on the walls, the door or the cabinetry can really add a lot of charm and personality even if the laundry area is in the basement, a hidden corner, or a hallway. Glossy paint, currently the rage, also multiplies the existent light and provides a low-maintenance and washable surface.
For a winning colour palette go ahead with the majority of the space in a neutral tone with hits of a dynamic colour as an accent on certain elements.
The objective: A nice dose of motivation, so that tackling the hum drum chores gets stepped up!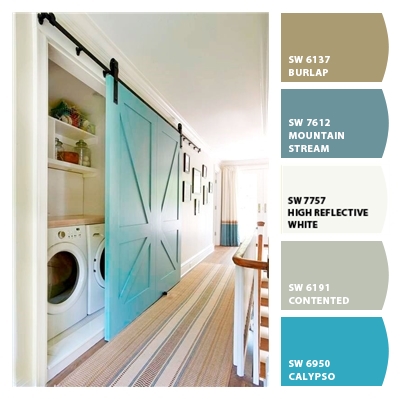 Optimise every square inch!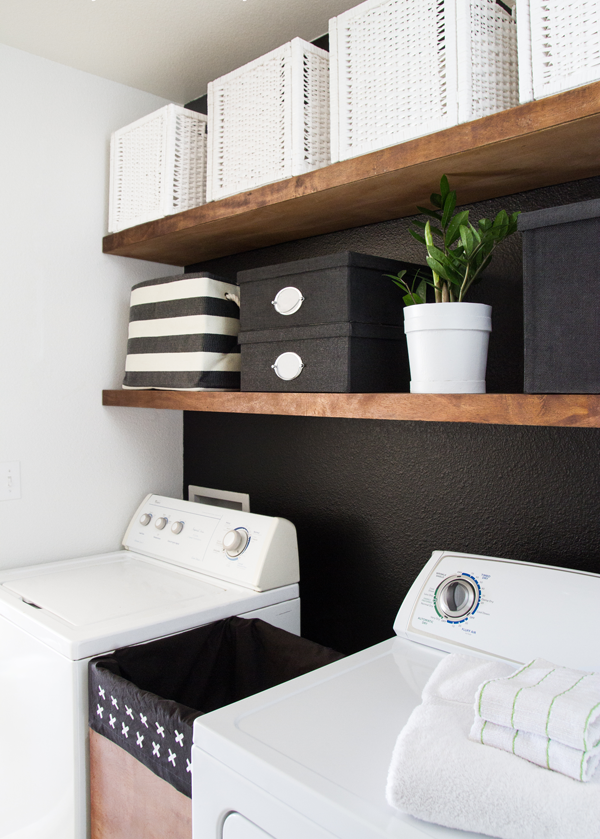 If you're lucky enough to have an entire room dedicated to laundry, add a built-in cabinet or shelves to maximize storage. And, while you're at it, why not add baskets to hold dirty laundry, a pull-out shelf for drying clothes flat, a hanging rack or a retractable ironing board.
Keep in mind that it's probably a good idea to have various baskets handy in your laundry room.A laundry basket on wheels or rails, especially one with multiple bins, will help you sort and store dirty laundry and help you save time. Your clothes will be sorted and ready to be transferred to the washing machine.
Finally, set up a small basket near your washer and dryer, so you have a handy spot for the contents of pockets like keys and change or even mismatched socks!
A well thought-out corner
A drop-down wall-mounted clothes support or a pole over your washer and dryer are very practical. No longer necessary to confiscate the bathroom shower pole for a whole day. If you don't have enough hidden storage, go ahead and install cabinets with drawers or shelves near or over the machines. There you can hide away all of your laundry and cleaning products.
Add to the wall pretty hooks for hanging your ironing board. All of these decorative elements will add charm to your laundry zone.For help or more ideas for your laundry zone, click here: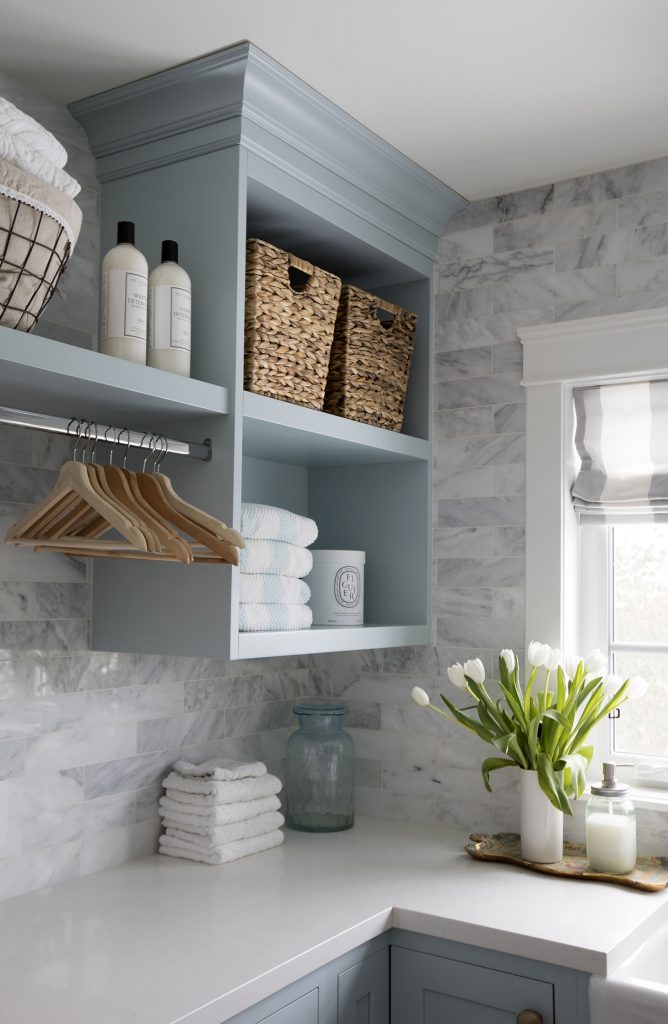 You would like to adopt some of these ideas in your own space but you don't know where to start?
Contact us to transform your home or office according to your style, your budget and your specific needs. By discussing your project we can provide you with relevant information concerning our services, the process and our design fee.
Click here to contact us.