A new counter will instantly elevate your kitchen, as well as increase the value of your home. Kitchen counters have developed over time, and are now designed to adapt to your lifestyle and budget.
Are you looking to change your kitchen counter but don't know where to start? Here are the main considerations that will help you select the best countertop for your kitchen.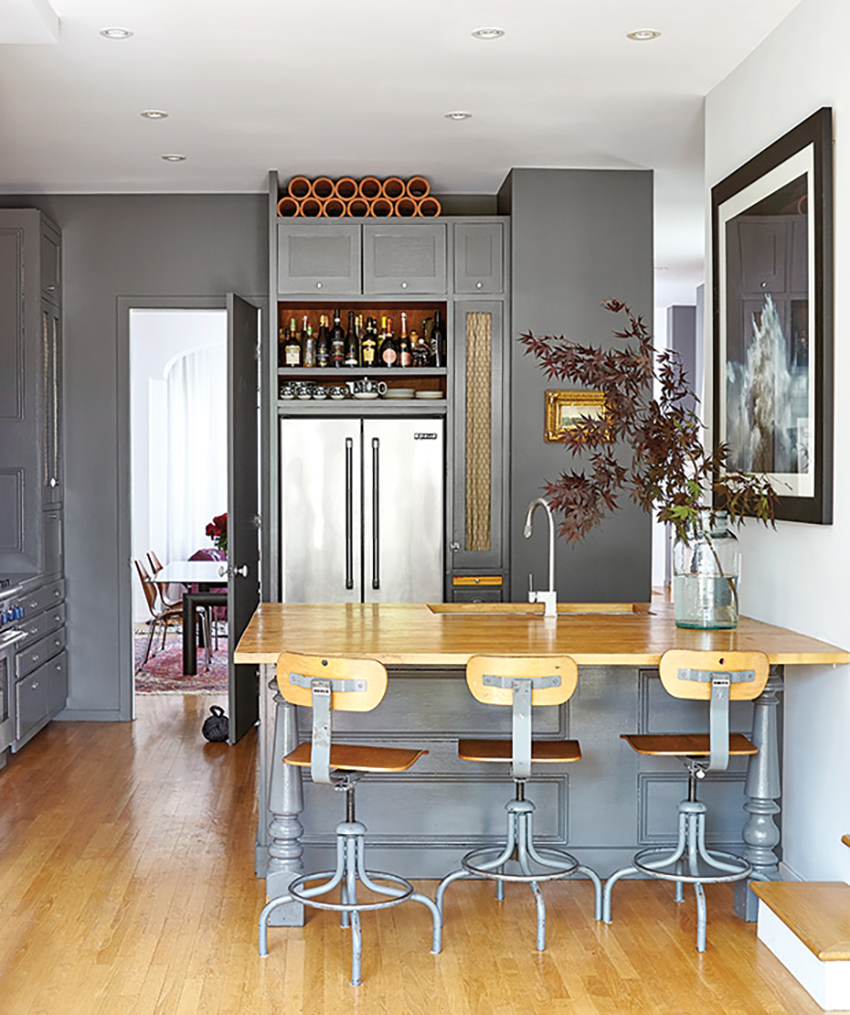 Determine how the counter will be used
In a perfect world, a kitchen counter would possess durability, easy maintenance, water, heat and stain resistance, affordability and a nice look to top it all off. Unfortunately, the reality is quite different.
No material is perfect and everyone has their own criteria and preferences. Each person prioritizes certain aspects that will be more important than others in their selection process.
Some will favour price or ease of maintenance whereas others will prefer something that looks good or is very durable. Also, in order to help you determine which characteristics are most important to you, ask yourself what type of use you will make of your counter and in what type of environment it will be installed.
Will you cook a lot on its surface? Do you use Turmeric or other saturated spices? Are there children working on an island counter? Are you willing to spend a lot of time and effort to keep it looking nice and clean?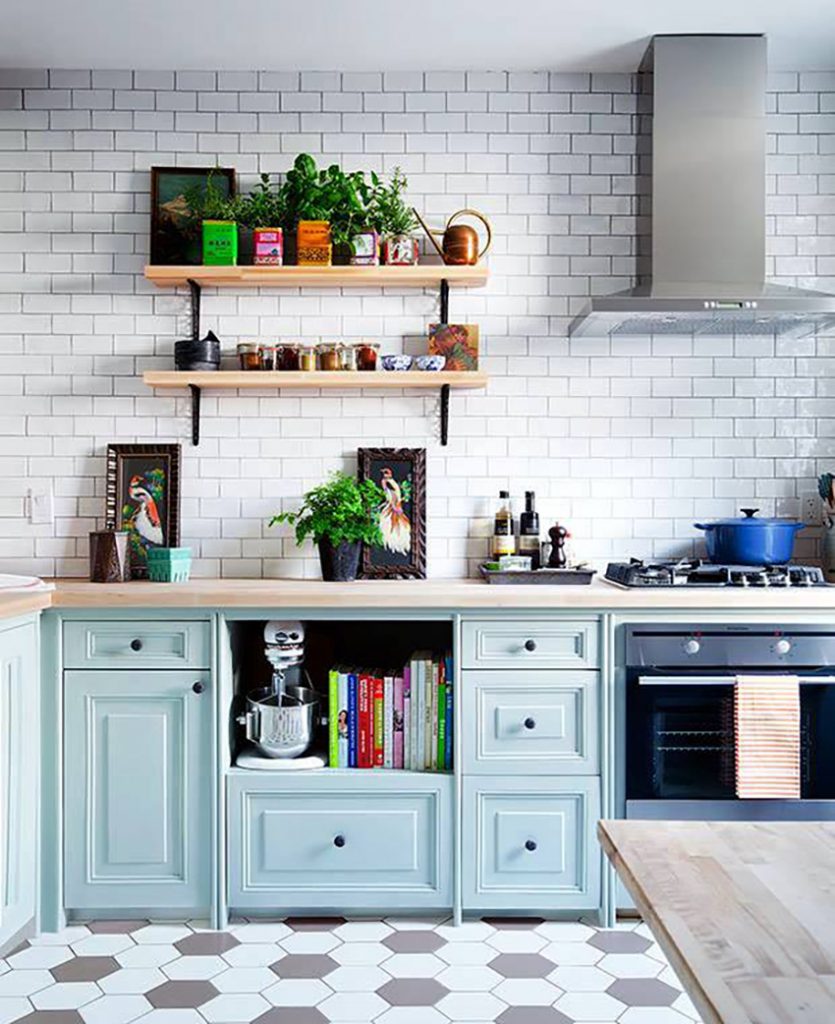 Defining the budget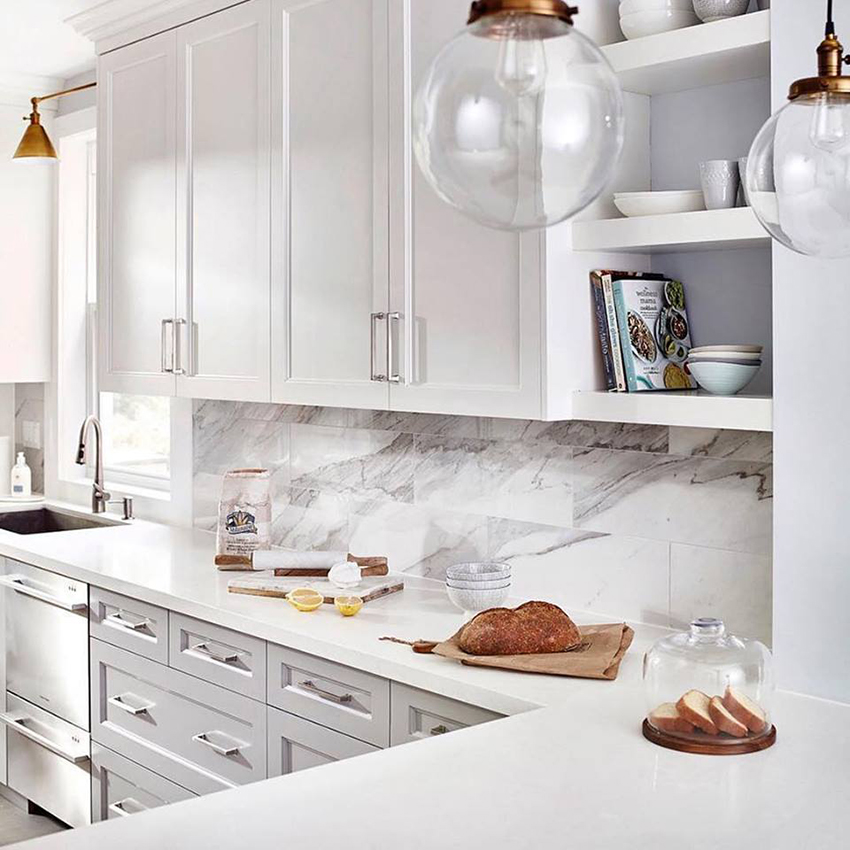 This is the most important step of the process. Your budget is what will help you make your dream a reality. Essentially, it will allow you to know if you have enough money to do what you want and if not, to determine which compromises you will have to make to reach your goal. Even when you think you've found the perfect countertop, if it doesn't suit your budget, you will have to find another alternative.
Elaborating your budget will also help you decide how the countertop will be installed. You could install it yourself or hire a designer with their supplier and installer to do the job. It's up to you to see which option best suits your budget, your expectations and your manual skills.
A budget includes all materials, the cut, delivery and installation. If you install it yourself, you must also take into account the price of renting tools if you don't have the right ones.
Choosing the right materials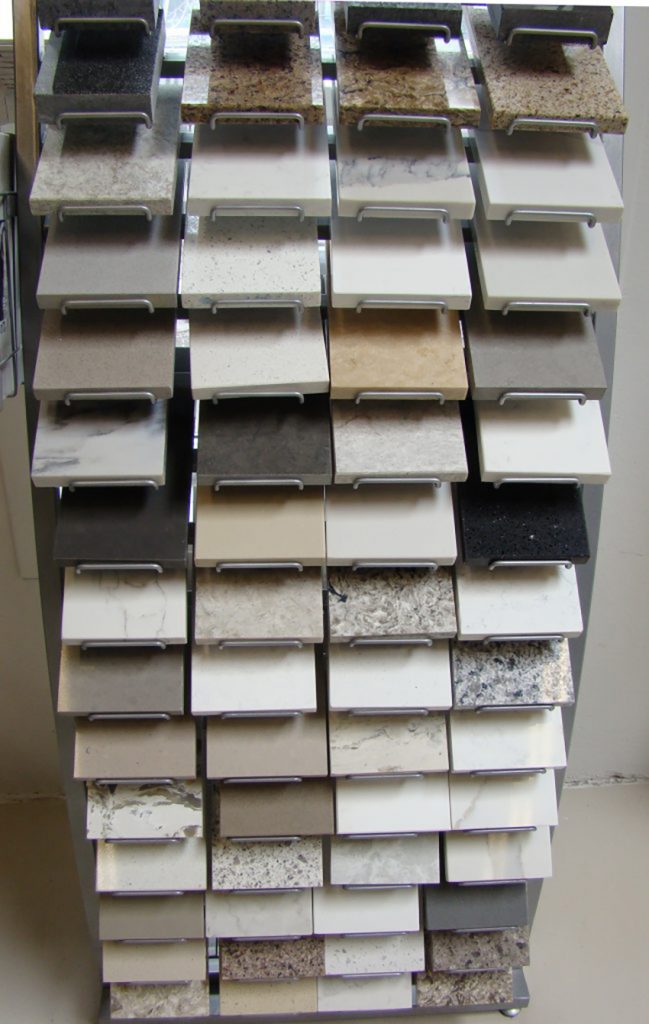 There are many different options for kitchen countertop materials available on the market. Even though none are perfect, you will definitely find something that lives up to your expectations. In order to avoid useless spending and future regrets, take your time when making a choice.
Compare prices and check out the specific characteristics of each material. Visit the stores where they sell these types of products or Versa Style Design's Montreal showroom, to compare the qualities, colours and prices. The more time you invest in this step, the more likely you are to be satisfied with the result.
Laminate counters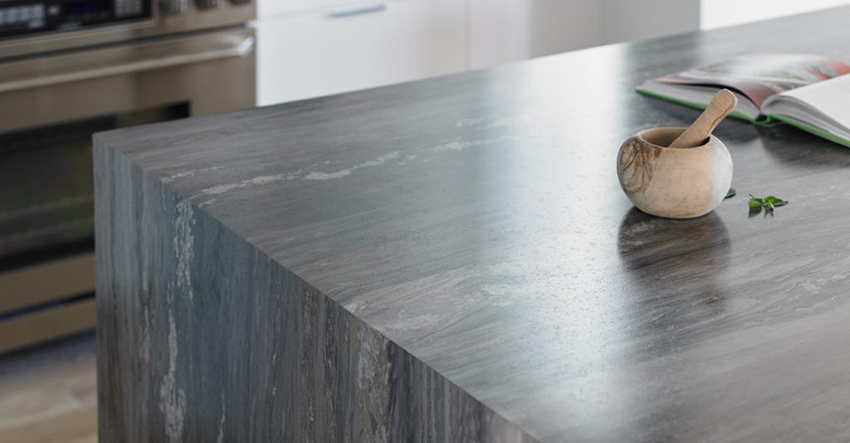 Standard laminate is a sandwich of kraft paper impregnated with resin and topped by a decorative layer of melamine paper glued to a particleboard substrate. Only drop-in sink installations are possible with this type of counter. Available in a wide range of finishes, laminate can imitate the appearance of other materials, which makes it possible to enjoy the look of more expensive materials without the associated cost.
Laminate Counter Benefits
Affordable
Versatile
Durable
Wide range of colours and patterns available
Impact-resistant
Drawbacks
Only moderately heat and scratch-resistant
Joints are visible
Damaged surfaces are more difficult to repair
Wood counters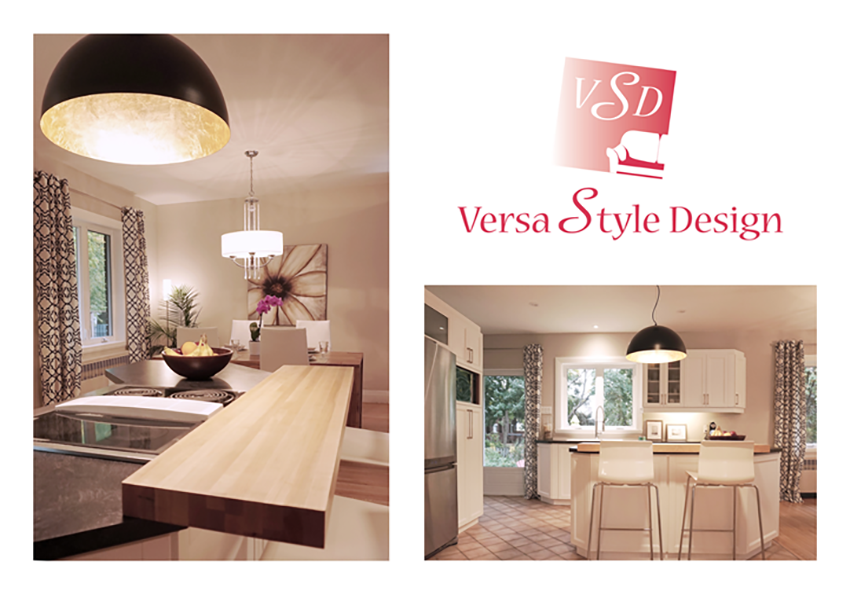 Hard woods such as yellow birch, white oak, teak, maple and cherry are the preferred wood species for work surfaces. A butcher's block-style countertop is a chef's dream, and is made by bonding together 3″ or larger laminated strips of unpainted wood. There are many shades of natural wood possible, making wood an ideal material to harmonize with the rest of your kitchen decor. Since wood is prone to water damage, avoid using wood for surfaces around the sink. Wood works very well in combination with other materials. A drop-in sink installation is necessary.
Wood Benefits
Authentic visual warmth
Versatile
Timeless character
Suitable for all decors
Can be repaired easily
Naturally water-resistant teak is an ideal wood for around the sink.
Drawbacks
High-maintenance
Scratch and impact-sensitive
Heat-sensitive
Shows knife marks
Expensive
Requires sealants
Maintenance
Prevent marks by cleaning up spills immediately
Apply a mineral oil to protect the wood every three months
Sanding and re-oiling will bring back its original look
Stone, quartz and solid-surface counters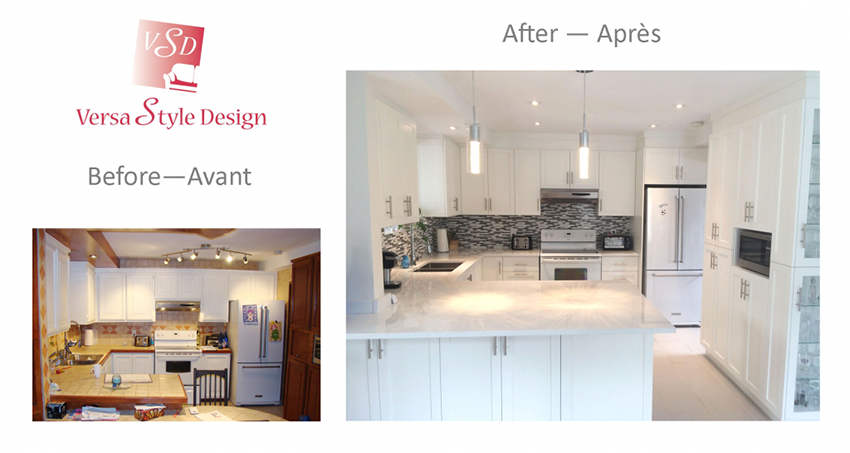 Experienced professionals are required to install stone countertops and solid surfacing, and they must also make the necessary openings for the sink and faucets. Stone slabs are pre-cut and solid surface materials are made to order. Under-mount sinks can be installed with stone and quartz-surface.
Stone Benefits
Durable, elegant, unique and high-end
Easy to clean
Highly heat-resistant
Slabs can be cut to fit the size counter you want
Maintenance
Sealants must be applied to most natural stone
Colours are irregular, varying from one slab to another
Heat-sensitive
Periodic maintenance is required
Granite countertops must be installed over a plywood base
Expensive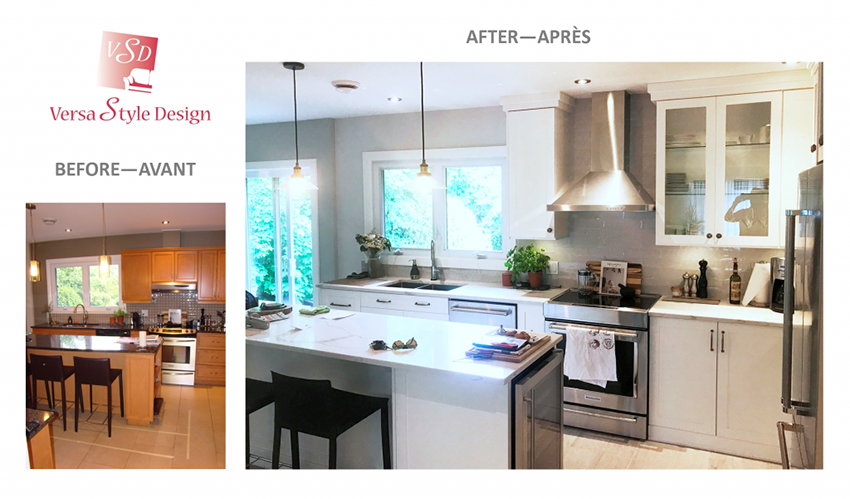 Quartz Counter Benefits
Requires less maintenance than slab stone
Water-tight and durable
Consistent colours
Anti-bacterial
Non-porous so sealant is not required
Heat, stain and scratch-resistant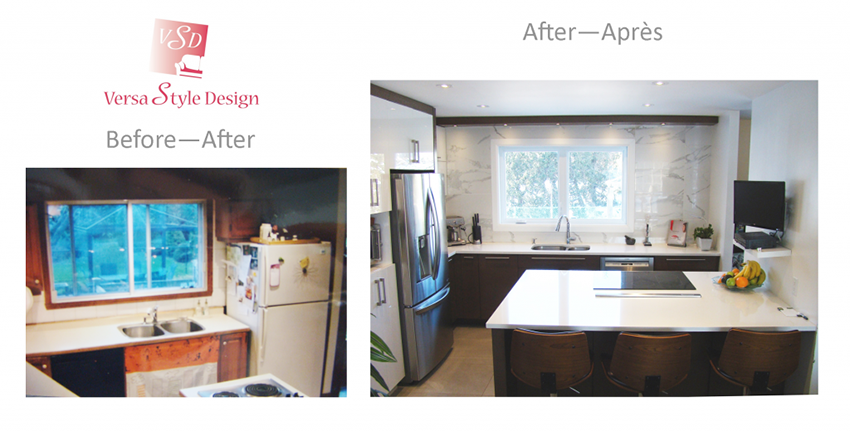 Solid Surface Counter Benefits
Offered in a wide range of colours
Highly resistant to stains and abrasive products
No visible joints
Drawbacks
Expensive
Not very heat and scratch-resistant
Concrete counters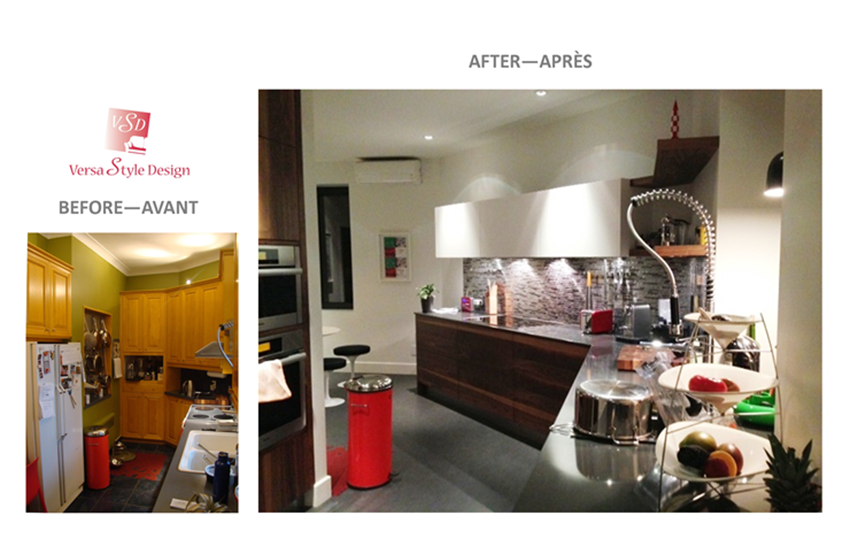 Concrete countertops are available in three types. First among the options are custom precast slabs, which begin with taking the measurements of the countertop area, then building a mould. Once it has been fabricated offsite, it is then transported and installed in the kitchen.
Another option is "pour in place" countertops, which are exactly what they sound like. This type of concrete countertop is poured on the spot over a concrete board or plywood surface that covers the cabinets underneath with a moulding for the edges. The last type is the simplest and entails using pre-manufactured slabs and having them fitted.
Concrete counter Benefits
One of the most malleable materials from a design perspective
Can be pre-formed or poured on the spot
Heat and scratch-resistant
Colours and finishes easily customized
Metal and glass fragments can be added to the mix for decorative appeal
Drawbacks
Must be reinforced with steel and polypropylene fibre to prevent cracking
Stains easily so must be sealed properly
Base cabinets may need structural reinforcing
Must be reinforced with steel and polypropylene fibre to prevent cracking
Colour changes over time with a patina
Expensive
Maintenance
Wipe surfaces clean immediately
You would like to adopt some of these ideas in your own space but you don't know where to start?
Contact us to transform your home or office according to your style, your budget and your specific needs. By discussing your project we can provide you with relevant information concerning our services, the process and our design fee.
Click here to contact us.