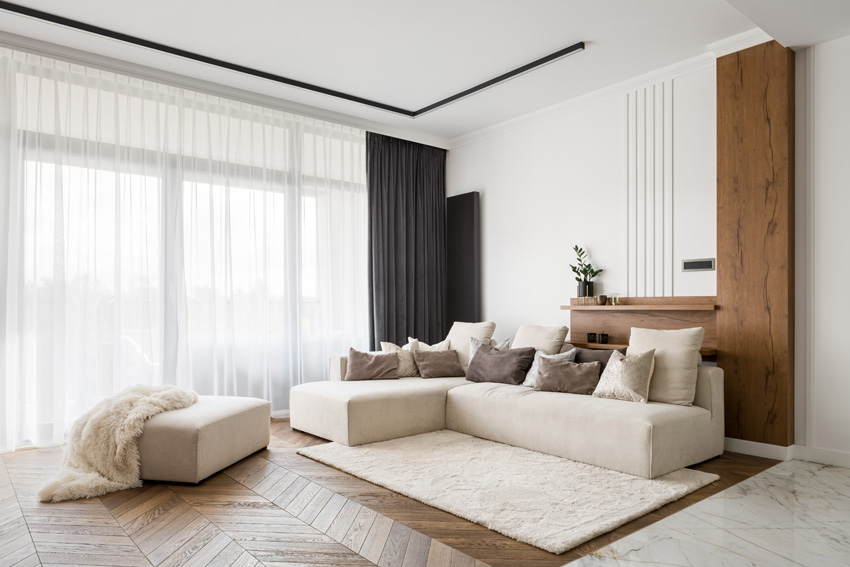 Window treatments not only add a stylish touch to your space but also offer practical benefits such as privacy and insulation. With a wide range of options available, you can easily update your home with elegance and give it that final design flourish. In this article, we'll explore the world of curtains and sheers, providing you with inspiring ideas to transform your windows.
Sheers on a Track: Soften the Ambience
If you're looking to create a soft and ethereal atmosphere while still allowing natural light to filter in, sheers on a track are an excellent choice. These delicate and minimalist curtains offer a gentle diffusion of light, adding a touch of elegance to any room. Sheers have the advantage of dimming the natural light without over-encumbering the window with excessive fabric, colors, or patterns. They are particularly useful when privacy is not an issue during evening hours, creating a romantic ambiance.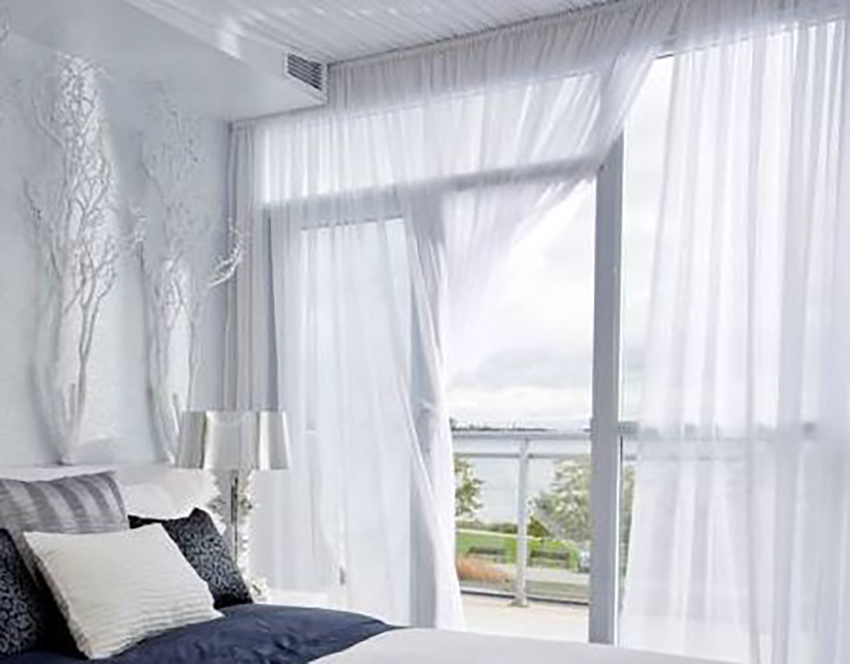 Sheers are also a great solution for hiding an unsightly view, such as a neighboring wall or alleyway. The sheer fabric allows you to maintain a connection with the outside world while adding a layer of privacy. Naturally, you always have the option of opening them partially or 100% to let in more light and enjoy the view.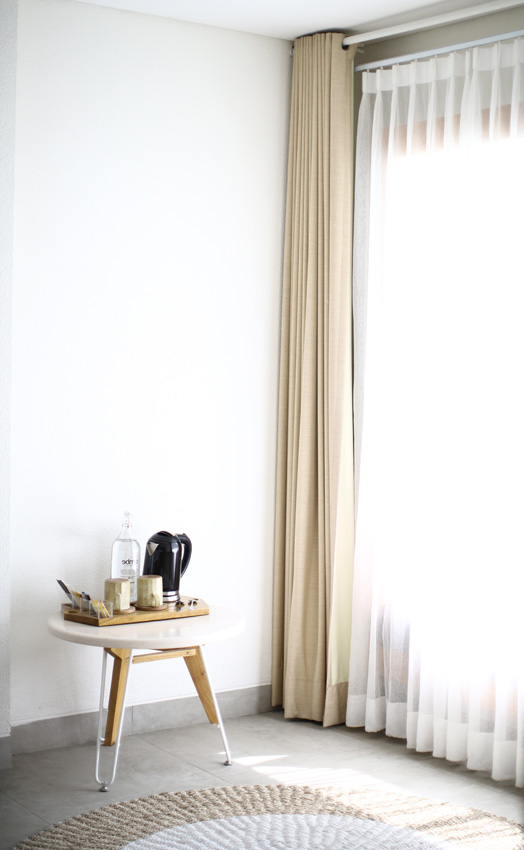 To add a touch of design and enhance the visual appeal, consider adding decorative panels at each end of the sheer curtains. These panels act as an extension over the wall, giving the illusion of a wider window and adding a sophisticated touch to the overall look. By combining sheers and decorative panels, you can create a layered effect that adds depth and visual interest to your windows.
If you feel the need for greater privacy or light blockage, you can also add a second pole with an opaque fabric curtain. This allows you to have the perfect balance of light and privacy throughout the day and night.
With the option to adjust each layer individually, you have complete control over the amount of light and privacy you desire.
Design Tip: Choose sheers in a color that complements your existing decor. Opt for neutral tones like white, cream, or light gray for a timeless and versatile look. Alternatively, experiment with soft pastel hues or delicate patterns to add a subtle pop of color and visual interest to your space.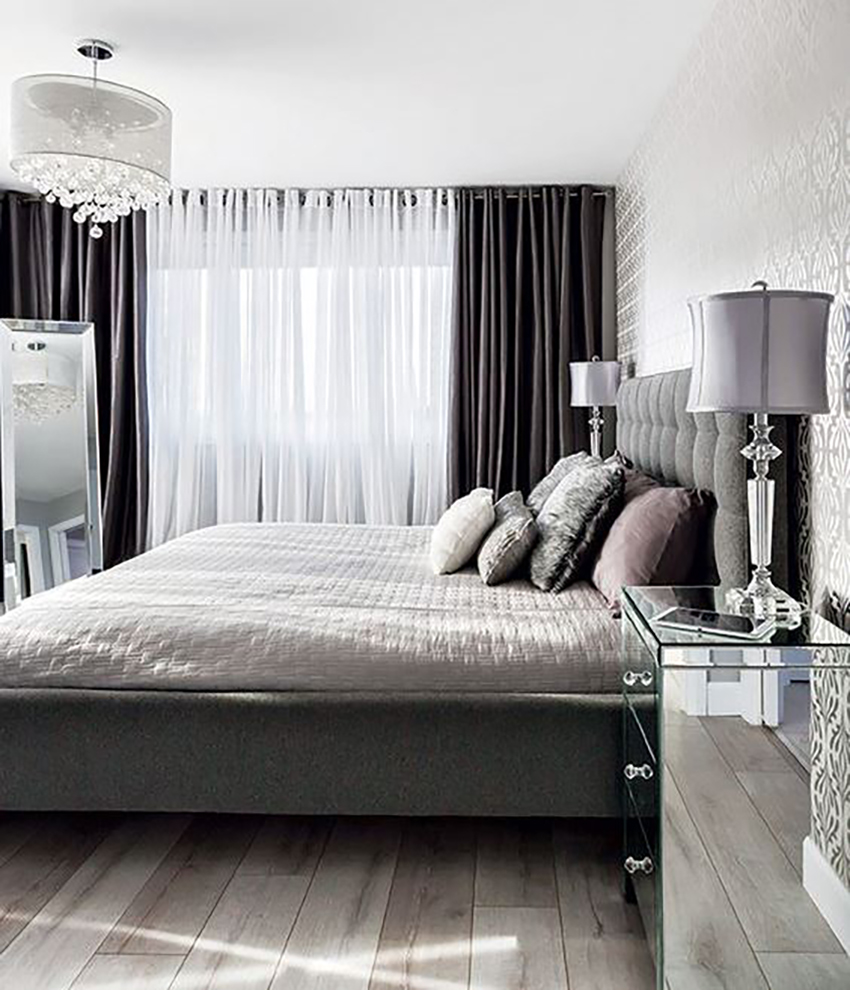 Heavy Curtains: Ultimate Insulation and Privacy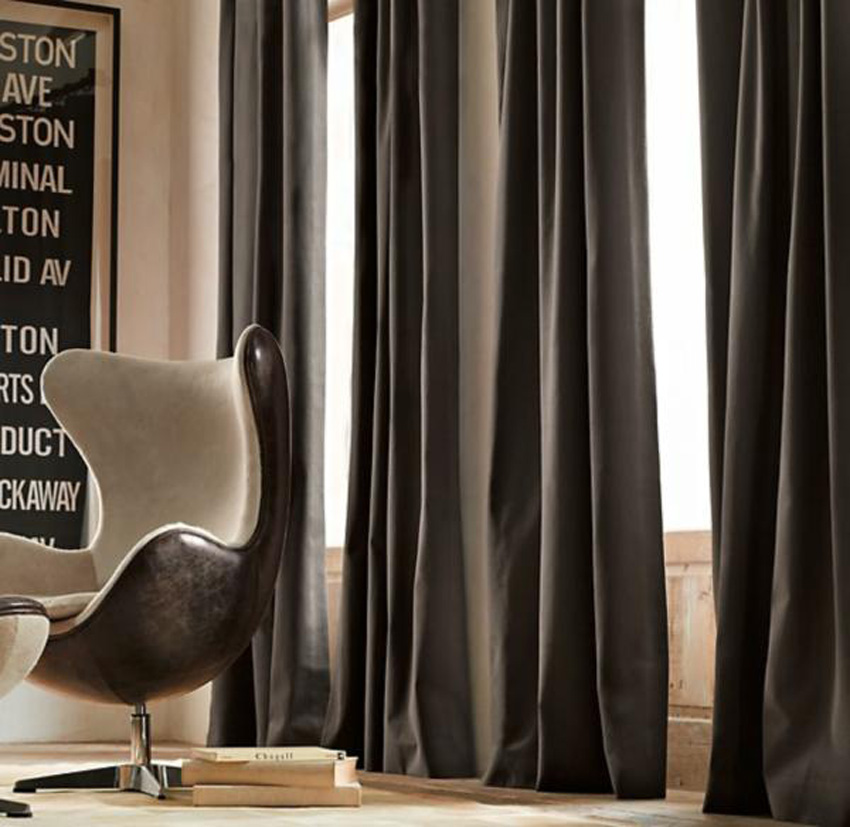 When it comes to insulation, privacy, and light control, heavy curtain fabrics are your go-to option. The thicker the fabric, the better the insulation it provides against the cold of winter and the excessive heat of summer. Heavy curtains create a cozy and intimate atmosphere, reducing drafts and helping to maintain a comfortable temperature in your home.
In addition to their insulation properties, heavy curtains offer exceptional privacy by blocking outside views and preventing prying eyes from peering into your living spaces. They also have an acoustic factor, reducing external noise and creating a tranquil environment inside.
Design Tip: Opt for velvet or thick, woven fabrics for a luxurious and opulent look. Consider choosing curtains with a thermal lining to enhance their insulating properties further. Experiment with rich colors like deep blues, jewel tones, or warm earthy shades to add depth and create a dramatic focal point in your room.
For Arched Windows: Embrace the Angle
Arched windows add architectural interest and uniqueness to a space, but they can pose challenges when it comes to window treatments. To embrace the angle of arched windows, treat them as if they were angled like regular windows.
For rooms with higher ceilings, suspend the curtain rods as high as possible to create a sense of grandeur and make the most of the window's height. By doing so, you can enhance the appearance of the architecture and create an impressive visual impact.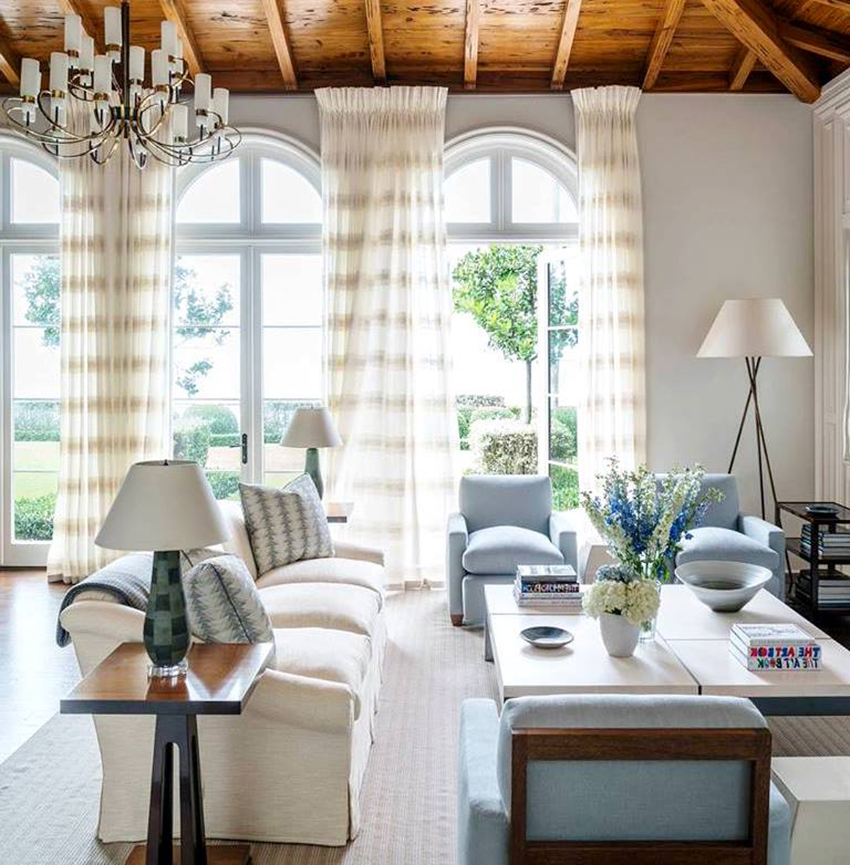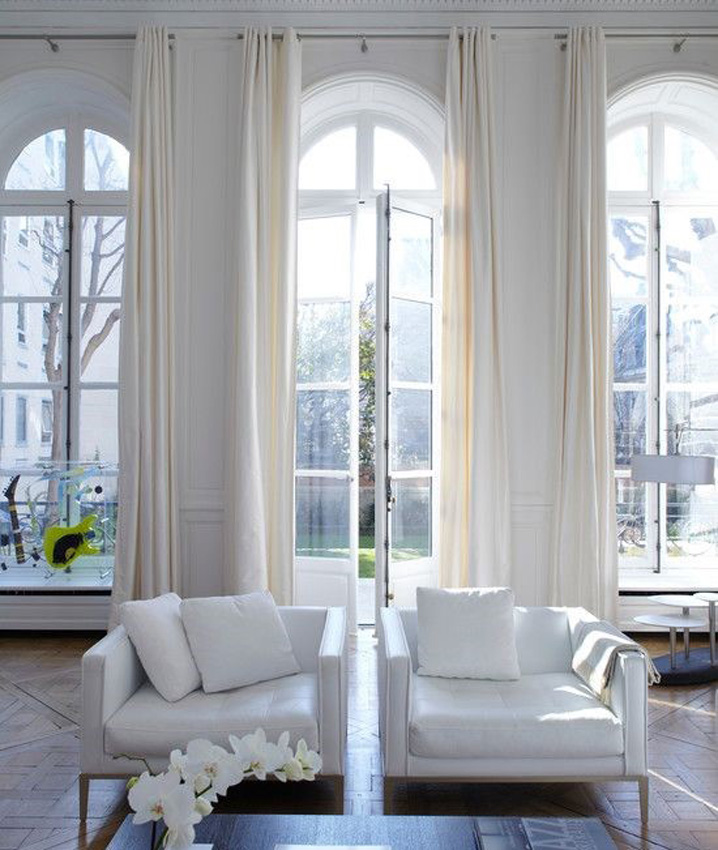 To ensure ease of use, choose a sliding system that operates smoothly and effortlessly. For ultra-high curtain poles, a motorized system offers the convenience of remote-controlled opening and closing, allowing you to effortlessly adjust the curtains and control the amount of light entering your space.
Design Tip: When selecting curtains for arched windows, opt for fabrics with a flowing drape to complement the graceful curves of the window. Consider using patterned or textured fabrics to add visual interest and draw attention to the unique shape of the windows.
For Modern Bay Windows: Privacy and Style
Modern bay windows are a stunning architectural feature that floods a room with natural light and offers panoramic views. However, they can also present challenges when it comes to privacy and light control. To address these concerns while maintaining the sleek and modern aesthetic of your bay windows, it's essential to choose the right window treatments.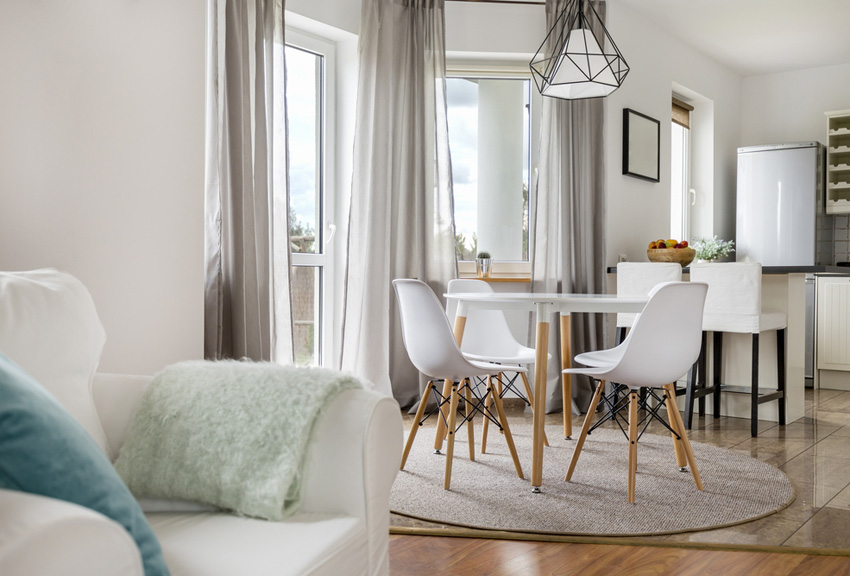 Curtains that are doubled with a backing fabric are an excellent solution to guarantee 100% privacy, especially during the evening hours when people may be walking or driving by your home. The backing fabric not only provides privacy but also offers additional insulation, making your space more energy-efficient.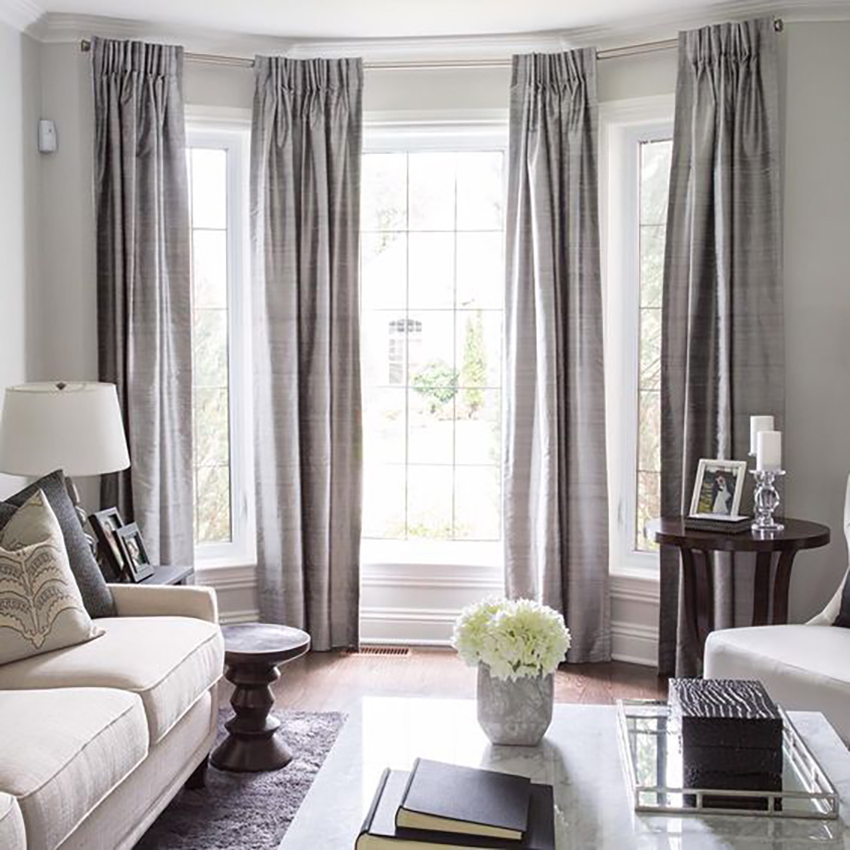 Opt for warm and inviting fabrics that complement the overall decor and create a cozy atmosphere. Ceiling tracks are the perfect choice for bay window treatments as they provide a sleek and discreet appearance, allowing the curtains to glide effortlessly along the track.
Design Tip: When selecting curtains for modern bay windows, consider using floor-to-ceiling panels to create a sense of height and make the most of the expansive window space. Choose fabrics in neutral tones or modern prints to maintain a contemporary and cohesive look.
We hope these design strategies inspire you to transform your windows using curtains and sheers. Whether you opt for billowing sheers, heavy curtains, or specific treatments for arched or bay windows, window treatments can enhance the overall look and functionality of your home.
If you need professional assistance or guidance in implementing these ideas, contact us at Versa Style Design. Our experienced team can help bring your vision to life, ensuring that your window treatments perfectly align with your unique style, budget, and specific needs. Let's discuss your project, and we'll provide you with relevant information about our services, the design process, and our competitive fees.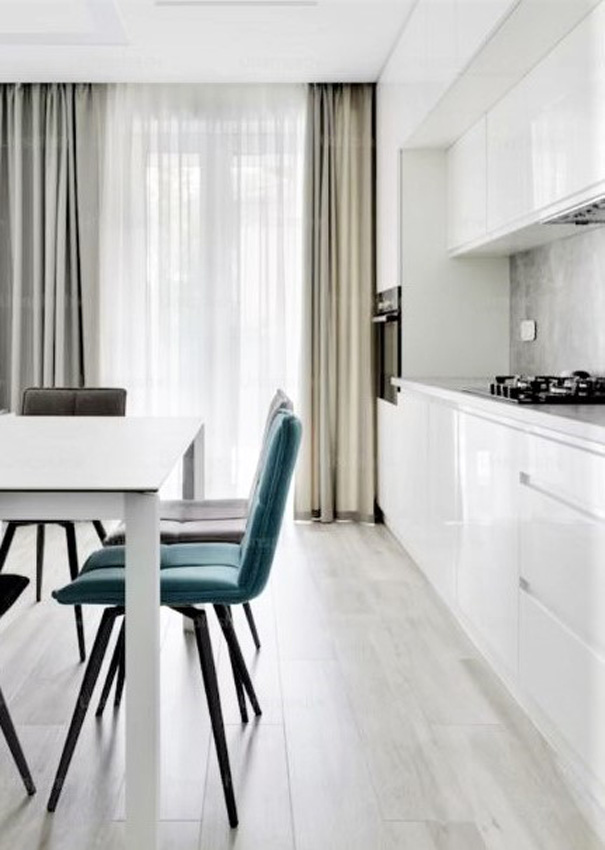 Embark on your window transformation journey by clicking here to contact us.
Stay tuned for our next blog, where we'll explore blinds and shutters for every room.
You would like to adopt some of these ideas in your own space but you don't know where to start?
Contact us to transform your home or office according to your style, your budget and your specific needs. By discussing your project we can provide you with relevant information concerning our services, the process and our design fee.
Click here to contact us.